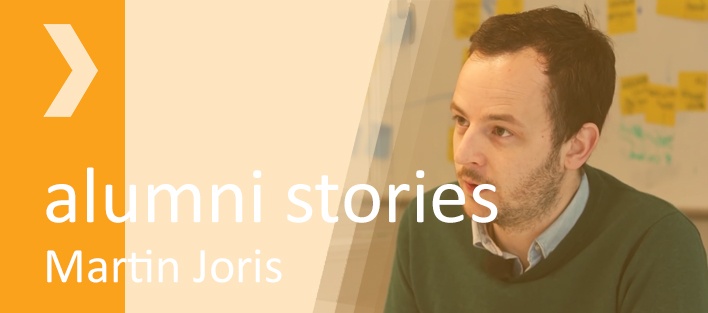 A postgraduate degree is always a good idea. It gives you the time to think about what you want to do after your studies. The full-time Master in Innovation and Entrepreneurship can help you get a better view on what you want to do after graduation, while at the same time giving you the leadership and development skills that you need to make it in today's competitive business world. The following alumni of the Master in Innovation and Entrepreneurship program give us a little more information about the ventures they have undertaken since graduation, and how their degree has helped them achieve their goals.
Philippe de Ridder
Board of Innovation
Class of '08
Board of Innovation is a consultancy firm that specializes in streamlining the way corporate organizations work. For this, they use the tools and techniques that are used in startups, and adapt them to be applied to corporations. They organize workshops and bootcamps to stimulate intrapreneurship—entrepreneurship within a company— and provide strategy consulting, tailor-made HR programs, and innovation tools.
If you want to know more about this company, check out the video interview with Philippe de Ridder, founder of Board of Innovation.
Anneleen Vanhoudt
Peel
Class of '12
Peel is a service design firm that helps companies and businesses that are juggling with new ideas to take their next steps. They make ideas into concrete projects, and ensure that resources are allocated efficiently and effectively. They work to create a sustainable growth within their clients' company by taking a human-based approach, and they learn through discovery with their no-nonsense methodology.
If you want to know more about Peel, check out the video interview with Anneleen Vanhoudt, service designer and innovation facilitator at Peel.
Yannick van der Gucht
Seal Jobs
Class of '13
The purpose of Seal Jobs is to match people looking for a job with employers who are offerieng the type of job that person is interested in. Seal offers services for both employers and job seekers in the form of matching, as described above, but also what they call "headhunting", where companies can contact them to see if there are relevant candidates in the Seal database for a job requirement they need filled.
If you want to know more about Seal Jobs, you can watch the video interview with Yannick van der Gucht here.
Moos Tits
FLAVR
Class of '14
FLAVR is an on-demand food-sharing platform where amateur chefs can sell the meals they make to local foodies. Every day, registered amateur chefs plan the meals they will make for that day, so that people looking for a meal can pick and choose which meal they want. This gets relayed to the chef in question, who prepares the meal, after which the person in want of a meal can just pick up the food at the chef's.
If you want to know more about FLAVR, you can watch this video interview with Moos Tits, who is responsible for product and marketing at FLAVR.
Benjamin Eysermans, Maarten Tak, Franco Prontera
RBLS
Class of '15
RBLS is a consultancy firms specializing in innovation for complex enterprises by relying on techniques and practices used in start-ups. They re-establish a certain flow within small teams in the company. This way the company can work more efficiently, and adapt more quickly to changing markets and new technologies.
If you want to know more about RBLS, watch this video interview with Benjamin Eysermans, Maarten Tak, and Franco Prontera.
Martijn Joris
Twikit
Class of '07
Twikit is a company specializing in 3D customization. They operate under the belief that adding a personal touch to products leads to an improved and more valuable experience. To facilitate this, they've developed a cloud-based platform, which brands and designers can integrate into their own digital platforms. The platform automatically connects with 3D-printing facilities and other digital makers.
If you're interested in finding out more about Twikit, you can watch the video interview with Martijn Joris here.