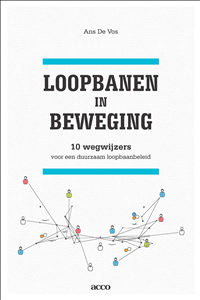 We live in a world characterized by continuous changes, a highly competitive environment and an unstable job market. In a world that demands a great deal of flexibility of organizations and employers, both parties want to realize their ambitions. Every manager – and certainly the human resources manager – faces the challenge of maximizing his staff's potential. This unpredictable context is exactly why we must focus on work and deployability from a career perspective.
The traditional career policy model no longer applies because it is based on predictability, job certainty and loyalty. After all, the key to success is no longer the statistical matching of jobs with employees; success requires a dynamic approach to change with attention to growth, feasibility and deployability in the short and the long term.


Sustainable career policy
Both parties would welcome more career flexibility, but organizations and their employees appear to have conflicting definitions of the concept. A sustainable career policy can transform this minefield into a playing field where employees can build on their strengths, with an eye for job feasibility and staff deployability, enabling them to make a valuable contribution to the organization's results. Moreover, the complexity of the context demands a more flexible and less hierarchical approach to organizational structures and processes.
Career-pioneering study
Formulating new, well-reasoned and practice-oriented solutions to this challenge was at the heart of the chair 'Next Generation Work: Creating Sustainable Careers' at Antwerp Management School. The basic principle was the conviction that a new take on careers is necessary to arrive at sustainable solutions with regard to working longer, the increase in long-term sick leave, deployability and the shortage of talent. We have acquired relevant knowledge by combining scientific insights with practical experience in our Career-Pioneering Study.


Ten signposts
Careers in Motion compiles the insights from the 'Career-Pioneering Study' and translates them into ten signposts that can act as guidelines for CEOs, executives and HR managers to devise a sustainable career policy for the members of their organization.
The book creates a thinking framework, it encourages critical reflection on the existing career policy and provides inspiration to put the proposed signposts into practice within the reader's own organizational context. The concrete interpretation of the signposts will vary but they are all equally relevant to large and small organizations, the profit and non-profit sector, knowledge- and production-based companies, operational staff and management.