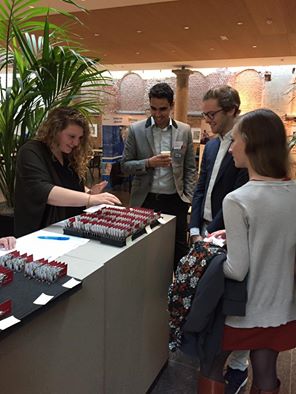 On Wednesday 26 October, Antwerp Management School organized a Career Fair that brought together students and companies that employ Antwerp Management School alumni, including Microsoft, AB Inbev, Delhaize and Deloitte. Read all about it in this blog post.
We help students plan their future career. Our goal is to help our students find gainful employment within three months of their graduation. Antwerp Management School coaches students in several ways in reflecting on their future and organizes interactive workshops, seminars and networking events. In addition, a personal development plan (PDP) is elaborated through individual discussions.
The Career Management Service also keeps students up-to-date on new vacancies on a daily basis and we offer several ways of coming into contact with alumni. The Career Fair also fits in with the vision of the Antwerp Management School.


Microsoft
Alumnus Yannick Gielis works for Microsoft, who were also present at the Career Fair: "Microsoft aims to spot exceptional AMS talents, improve their on-campus visibility and finally hire the top graduates." The Microsoft employees really hit a nerve with many students and convinced them that Microsoft not only needs IT specialists but is also looking for a wide range of other profiles.
AB InBev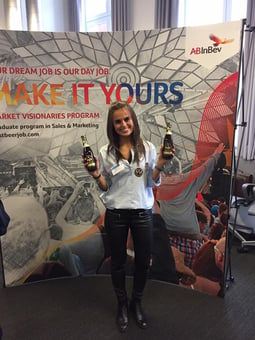 Alumna Lore Jorissen Works for AB InBev and she attended the Career Fair because AMS is the ideal location to discover broadminded and enterprising students with an international background, which is exactly the type of student AB InBev is looking for.
Jorissen: "AMS is not just a school with an international reputation; it also gives high priority to such values as social responsibility and entrepreneurship. In addition, the Career Fair is the perfect opportunity for us to introduce the students to our unique AB InBev culture."

AB InBev considers the Career Fair a major success not just because so many students were interested, but also because of the many constructive conversations that highlighted their potential. Jorissen states that the success of this event will be measured by the number of AMS students to enrol in our graduate programs as well as how many future AB Inbev colleagues the programs will generate.