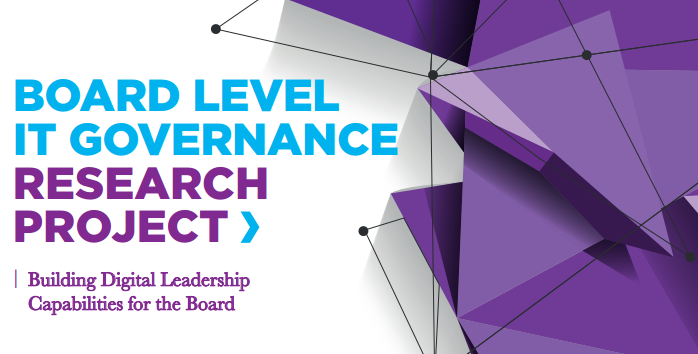 Organizations are increasingly dependent on IT for the creation of business value. That is why boards of directors can no longer afford to delegate strategic decision making and control around IT issues. However, research shows that few boards are taking responsibility for governing digital assets. In response, University of Antwerp - Antwerp Management School, CEGEKA, KPMG Belgium, and Samsung Belgium have developed a toolkit for boards, consisting of three steps for implementing board level IT governance.
The Next Phase
In the next phase of this research project, several case studies will be conducted to further illustrate how boards of directors can operationalize their IT oversight role. This is a crucial research step because we believe that the best way to reach out to an audience of experienced professionals is to inspire them by providing examples of what their peers are doing.
This research addresses two questions.
How do boards currently operationalize their digital oversight role?
Case studies describe how specific boards and board members are currently taking up their digital oversight role. Guided by existing research on the issue of board-level IT governance, examples will be given of approaches towards board level oversight of digital assets. More specifically, three approaches to implementing board-level IT governance were found in academic literature.
The first approach is to increase IT competency at board level, not only by developing or recruiting the desired IT-governance competencies, but also by recruiting the CIO or a similar role to the board of directors.
The second approach is to set up an IT governance committee at board level that performs an advisory role, helping boards to make informed IT-related decisions.
Lastly, lists of critical questions to ask about IT were created to ensure the that quality information is generated. In addition, the COBIT 5 framework (a best-practice IT governance model aimed at practitioners ) identifies five governance processes for which the board of directors is accountable.
The three approaches found in academic literature and the five COBIT 5 governance processes will be used to guide this research.
What are enablers and inhibitors of board level IT governance?
Current research on this issue shows that certain conditions influence the level of involvement of boards in IT governance. Factors such as the proportion of insiders on the board and a lack of IT expertise within the board appear to inhibit boards when it comes to taking up their IT oversight role.
In addition to board attributes, other contingencies can be classified as determinants of board level IT governance. For instance, a lack of guidance on the issue was found to be an inhibiting factor. Our goal is to evaluate whether the enabling and inhibiting factors found in academic research actually influence the level of board involvement in IT governance in the study cases. Gaining a better understanding of these determinants will be extremely valuable for practitioners in pinpointing the elements they could adjust to increase board-level IT governance.
This research is one of the activities within the IT Alignment and Governance (ITAG) research group, as installed by the University of Antwerp & Antwerp Management School, and chaired by Prof. Dr. Steven De Haes. The research is funded by FWO (Fund Scientific Research – Flemish Government) and KPMG, Samsung and CEGEKA.
For more information: contact Steven De Haes and read the research recap.
---
This type of research is the foundation for the Business Meets IT executive programs. In these programs we train executives to build bridges between Business and IT.