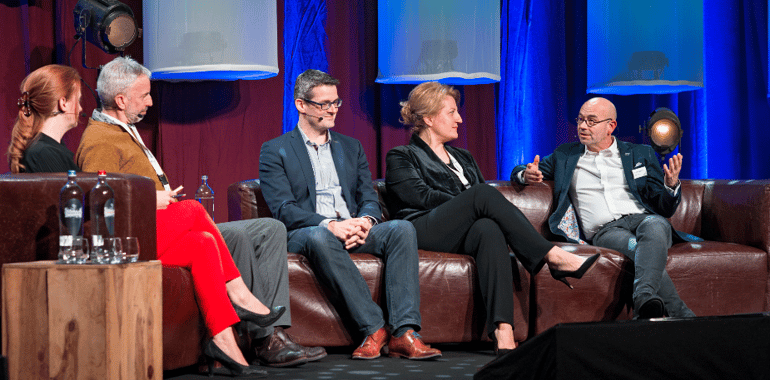 On February 8, Antwerp Management School, POM West-Flanders and TUA West organized Disruptival – The Conference. A conference, about disruption. Crystal clear. Or perhaps not entirely. Disruption is one of those terms eagerly used in economic and societal debates. Preferably linked to dramatic stories about entire sectors disappearing before our very eyes.
Disruption, however, encompasses much more than Uber and Kodak. First and foremost, it means opportunities for companies. Disruptival – The Conference offered over 600 participants an initial set of clarifying insights and testimonies. And the participants who want to know whether they themselves are ready to translate disruption into opportunity, can come to Antwerp Management School for an 'exponential' scan.


Growing through wonderment
Thursday evening, people taking part in Disruptival – The Conference were immediately burdened with the confronting question 'How long has it been since you've done something for the first time?' by keynote speaker Piet Verhoeve. The audience was not granted a lot of time to think it over: 'If the answer is 'longer than two weeks', you have a lot of work to do,' Piet Verhoeve stated. We have to go back to the state of wonderment we see in children, who never cease to discover the world and breathe in the new and unknown on their journey with abandon, to grow literally and figuratively.


Innovation through curiosity
Peter Torreele, former director of the World Economic Forum and managing director of 3RT Labs, makes an even more extreme statement: innovation is born from curiosity, not intelligence. You have to dare to look around you, and most of all to (entirely) different sectors. Inviting an outsider, immediately offers another point of view and real innovation. He also pleads for a high pace: get rid of elaborate market research and perfecting a product before you release it in the market. Resolutely go for the 'minimum viable product', that's his advice. Furthermore, he also pleads for sustainability. Financial and social profit can go hand in hand. Companies must want to have a positive impact on the world. This pushes them forward and attracts better and more motivated employees and partners.


From ego to eco
Techno-futurologist Christian Kromme has a similar experience. He too pleads for a radical turnaround: we have to go from 'ego' to 'eco'. From an individual way of thinking and doing to an ecosystem in which people try to tackle problems together in a smart way. Digital technology co-enables that. As a result, he does not consider artificial intelligence to be a threat, just the opposite. 'Go digital,' he says, but 'stay human'. Technology serving people and planet, not the other way around. Companies that really want to make a difference, should follow a similar rationale: they are there for the world, not the other way around.


Daring to take and share chances
Staying curious, making sustainability a priority, cooperating and sharing, making the world a better place for everyone… The tips of our two keynote speakers sound quite idealistic if you hear them one after the other. Yet, it works, as proven by the West-Flemish companies Smappee, Televic and La vie est belle. In the panel discussion they openly and matter-of-factly shared their experiences and added a few tips of their own. Like really valuing the people on your work force and having them think along, listening to your customers, not getting stuck on products but betting on services as well… Three very different companies and sectors, yet three strikingly similar stories of taking opportunities and sharing. Maybe they're really on to something, then? Jean de Bethune, deputy for the economy department of the Province of West Flanders, concluded on a positive note: cooperating to get ahead, it works, even and maybe foremost in times of disruption.


Where are you?
Those who want to translate the inspiration from Disruptival- The Conference into practice, can have their company screened. Antwerp Management School has developed a very practical scan to check whether your company is ready for an exponential future. Do you dare to question yourself as a company? Are you ready to track down novelties and see how you can implement them? Can you adequately face the fast evolutions surrounding us? Are you at risk of becoming the casualty of disruption or are you ready to exponentially grow and explore new terrain?
The scan compiles six dimensions of your company: going from infrastructure, to organization, to processes and technology. Every dimension is accompanied by a number of pertinent questions. Often they are rather obvious, like 'Do you have a clear view on the value chain and where do you see yourself in this value chain?' or 'have you defined and communicated the values of your company?'. But the answers might be far less obvious than your company thinks at first.


Focusing on disruption for your sector
Altogether, the answers in the six dimensions offer an enlightening big picture: how close is disruption in your sector, which opportunities are waiting, and which obstacles will have to be overcome to grab them? The scan exposes the exponential or non-exponential character of your company in a very visual manner. A first crucial step is to bring the buzzword 'disruption' into focus and look at what it can very concretely mean for your day-to-day operations, today and tomorrow (and the day after that).
Interested in having your company scanned, in all openness and confidence? 30 manufacturing companies, preferably from West-Flanders, get the opportunity to take part in a 2-hour interview to gain insight from this scan.
Interested in this scan?