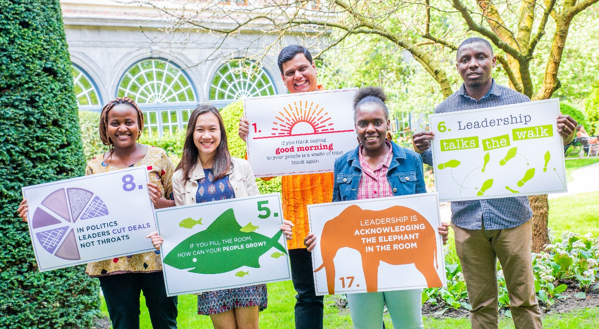 Twelve healthcare professionals from around the globe participated in the Strategic Management of Health Systems (MAN) program at the Institute of Tropical Medicine (ITM) in Antwerp. As part of this program, aimed at managers in the medical sector, they took the '19 thoughts' leadership workshop presented by Koen Marichal. The workshop was an unexpected experience for the participants, as leadership is an important challenge for them, due to their line of business as well as the country they work in. We had a chat with five of the twelve participants: Phyllis, Tatenda, Louis, Quynh and Kirthinath.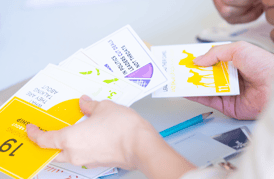 The training at the ITM focuses on making strategic choices, adapted to the context. Koen's workshop also had to contribute to that focus. "We were expecting a lecture, but it was much more interactive," says Tatenda Winnie Nhapi, a District Medical Officer from Zimbabwe. Candidates aren't told how to think about leadership but instead encouraged to develop their own point of view.


Universal theme
The leadership mirror, developed by Koen, lives up to its name, according to Kirthinath Ballala, associate professor at the Kasturba Medical College in Manipal, India. "It was a process of introspection and sharing experiences. You take part in a committed discussion." Phyllis Maina, who works at the Kenyan government as a Subcounty Medical Officer of Health, adds: "The question 'Are you a leader?' really woke me up. After all that introspection, you critically review what you are doing and what you should be doing. It wasn't like other leadership courses, where you get the impression that it is not really about you. So it's not 'good leaders do this and that' but 'as a leader I will…'"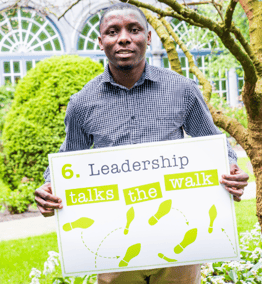 Their critical abilities were stimulated during the program, which is noticeable in the way they approach the 19 thoughts: virtually everyone has a unique, sometimes contrary interpretation of their favorite thought. For Louis Ako-Egbe, District Medical Officer in Cameroun, 'Leadership talks the walk' was a difficult thought. "Leaders often have a lot to say, but do not always deliver the corresponding results. So I prefer 'Leadership walks the talk'." Leaders should be at the forefront.


Challenging Thoughts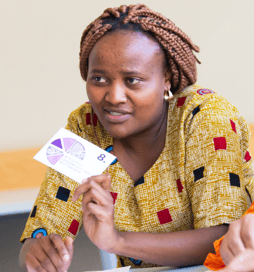 Some of the insights seem to be very challenging when put into their own context. "Showing your vulnerability to your colleagues doesn't sound good to me," says Tatenda, "I can't afford to show my weakness. If the captain gives up, the ship sinks. In my experience, showing my human side leads to everyone being at a loss." Kirthinath agrees. "It means they'll give up hope." The political situation in their country also plays a part in this, Phyllis says. "'In politics leaders cut deals not throats': particularly in politics, people cut others off to get ahead. We have to walk on eggshells, because a win-win is hard to come by in our case."
"'In sameness we connect, in differences we grow' is the ideal situation but it is also hard to accomplish," Kirthinath says. You have a team of people with very different perspectives and you have to move ahead." He thinks the solution lies in a shared vision. "I believe we find each other and grow through equality." For Kirthinath, leadership is about successful relationship management. Balancing relations with colleagues, superiors, employees and stakeholders. "It's a huge challenge because everyone has different interests. In a democratic country like India, it's the people around me who make me a good leader. If tomorrow they decide that I am no longer a good leader, I won't be."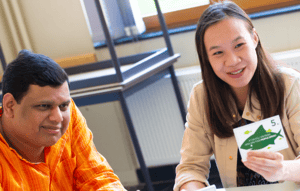 Truc Quynh Nguyen, researcher and head of a research group in Vietnam, sees in the 19 leadership insights a confirmation of her own management style, where she reacts against the hierarchic leadership style she is often confronted with. "In Vietnam, the leader is an unapproachable figure, but to me, a leader should try to keep an accessible attitude and a harmonious work environment. We drink coffee together every morning. We say 'good morning' to each other. It creates mutual respect: I respect my employees and give them the opportunity to develop themselves, they respect me as a leader with all my responsibilities. It leads to mutual benefits."


Context makes the leader
Each of them has developed a very personal vision on leadership, influenced by personal experience. Louis talks about the district where he grew up: "The district I am now responsible for is a problematic area where nobody would want to grow up. That's exactly where my commitment lies. Some people find it easier to take the comfortable road, but they don't realize that a predecessor made sacrifices to reach that level of comfort.
Phyllis is a fan of 'Leadership is shared – more like a jazz band'. "To me, leadership means 'pushing people from behind'. My most important achievement as a leader is that I created other leaders. My team is self-steering. I have encouraged my employees to confide in their own choices. The less people are dependent on you, the better. I make a distinction between intention and action. If the intentions are right, but the result isn't there, I just show them how it can be done."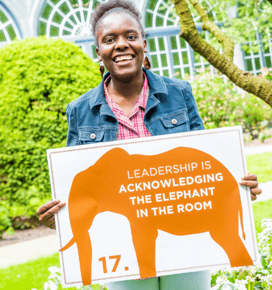 To Tatenda, leadership is about speaking up. 'Leadership is acknowledging the elephant in the room,' she says, "Where I come from, people are silenced, as is now shown on the BBC. People on strike have been laid off in masses because they raised issues. That's why I think the leaders should be the ones that speak up. Challenges are there to bring out the leader in us. Leadership means self-sacrifice and leaving your comfort zone. When I'm satisfied, I will not want to change anything."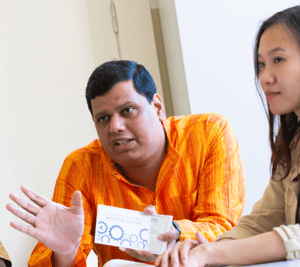 Quynh also sees leadership as a learning process. "You find yourself in a new environment every time and you constantly learn something new. You have to adjust to the company culture and find the orientation for your leadership style within that new system. I get to know myself over and over again as a leader." Would it be easier to be a leader in Belgium or other Western countries? Kirthinath brings nuance: "The context is different here. In Belgium there are less political hurdles, but society is much more demanding. Because we still have so many shortages, it's easier to meet the leadership expectations. I am convinced that everywhere in the world, leadership is a challenge. The challenges are different, that's all."


Do you want to take a look at yourself or your team(s) through the '19 thoughts'?