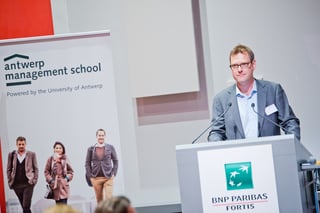 On a warm Thursday morning June 15th, Timothy Vermeir from HR Square welcomed us to our Leadership Masterclass in Brussels. We were led to 'the Red Room', deep in the bowels of BNP Paribas Fortis, where we were treated to innovative leadership insights by Koen Marichal, Jesse Segers and leadership guru Herminia Ibarra.
PART I
The Leader's Clothes – 19 thoughts on leadership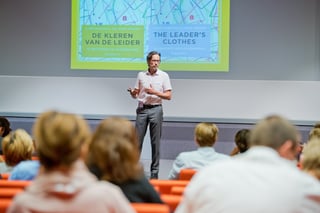 Koen Marichal presented his new book 'The Leader's Clothes (De kleren van de leider)', which is an update on 'The Leader in the Mirror (De leider in de spiegel)'. It still follows the format of offering 19 leadership insights, but is further enriched by new insights and information. As a participant from Thomas More told us during the break: "the first book was very high level and now it's getting even more real." That aspect was confirmed by Koen during his talk. "Compared to where we were four years ago, we are now far more familiar with phenomena like Blockchain, sustainability, etc. Four years ago, we were yet to embark on that change, now we're in the middle of it."
So you think you can lead?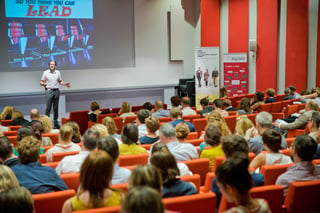 After the introduction, it was time to challenge the leadership of the leaders in the room. 'If you had to present your leadership to a jury, how would you do it?' Whilst completing a series of exercises, the participants were asked to keep track of their findings on a score card. One of the exercises was to rate their own leadership, based on the 19 thoughts, e.g. "to what extent does thought 1 reflect your leadership and which thoughts are typical of your leadership?"
Next, we were invited to talk to our neighbors about how we would present ourselves. Koen explains that what you have to offer as a leader might not always fit the context. It is not about representing all 19 thoughts perfectly, but about providing what the organization needs.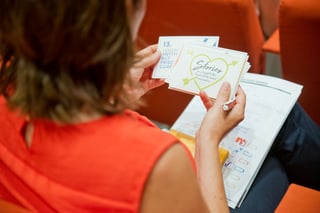 Look at all the different things that are expected of you as a manager in your organization. What is your greatest challenge? This aspect covers the 'why' of your leadership. What would the organization look like if everything worked perfectly?
Finally, the leaders took 2 important thoughts from the cards in the card box provided. On the back of each card are some thoughts on how you might tackle that challenge. The attendees then had the opportunity to write down how they might want to face those challenges.
PART II
Act like a leader, think like a leader
After the break came the highly-lauded Herminia Ibarra from Insead, presented by Jesse Segers. Two years ago, Ibarra wrote 'Act like a leader, think like a leader', based on her own academic research. She regularly gives lectures on this topic. When Ibarra takes the stage, she does not beat around the bush. "I had already forgotten how it works here. In the United States people will always take the best seats, right at the front. Here people sit in back, because they're scared, which leaves the first rows empty. That's strange."
Ibarra admits that it hasn't always been easy for her to stand up in front of an audience. Her students didn't think she was very interesting when she was still a young, inexperienced academic, without any business knowledge. "I worked very hard, but still I got negative reactions. An honest colleague once told me: 'It has nothing to do with the content. You just need to own the room or you won't be able to do anything with this group. You should stand at the front, away from the desk.'"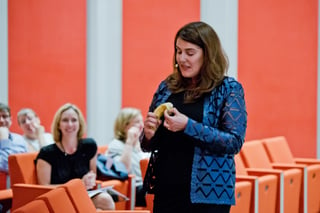 Ibarra proves herself to be a true story teller, using a lot of anecdotes and examples. She walks around the room to show what she means: "Be like a dog marking out your territory. Walk up to the people who think they won't be confronted by you. Look at what they're doing. You have to make an effort to create a relationship and start a conversation." She immediately proves that it works. From the moment Ibarra marks her territory and supplants our Belgian shyness, she has the entire room in the palm of her hand. Ibarra's keynote speech focusses on 3 central aspects of her book.
Redefine your job
Redefine your network
Redefine your self


19 thoughts by Herminia Ibarra
What brought you here won't take you there.
To enhance your leadership, you must learn how to think like a leader.
The only way to change your way of thinking is to start doing new things.
Think about how you really spend your time instead of what you think you are doing.
A new way of thinking requires 3 things: new ways of working (your job), new relationships (your network) and new ways to connect with others and deal with them (yourself).
Sustainable change in your leadership skills requires a shift in every part of that trinity.
Success can lead to competence traps. We fall into a competence trap when 3 things occur:
- You enjoy what you're doing, so you do it more and you get better at it.
- You spend more time at what you're good at and spend less time learning other things that are also important.
- After some time, the time you invest in learning new things gets more valuable.
When you transition to leadership, networking outside of your organization, team and close connections will become important resources for the person you will become.
Our human nature requires us to think: 'X is like me' or 'X isn't like me' with everyone we meet and we base our possible business connection on that.
If you leave things to luck and natural chemistry, your network will become narcissistic and lazy.
How do you breathe new life into your network? Repeat successful relationships, but keep mixing them with new contacts. Keep on collaborating, but not with the same people over and over again.
With more external contacts, you will get in contact with less easily accessible business and you can act as a bridge. That is when you're really adding value.
How do you ensure more diversified work? Make it a priority. Stop following people on social media who follow you, look for new possibilities. Map possibilities for diversity.
Men are not better at networking than, or the other way around, but it is easier for them to create a connection. Because there are fewer women at higher levels, women are less able to make that connection. After all, we are always looking for someone who 'is like us'.
Many of these typical leadership challenges make people feel fake: they have to take on a new role, sell their ideas, deal with superiors, work in a strange culture and learn from negative feedback.
Chameleons trust their transformation to adapt to every new situation, true-selfers, however, feel fake when they are asked to step outside of their comfort zone.
Authenticity traps get you into trouble when you want to act like a leader, because what feels like your authentic self is your old self, from which you are trying to move on.
Stepping up to play a bigger leadership role is not an event; it's a process that takes time before it pays off. It is a transition built from small changes.
Most methods to bring about change ask you to start with the end in mind – the expected result. However, in reality you find out which leader you want to be during the process.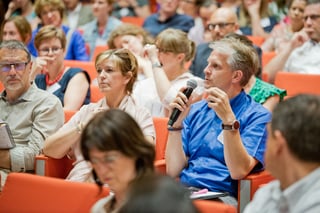 After a few hours of redefining leadership, there was the opportunity to ask questions. Those focused on issues such as 'what is a leader to you?' and 'what does authentic leadership look like to you?'. Ibarra concluded her lecture with the advice that, as a leader, you should experiment so you can be a good role model in your organization.


Do you want to be challenged on your leadership? You'll find all the inspiration you need in the new book, 'The Leader's Clothes' and you can experience it in the accompanying workshop.