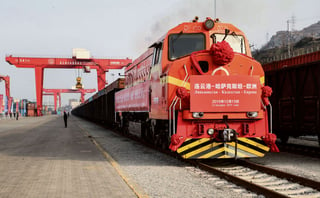 Europe has grown because of the trade with the United States. A trade which was strongly sea-centered. Now, the center of trade has moved to China: a 180° turnaround. When goods from China come by boat, it takes too long: a little more than a month. That is why the Chinese government started looking for an alternative to get goods to Europe faster: The New Silk Road.
What is this New Silk Road?
President Xi Jinping understood that nowadays speed is crucial. Or as the infamous phrase tells us: 'time is money'. A few years ago, he presented an ambitious trade plan: a railway from Chongqing to Duisburg: the Chongqing-Xinjang-Europa Railway, or YuXinOu for short. Via this trail, it would only take 17 days to get a product to Germany, which is approximately twice as fast as by boat. With this plan, he wants to revive the famous silk routes. Formerly with camels, now with their metal brother: the train.
All of this is promoted with the phrase: 'One belt, one road.' 'Belt' signifies the land roads which connect Europe with Asia; 'road' indicates the Maritime Silk Road via Piraeus, Greece. This way, three continents are closely connected in terms of international trade: Africa, Asia, and Europe. With these roads "almost two third of the world population and a third of the worldwide Gross National Product"[1] are linked.
The New Silk Road plans are not only ambitious, but also very costly. The Chinese government is prepared to pay a large sum, but expects countries through which the railway passes to invest as well. The problem with this plan is that many of these countries are underdeveloped and above that have little to no experience with international trade. Other countries, in the Middle East, are politically unstable. Besides, there are several Asian countries which do not want to collaborate with China as they have had previous bad experiences.


How does this affect Europe?
As stated in the introduction, the logistics in Europe is based on sea transport. If the New Silk Road is used more frequently, a possible shift will occur in terms of distributing cities. Up to now, that distribution takes place in Western European ports. If the New Silk Road is used intensively for trade, these distribution centers could shift to Piraeus or the Middle East. In short, Western Europe is no longer sure of its central role as international trade's distribution center.
Not everyone believes that the New Silk Road will have that big of an impact on Europe. A port company in Rotterdam (The Netherlands) believes that the New Silk Road is no competitor for the current sea route.[2] A train can only transport about a hundred containers; a ship approximately 19.000. They think the New Silk Road will become a complement to the current sea route and that it mainly will be used for the fast distribution of electronics. In other words, Western Europe will not be left out in the global distribution.
However, others believe that the role of Western Europe as global distribution center will change. According to Ingrid d'Hooghe, Senior Research Associate at Clingendael, the growing role of Piraeus, a port in Greece, as gateway to Europe will not be without consequences for Western Europe.[3] She states that for now it are only little shipments passing through there, which do not affect the normal course of events, but she predicts that in the future the Western European ports will be left out in international trade. If the goods from China arrive at Piraeus by train, they can be shipped from there to America and Europe. Hereby Western European ports' role shrinks considerably.[4]
Another problem with the New Silk Road is that the number of products going from China to Europe is considerably larger than the other way around. Because of this imbalance, three out of five trains have to return empty to China. Clearly, this is not advantageous for profit. This is consistent with Karl Geysen's vision (expert in logistics). He states there is not enough initiative towards the New Silk Road in Belgium and the Netherlands. Above that, he argues that if we do not respond to this new change, we will miss the train. We must realize that China is an important player on the market. An initiative which contradicts the vision of Geysen, is New Silkway Logistics.[5] They focus on the New Silk Road and currently send five containers a week to China. By next summer, they hope to reach fifty containers a week.
However, no one has a crystal ball. We must grope in the dark to establish how the New Silk Road will affect Western Europe logistically. The Netherlands and Belgium may seem a petty player in international trade, but are important distributing countries. That makes them economically vulnerable for changes in global trade. That is why it is of the utmost importance to focus our attention on China and the changes taking place.


Master in Global Supply Chain Management
At Antwerp Management School, we offer insights about new developments, such as the New Silk Road, and prepare our students for possible changes. The world is in a constant state of change and a firm set of skills will enable you to evaluate these changes, be flexible, and jump on the right 'train'. The Master in Global Supply Chain Management will offer insights on all aspects of such trade chains, and will provide you with the right skills: intercultural communication, leadership, teamwork, negotiations…
Interested? Click here!