That the Master Innovation & Entrepeneurship produces a great number of young entrepreneurs, should no longer be a surprise. Even during the master the students are already quite venturous. Just recently, they organised the event 'Riding Through Success'. Could it be that they are getting a bit cocky?

Winnie Kisakye – who is supported by the AMS Fund to follow this master - prepared the event alongside Yasmine Vetters, Anthony Verstraete, Ann-Sophie Tack, Erin Dooley, Kyra Koeken and Jonathan Albers. "It was an evening we had been looking forward to from the very moment it was planned. Since it was organised by students, we were quite curious to see the result. The entire team had put their heart and soul in the preperations for the event. Really, it felt more like getting ready for a last-minute wedding, only this specific wedding was called Riding through success."

The posters displayed in the foyer couldn't explain what the title of the event meant, something that made most students curious. Aside from the name and the date of the event, the poster had a man with a briefcase on it, sprinting towards something. Perhaps he had ridden through success? It still didn't make any sense, at least not to everyone, not until they had heard about the guest speakers that were going to be present. The AMS foyer wasn't just the ordinary vintage foyer that groups of students occasionally held meetings in, or sat down for a cup of coffee to catch up, the set-up had completely been transformed, decorated with a touch of black and gold. A little over 100 guests, who were warmly welcomed, indulged in a brief meet and greet before the event officially started.
Opening

As the guests filled up their seats, Kyra Koeken welcomed everyone. She thanked them for attending the event and also gave a brief introduction that explained the meaning of the event. Riding through success was organized to support an aspiring Indian cyclist named Sarvesh Sangarya, a 23-year-old who dreamed of competing in the Tour the France cycling championship, but didn't have a team or the appropriate funds for training and facilitation. It was stated that all the proceeds of the event were to be given to him. A video of Sarvesh was then presented for all the attending guest to get to know him, his brief background, how he discovered his dream and what has motivated him since.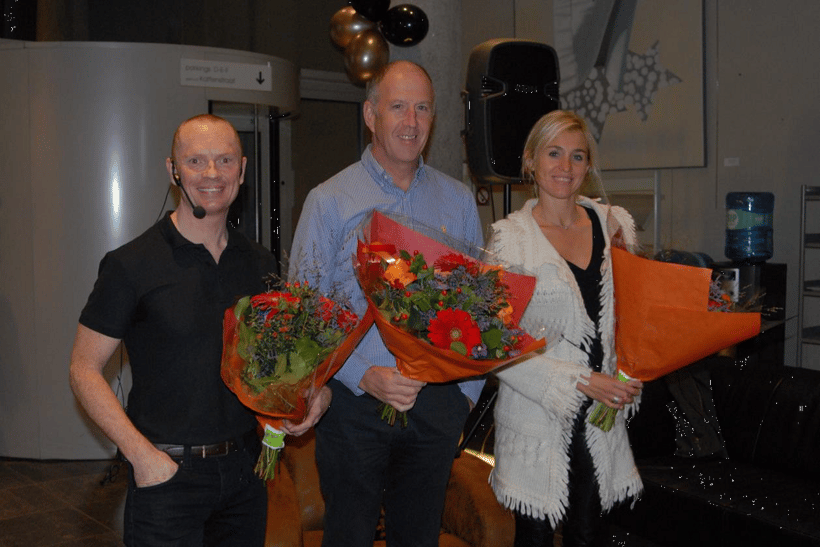 Sofie Goos: "believe in yourself"

When announcing her as the first guest speaker of the evening, Winnie briefly introduced Sofie Goos. A Belgian traithlete who made her big break into sports in 2008, with wins in Ibiza, Knokke, Mechelen etc. and continuously competing in numerous races including the Florida Ironman and the Barcelona Challenge. With respect to her years of success, Sofie was once nominated as Belgian athlete of the year, and in 2010, she became a full-time professional triathlete. However, Sofie is mostly known for the fateful event in May 2016, which almost crippled her career. While training in Antwerp one day, Sofie was stabbed by an unknown man, for no reason whatsoever, a tragedy that forced her to be treated in intensive care. On the same day, her mother was diagnosed with breast cancer. Sofie was to be interviewed by Jonathan Albers and Anthony Verstraete to provide an insight into her career both before and after the fateful event, and what to her, was the true meaning of success.
During her interview, Sofie explained that the man who stabbed her was mentally disturbed and that even if the tragedy caused a stumble in her career, she couldn't control it. She revealed that after her recovery, she turned all the negativity into motivation and started training again. Further still, she competed in her first race in September 2016, knowing that she wasn't able to win it. In her words, it wasn't her official comeback. According to Sofie, the true meaning of success is believing in yourself and not giving up on your dreams, no matter the circumstance.
Ronald Gaastra: "set reasonable target goals"

The second guest speaker was Ronald Gaastra, the most successful coach in the Belgian Olympic History. He is a Dutch swim trainer who started in 1989 as technical director at the Flemish Swimming Federation and led several swimming talents to medals and European titles throughout his career. He was recently recognized as the coach of the national Belgian team at the summer Olympics of 2016, a team in which Pieter Timmers won a silver medal in the 100 meter freestyle.
During his speech, Ronald strongly urged the guests that success shouldn't be looked at as merely a dream, but as a reality. He advised that in order to succeed, we should set reasonable target goals, and then work towards them. He in fact warned that most of the time when people set unrealistic goals, none are achieved, as time is wasted without a strategic plan. According to Ronald, you have to work hard to achieve success.
Jamie Anderson: "family, inspiration and happiness"

Jamie Anderson, the final speaker of the evening told his story about how he let go of his dream of becoming a professional cyclist and devoted his life to school and a new career path. Jamie is an academic, author and speaker who has been named a 'management guru' by the Financial Times, and was called one of the world's top 25 thinkers by the Business Strategy Review journal, alongside internationally renowned thought leaders such as Gary Hamel, Philip Kotler and Henry Mintzberg.
A few years ago he was at the top of his career, married with two children and with a paycheck that allowed him to support his family: he seemed utterly successful. Almost everyone who had chosen his career path, would have wanted to be in his shoes, or at least strive to earn as much as he did. As Jamie poured his soul into his career, he had less time for his family and was very unhappy. In fact, he showed a photograph that was taken of him a couple of years ago, while at the top of his career, a picture that showed a miserable man.
Jamie took a turn in his career by quitting his job and joining cycling for older men. He even competed in a race where he won a bronze medal, and had his family beside him. When Jamie quit his job, he went after his passion, a turn that gave him time for his family, inspiration and above all, happiness. According to Jamie, that was a success. Over the past few years, Jamie has delivered more than 300 keynote presentations and lectures at conferences and workshops, where he passionately talks with a good dose of humor about leadership, creativity, innovation and strategy.
End of the evening

Afterwards, Kyra Koeken thanked everyone again for being present. She introduced the team behind the organization, who in their turn gave the speakers a bouquet. Kyra informed the guests that they were hosting a crowdfunding project at a table in the back, to give people another chance to make a donation for Sarvesh. They also held a sale of little engraved laser-cut bicycles, for only 1 euro a piece. The event came to an end with a cocktail, where all of the guests had a chance to interact with each other and most importantly, with the speakers.
This event left all the attendees with one question running through their minds: what does success mean to me? Read what success means for other MIE students.