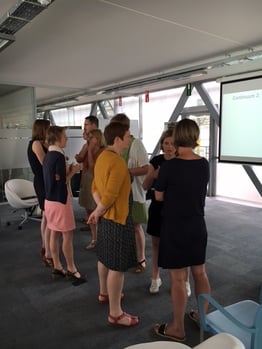 It is both fascinating and challenging for HR and OD managers to discuss the issue of shared leadership with a CEO who has applied it with variable results, and a professor in leadership who sees right through the holy grail of shared leadership.
Werner Krott, CEO of the
Floré Group
, welcomed us with a warm smile to an assembly room in the middle of the 'VAL' earlier this week, one of the core processes that Hannelore Calmeyn, HR manager, can adequately explain to us. Impressive – how many HR managers would be able to do so about their company? Krott is never far away from the action: we see flowers and plants and the entire process of getting everything to their customer on time.
"It is a necessity because the business is growing fast
and needs more leadership capacity."


He is very open: "Floré's quest for an increasingly shared leadership is dictated by choice and necessity." It is a choice based on our desire to foster a people-centered culture. It is a necessity because the business is growing fast and needs more leadership capacity right across the organization. Krott sees it as his job to define the company mission and translate it into concrete terms, so each employee's job is genuinely meaningful to them. "We have to create eager followers."
Dialogue
This is consistent with the new role of the CEO as described by Professor Jesse Segers, Co-Director of the Leadership Expertise Center and Associate Dean of Education. As to the question of whether letting go is hard, Krott resolutely answers: "No, I would like my employees to take on more responsibility." Krott knows that this means he'll constantly have to take account of everyone's individual situation, because what works for one person, does not necessarily work for another. Calmeyn then joined the debate. Suddenly a truly spontaneous and unique dialogue unfolded between them about how Krott thinks listening is of great importance, but he sometimes needs a sounding board. This is a great example of openness and vulnerability, and a relationship between CEO and HR that made several participants quite envious.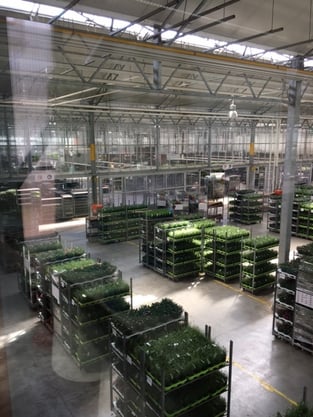 At this point Jesse Segers challenged us with the question: "Do you know what your CEO wants from you?" In asking this, he first of all wanted to point out the fact that shared leadership is a continuum that covers a broad field and that it is our role to support both the organization and the CEO by focusing on the amount of shared leadership that we want to achieve. So we should also be asking, "What exactly do you want from your CEO?" Secondly, he urged us to see that what we ask of that CEO isn't nothing. Or, "Do you realize what you ask of your CEO?" For someone who is a pro when it comes to the traditional paradigm, a shift to a new role might not be straightforward. The way that they wielded power in their traditional role can, in their new role, be counterproductive.
Role of the CEO
This is because firstly, many CEOs discover a lot about themselves when they have to (partially) give up their power. This process of de-identification demands vulnerability, a third place, identity work and grounding processes. Secondly, because power hinders the creation of the necessary holding space for other leaders and employees in the transition to greater shared leadership, which brings up a lot of questions, concerns and frustrations. Power creates distance and makes us less empathic and caring for others.
"In sameness we connect, in differences we grow"


The new world of the CEO is one full of paradoxes. Segers thinks that HR should encourage closer and more empowered and individualized working practices to take us towards a model of shared leadership which is primarily focused on others. There is a need to stay focused on the self, maintaining distance, control and uniformity as well. Werner Krott talked about the need for formal leadership (control) and creating eager followers (empowering). The art, Jesse Seger says, is to cherish these paradoxes. It is up to HR to acknowledge that CEOs in this field operate and create discourse which encourages us to see how both ends of the spectrum can meet so they can co-exist. "How far can I go in being critical of my CEO?", one of the participants asked. In sameness we connect, in differences we grow, was Segers' reply.
The 10 HR managers left the Floré Group that day, full of questions. "I have more than enough to talk about with my CEO this summer", one of the participants said.
More information? Get in touch with Karen Wouters!