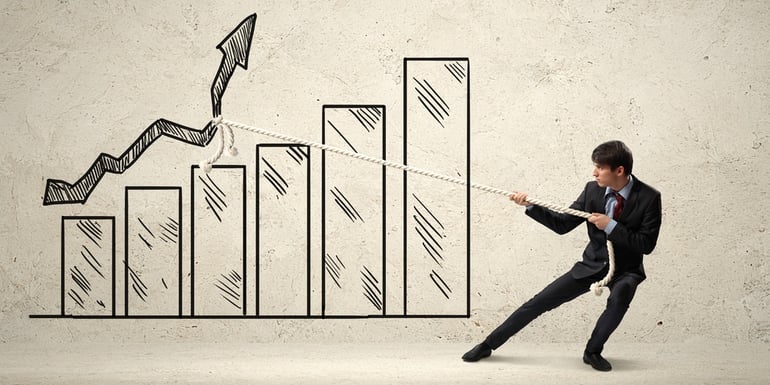 Despite its very recent development, enterprise architecture is becoming an established area of growing importance. Substantial literature exists on the acclaimed benefits, many of which still lack supportive empirical evidence. Kurek, Johnson and Mulder, all related to our Master in Enterprise IT Architecture, used the theory of Enterprise Engineering and Enterprise Governance[1] as a basis for research on the value of enterprise architecture (EA) on IT projects. Through a partnership of Antwerp Management School and The Standish Group International Inc., they had access to 3076 IT projects in 28 organizations. We spoke with Eaglan Kurek about the results and his experience with EA.
First let's outline the meaning of EA. What is the definition according to Kurek? "I tend to agree with the definition of Prof. Dr. Ir. Jan Hoogervorst; that EA is a set of principles and standards that guide enterprise design. Creating and updating the EA is the responsibility of the Enterprise Architect," Kurek explains. An Enterprise Architect himself, Kurek knows what this entails. "The Enterprise Architect performs work in order to translate the business strategy into effective change, enabling evolution to the desired future state of the enterprise." EA can thus be seen as a tool to ensure the benefits of organizational change, e.g. digital transformation.
Complexity of measuring the value of enterprise architecture
In their research, Kurek et al. measure the value of EA by comparing end results of projects done without EA to those done with EA in the same organizations. Kurek explains why this is very complex to measure: "First, EA touches so many domains. It is about operationalizing the business strategy and therefore is concerned with the function of the enterprise and the construction of the enterprise (organization, technology, information, applications,..)."

According to Kurek there isn't a single domain in the enterprise that isn't influenced in some way by EA, if the EA capability functions well. To complicate matters even more, there isn't a definitive global consensus on what EA is. "To some it's a process, to others it's high-level design, some think of it as a library of principals and standards, and others as a taxonomy – it is difficult to know what someone really means when they're using the term and how it influences the project. For example, an EA framework like TOGAF is much more invasive on the project level than a set of EA principles. Some benefits proposed by literature and research are tangible, like "reduced IT cost" and "reduced delivery time", but a lot are intangible, like "increased awareness of long-term development of the organization" and "improved communication between business and IT"."


Advantages of enterprise architecture on IT projects
The research showed that after the implementation of EA, projects scored better in current project success assessments, which encompass timing, budget, and satisfaction. There was a 14.5% increase of successful projects (on time, on budget and with satisfactory result) and a 26.2% decrease of failed projects (cancelled or not used after implementation). 'Challenged' projects meet one or two of the three standards. Measured against traditional project assessment, which considers targets achieved rather than satisfaction, a 11.5% success increase, and 26.2% failure decrease were noted.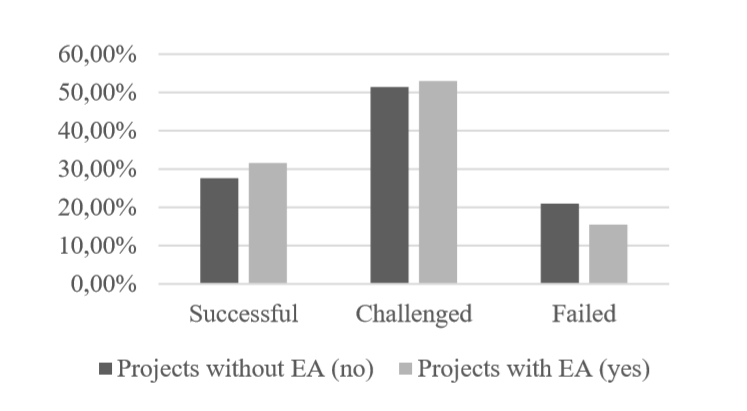 Kurek et al. further investigated the individual impact of EA on user satisfaction, the budgets and timeliness of projects. They found that subcategorization was needed, based on the size of the project, into small (under $1 million labor cost), moderate ($1 million to $3 million), medium ($3 million to $6 million), large scale ($6 million to $10 million) and grand projects (over $10 million).
They found that EA impacted projects, resulting in an overall decrease in failure of projects and a significant increase of successful and challenged projects. They also found an exception for grand projects where we see a decrease of successful projects by 51.2%. Conclusion: the larger the project size, the more valuable EA becomes (grand projects being an exception). Kurek was expecting the measured value to be higher. "In our research the number of projects under scrutiny was quite high, which means the effect of extremes is much less. And we must not forget that we have concrete evidence that EA does have a positive effect on IT projects – and certainly not a detrimental effect. Also keep in mind that the value of EA on IT projects is just one of the many benefits of EA."


More research is needed
We can assume that the larger the project is, the more requirements are imposed and the bigger the designs are. EA predominantly has influence on design, much less on the execution process of the project. Architecture touches the functional and constructional design, not implementation. Therefore, larger, more intricate projects will benefit more from EA. However, if we look at grand projects alone, we see a more than 50% decrease in successful projects. This kind of large scale projects might not even be helped by EA because of the sheer number of requirements which might conflict with existing principles.
More research into the matter is required. "Academic research in the field of EA is crucial, as EA is still a relatively young field, but is getting a lot of traction. The amount of open EA job offers reflects this. As there is a huge amount of EA frameworks, education and certification, it is quite difficult for someone moving into EA to discern which methods will provide the most value. That probably also holds true even for seasoned Enterprise Architects. Research should help to explain and confirm where the value of EA lies and how this value is (best) realized. This helps mature the EA practice which in turn enables EA to aid businesses even more."


Want to find out what this kind of research insights can do for your business?
[1] J. A. P. Hoogervorst, Enterprise Governance and Enterprise Engineering, Diemen: Springer, 2009.