The head start a 'boutique business school' gives you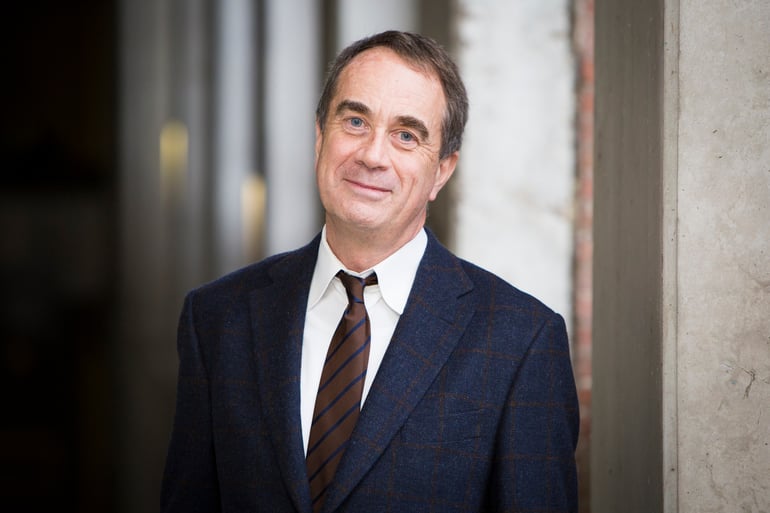 In addition to his daily management responsibilities for AMS, dean Paul Matthyssens travels around the world teaching, advising on projects and liaising with other management schools. Fortunately we caught up with him at just the right time to hear his views on management training, which he has developed over the years. What does the future have in store for AMS as a business school?

Paul: I've always been a very practice-oriented professor and I've always tried to strike a good balance between scientific depth and practical relevance. This is illustrated by the fact that, throughout my career, I have taught quite a lot in a number of business schools including Erasmus Universiteit Rotterdam, Nijenrode, Maastricht, SIMI (Scandinavian International Management Institute, which later merged with Copenhagen Business School), Danish Technical University Business School, Hankan Business School in Finland and the Swedish IFL, which became part of the Stockholm School of Economics.
For me, a good business school offers alternative and well-founded reference frameworks and gives executives the stock-in-trade they need to deal with complex issues. A business school should also inspire and help boost self-confidence; it should teach the principles of corporate social responsibility, generate positive energy and enhance its students' ability to detect ulterior motives. So that's a tall order. The closer you are to the executives, the easier it becomes to guide them through the process. That is why I am convinced that, in theory, smaller business schools are better equipped to organize successful management training programs. The days when you could build a career solely on brains are long gone. Nowadays you need feeling, energy and empathy. We must hand managers the tools to initiate complex processes based on a vision and a well-balanced personality.
"The closer you are to the executives, the easier it becomes to help them. That is why smaller business schools are better equipped to organize successful management training programs."


A heterogeneous offer
Business schools have come in for criticism over the years – and with good reason – but let me tell you from experience that business schools do not constitute a homogenous group. For instance, business schools such as Copenhagen Business School and Rotterdam School of Management are very different from TIAS, Vlerick and Antwerp Management School. Why? Because the first two are typical, state-funded schools. For instance, Rotterdam was established as an interfaculty between TUDelft and Erasmus Rotterdam and was then transformed into a business school. In other words, this is actually a university, with thousands of undergraduate students. The same is true of Copenhagen Business School. They operate on an entirely different scale to the latter group of schools, but at the end of the day they do play in the same league.
The second group mainly focuses on executive education. Schools such as AMS have a relatively small number of master's students and no bachelor's degree students at all. This means they must earn most of their resources on the 'external market'. Within this last category of primarily executive institutions, there are also the large international schools such as INSEAD. While they do not offer master's programs, they do generate an annual turnover in excess of €200 million. This type of school has ties with large multinationals that have a reputation and a worldwide image to uphold.
Top managers want to enroll in this type of school because of their reputation, but we should ask ourselves whether or not the lack of local content is a problem. It's more of an elitist set-up, based on a 'one-size-fits-all' philosophy. So these are global companies, as it were. As one of the smaller schools, AMS is in the medium-sized segment. Of course, the size of your school has all kinds of implications for the power you can wield in the media, but even so, the smaller schools are still a force to be reckoned with on the local and international executive education markets. Naturally, this means differentiating ourselves from larger schools and compensating the lack of marketing reach through a personal approach, a strong regional network and local relevance.
"Business schools have come in for criticism over the years – and with good reason, but business schools do not constitute a homogenous group. Smaller schools often have more local and social relevance."
Management education criticism
So at whom is criticism of management schools primarily targeted? I think it is primarily levelled at the larger business schools with lots of in-house researchers who therefore constitute a kind of faculty. This type of management school is mainly found in the US. They have a large number of staff who are engaged in research and who publish papers. They have often failed to detect past crises, they refuse to take standpoints that go against the interests of the corporate world and the multinationals have them on a leash.
These business schools have too much to lose by going against the grain. The research they conduct is not always relevant to the business world but is aimed at the purely scientific magazines used in the Financial Times' rankings. This type of research has no immediate relevance for managers. Indeed it is questionable whether it presents any solutions to the practical problems faced by executives in both the public and private sectors. These magazines are also very traditional. Consequently, conformity is the name of the game and everyone focusses on the same few topics which appeal to such academic publications. If your research is totally new and cutting-edge, you will have a hard time getting published.
"The large business schools have often failed to detect past crises. The research they conduct is often irrelevant to the business world."
You should also bear in mind that criticizing trade and industry is like biting the hand that feeds you. So even when it's obvious that all kinds of irrational processes are taking place, such as power plays, herd behavior, bad governance and the like, most business schools do little or nothing about it.
Rankings
Rankings cause everyone to play by the same rules. This is especially inconvenient for smaller business schools as the standards they're being held to were established by bigger business schools in the first place. Meanwhile, a number of business school organizations such as PRME have cropped up, stating that "the aim should be responsible management." However, if this concern were to be addressed properly, the Financial Times ranking for instance would have to be changed: it is governed by the EMBA and 40% of its value is calculated on the basis of its alumni's wage increases three years post-graduation. Such a one-sided, outdated approach to careers ill behooves a modern vision of sustainable careers. It would almost require a completely different approach to the rankings, which in turn wouldn't have any credibility. Small-scale business schools have to be somewhat idiosyncratic and pursue their own vision. We focus on responsible management, balanced careers and the ability to embrace transformations.


"If it's money you're after, go get a certificate from one of the big schools, but if you're interested in a balanced and truly engaged career, opt for us."


I'm convinced that, as a smaller school, you have to focus on building your own identity. You have to be daring enough to state "If you want to go for the big label, top-ranked school to show off on your LinkedIn page, that's your choice, but if you're seeking local relevance and actual depth, we're what you're looking for." Or rather, "If it's money you're after, go get a certificate from one of the big schools, but if you're interested in a balanced and truly engaged career, opt for us."
Boutique business schools
To brave the fierce competition, smaller business schools have to emphasize their service and proximity for participants and stakeholders. The question is what should be considered the minimum scale for smaller management schools like Antwerp Management School to remain independent, particularly in view of the required investments in technology. We and our board of directors are convinced that AMS has a bright future as an independent school.
Compare it to the hotel business: even smaller hotels don't need to be part of a chain, as long as they provide top-notch service, a good location and their own unique story. If you look up 'the world's most beautiful hotels', you'll notice they're all reasonably small hotels with their own character. Often, you will notice that such hotels collaborate, they may work together to create brochures, share information and use a shared website for reservations. This is a way for them to exceed the limitations of their small scale, while retaining their independence. It's my wish to create a similar European network for small-scale business schools.
United States vs. Europe
In Europe, there's a bigger focus on social relevance. We have a deeper understanding of development and leadership, career development and self-awareness. Prof. Dr. Ans de Vos is concerned with these issues for our Full-time Masters and also in our Executive Masters they are comprehensively covered. This typically European emphasis tries to get the less visible aspects of people and business out in the open. We are concerned with touching souls, whereas American business schools focus on a framework with wonder tools. They have a tool for everything: for any given problem, there's a given procedure. This approach is often – and rightfully – criticized, as it completely lacks nuance. The framework is strictly part of a top-down vision. The default vision is of mindless drones awaiting the orders of the almighty MBA-wielding manager, the one who can quickly diagnose 'situation number 26' and thus know how to fix it. This is the American business school in a nutshell, whereas Europe is more about opening minds and encouraging critical thought, whilst also placing greater emphasis on the work-life balance.
"In Europe we're more critical and likely to look for social relevance."
In the USA, various specializations are even more fragmented. We take a much more holistic approach, something which used to be neglected but is now gaining momentum and establishing itself as a substantial asset.
Wicked problems
Take the issue of urbanisation. Here, specialism is not the solution. It's exactly the kind of problem that starts generating another problem when you take steps to solve it: it's what's known as a wicked problem. A city has to attract talent, but as it does so, it in fact starts to attract all kinds of people. As the city grows, it becomes harder to run, Shanghai with its 27 million residents being a great example of this.
"In the future we'll be taking a more holistic and multidisciplinary approach."
As a business school, we believe we have a role to play in this. The problem is of such epic proportions that only a multidisciplinary approach will work here. Individual urbanologists and urban planners stand no chance of tackling it on their own. It takes a range of specialties, all of which can be found at a big university. Beyond this, much depends on the city itself. It needs to be a city where multiculturalism - in short, diversity - is the major force of attraction. This is what makes the city a laboratory for your school, a point upon which the new dean of UAntwerpen, Herman Van Goethem, strongly agrees.
A business school cannot offer all of these preconditions. Naturally we have our part to play in it, but we have to cooperate with a number of other parties, including the UAntwerpen here and various research facilities in other cities. This is why the future will be more holistic and more multidisciplinary. 'I'm a specialist in the specialism of specialism' is an approach that is soon to be confined to certain scientific and medical domains.
Network mobilizer
In a few years' time, I at least want us to be renowned for our social relevance. We have to be able to function as a network mobilizer. We have to enable our organizations to encourage various parties to work together creatively and purposefully to solve wicked problems. I think this is definitely one of our stronger suits: we are quite openly collaborative.
Internally we are working on a number of processes that will help us become a more professional organization. We really have to shape the next generation. That's the energy I want people to feel when they walk in: the enthusiasm and the customer-friendly attitude. That's the energy we get from our students daily. Running a business school, pretty nice, right?


Does this sound appealing to you? Do you want to meet us?
Discover our management programs & find out which one suits you!