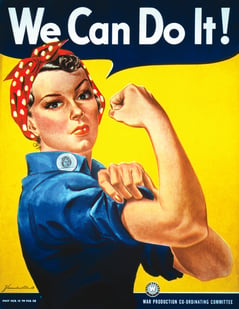 Family businesses have performed exceptionally well over the past few decades. There are many reasons for this, however it is especially striking that family businesses, even in later generations, are still strongly imbued with the values of their founders. This manifests itself in different ways, but shows up strongly as a commitment to equality. Family businesses worldwide see a great deal of female leadership and these enterprising women are doing well, a recent Bisnode Belgium survey shows.
"Today, 30% of Belgian family businesses are female-led"
The advance of C-suite women
Vincent Molly, director Knowledge Community Family Business at Antwerp Management School: "Today, 30% of Belgian family businesses are female-led. Moreover, more than 86,000 women fulfil a directorship role. It is clear that female C-suite executives are on the rise."
Many sectors are however still lagging behind (with a growth rate of 1 new female CEO a year, gender parity in company leadership would not be achieved in these sectors until 2170 at the very earliest). Fortunately, family businesses are evolving rather more rapidly. A recent study by service provider EY indicates that there are greater growth opportunities for women in family businesses: not only do they get promoted faster, they often go further- in at least 55% of the cases cited, the executive board has at least one female incumbent. At least 70% would also consider a woman as their next CEO. These female role models also have a positive effect across the board: in many cases (41% of the female family members over the past 3 years) they also inspire other women to join the business.
"At least 70% of family businesses are considering a woman as their next CEO"


Furthermore, it is also striking that many of the women in the top 100 work in traditionally 'male' sectors: there is a preponderance of these women in the manufacturing industry, whilst there are fewer in the 'softer' sectors. There is also plenty of space and potential for growth opportunities in the production sector in the near future. Nor is company size a significant factor: it is clear that you really don't need to be a multinational in order to be successful. 'Responding to the local situation also pays off', says B2B data expert Pieter Moens of Bisnode Belgium.
New corporate culture, more equal business management
Nowadays youngsters can access information about everything faster than ever before. The new generation is aware of, and therefore reflects more upon, the responsibilities it will have to bear: from an early age, young people are already aware of their career options, giving them greater opportunity to consider whether or not to take a place in the family business.
Furthermore, it is also striking that the greater emphasis on work-life balance amongst younger professionals is a big advantage for female business leaders. The changing corporate culture ensures that deals are no longer sealed within the "boys' club" of yore. Moreover, we are also seeing the older generation of business leaders becoming less short-sighted: they no longer automatically look to the eldest son for succession.
Nevertheless, it seems daughters may often turn out to be less assertive in challenging the founding generation: often they feel a greater impetus to maintain company traditions, which can sometimes hamper change.
"In practice, we see that companies that have a lot of women in strategic positions usually achieve better results"
The formula
What is harder to determine is the precise effect of female governance. Are businesses doing better because they have a female director or are female professionals more likely to get an opportunity in a company that is doing well? In practice, we see that companies that have a lot of women in strategic positions usually achieve better results, both financially and in terms of policy, MVO, talent development, shares, customer relations and so on. Combined, these all lead to better results when it comes to risk management, brand reputation, recruiting and retaining talent, and which in turn translate into a stable and a profitable business.
The formula for success is simple. First, it is evident that strong female role models in business inspire and motive other women in their turn. In addition, female business leaders excel at long-term thinking, placing greater emphasis on continuous growth. Finally, family values remain strong: the welfare and prosperity of the family – and by extension, its contributors – are fostered through a strong focus on consistency, commitment and dedication. Family businesses promote human values and that forms a strong foundation for honest career growth opportunities.
Top 3 rated (revenue - euro)

1. Reynaers Aluminium
Martine Reynaers
211.292.640 379
2. Sioen Industries
Michèle Sioen
154.394.636 395
3. Cit Blaton
Sandrine Blaton
134.639.787 261


Fastest risers in the rankings
1. Levenstond Seafood (79 plaatsen gestegen)
2. Malysse Villers-Le-Bouillet (+76)
3. Princess (+76)
Biggest losers in the rankings
1. Societé Automobile De Waterloo (-83)
2. Pasfrost (-72)
3. Galana (-69)
Largest revenue past year