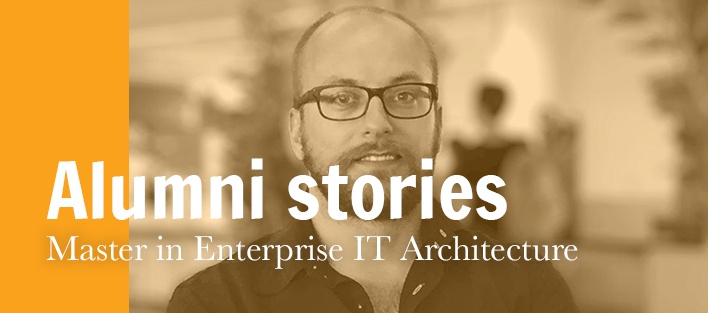 Raphael Wouters is cofounder of hublio, a smart digital platform that connects clients with brokers, advisors and insurer, and he also happens to be an AMS-alumnus! He took the Master Enterprise IT Architecture (MEITA) between 2012-2014 at Antwerp Management School. After 10 years of working in consultancy and enterprise architecture, Raphael decided that the market might benefit from a more formal and academic perspective, in contrast to the commonly-used, subjective and volatile 'best practices'.


hublio
"I had been thinking about starting hublio for years. But once I moved to Ireland, I once again observed the problem that insurance and finance lag behind the digital age. So, along with my partner, Michael Parizal, we founded hublio. In this shared partnership, I handle the more technical and commercial aspects of the enterprise, whilst Michael focuses more on the financial and client relations side."
Hublio is an intelligent digital platform that connects consumers, brokers, advisors and insurers through different communication channels. A balanced mix of smart automation, behavioral economics and qualified advisors creates a unique profile for each user, and picks out the small print of their contracts. This way client needs are assimilated and they will be notified if they are over- or under-insured, have double or missing warrants and if they can find better products cheaper elsewhere, because hublio scans the market for them.
How to close the gap between management and IT
Raphael describes how his study for his Master Enterprise IT Architecture has influenced hublio's development: "In the past I often got in touch with 'managers' without considering IT, and vice-versa. Many corporations are either strongly IT-oriented or barely consider it. Our joint partnership gives us a strong mix: Michael isn't technical at all, his strengths lie in commerce and finance. My background, on the other hand, is in operational IT, from development to architecture, and I am also involved in the business side of things now. The latter in particular takes me way out of my comfort zone, but I view that as a necessity. We work with clients to find them a unique solution based on our platform with grafted-on IT."


"The challenge is to build and market the one thing that excites the target market and which they also experience as problematic."


Perspective
"Almost everything is possible technologically. The challenge is to build and market the one thing that excites the target market and which they also experience as problematic. The biggest IT-related challenge for us is translating our vision into a Unique Value Proposition to become a Product-Market Fit. Achieving this in Belgium and Ireland is a goal we want to achieve in 2017. We also look forward to welcoming new paying clients and raising additional investments to finance growth."


---
Executive Master in Enterprise IT Architecture
This master aims for the development of skills to innovate the enterprise. The participants acquire knowledge to master complexity and to be the architect of a successful organization.