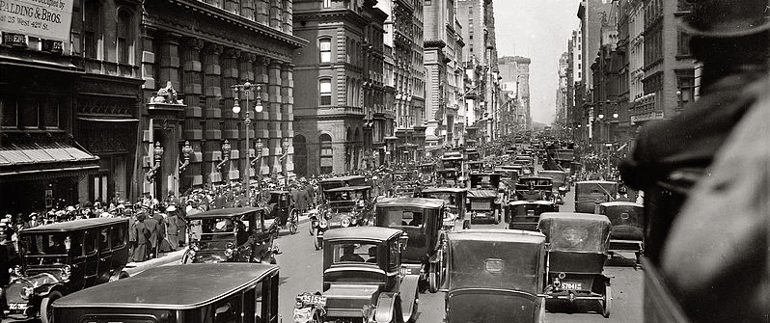 Mobility is booming business. While we literally see the traffic jams growing in front of us – with all the consequences – we seem to be heading towards the momentum for a big change, now more than ever. To keep an eye on the developments, the Smart Mobility Expertise Center headed to the Mobility of the Future event. In this blog we share our most important findings with you.
Mobility of the Future is an event that immediately immerses you in (technological) mobility innovations. On the test track, you could test the latest last-mile solutions. (Inter)national speakers unleashed their vision and ideas for the future of mobility on the audience and youths eagerly experimented with datasets.
Loads of innovations and future scenarios are fighting over a prominent place in the Future of Mobility. To succeed at that, they need more than a clear vision or smart IT. The moment of innovation of the launch is just as important: society has to be ready for change.


Everyone in an autonomous car
For the big audience, the conference was kicked off by American mobility guru Lukas Neckermann, author of the books The Mobility Revolution and Smart Cities, Smart Mobility. He spoke of shared and self-driving cars and is convinced that by 2040 we'll all drive around in autonomous cars. What's more: this self-driving dream will, according to him, lead to zero emissions, zero accidents and zero ownership. Politically, as well as economically and technologically, the challenges have already been addressed. The last big challenge, however, is social acceptance. According to Neckermann, raising awareness with the general public is key. He asked the audience to spread his message of safe and efficient automatized transport.


Sustainable bikes
Mikael Colville-Andersen of the Copenhagenize Design Company, was the complete opposite of Neckermann's beliefs. He provided a strong argument to not wait for self-driving cars to fix everything, but to move around in a more sustainable and healthy way, using a bicycle. He insisted on taking the design of streets away from engineers and hand it over to designers.
He wants to redesign the city, so that bicycles and cyclists are central, which was the theme of his plea. In Copenhagen it definitely paid off: 62% of employees cycle to work every day, thanks to the bicycle-friendly infrastructure. 21% use public transport and 8% just go on foot. Only 9% take their car. These numbers are the complete opposite in Flanders, where cars are the number one form of transportation.


Ready for Mobility As A Service
In the afternoon sessions there were several presentations on city mobility and design, smart and sustainable mobility and connected and autonomous vehicles. Colleague Nils Wuytens explained the evolution within urban mobility. On the one hand, it's driven by infrastructural adaptations like the implementation of pedestrian zones, low-emission zones, bicycle infrastructure, and so on. On the other hand, it's reinforced by the omnipresence of smartphones and new mobility solutions like shared bicycles and cars and carpool apps.


Find the presentation by Nils here


This combination of factors ensures that the urban mobility landscape is ready for a switch to Mobility as a Service, or 'MaaS'. The MaaS concept offers a personal mobility package, adapted to individual mobility needs, based on a technological model. This concept is seen as the future of mobility by an increasing number of mobility experts and can – through its personal and individualized approach – be a worthy alternative to private car property.


4 million euros for promising mobility initiatives
The conference was closed by Alexander De Croo, minister of Digital Agenda, who came to present his recently launched call for Smart Mobility. Together with the minister of Mobility, François Bellot, Alexander De Croo provided 4 million euros to financially support promising mobility initiatives. It's clear that both ministers had Mobility as a Service in mind when launching this call, as they are focused on projects that lead to an improved integration of our transport networks, in line with an intermodal, sustainable, digital and connected mobility policy.
The networking moment at the end of a busy day was used well, especially because the evening traffic jams were in full swing. On to the next edition, together with Askim and Jasper of Junction, but at a location that does encourage people to use public transport!

In addition to these new data-driven innovations, the new privacy legislation GDPR, blockchain, smart cameras & traffic lights and physical internet will leave their mark on new solutions for mobility and logistics. We'll discuss them (in Dutch) on April 25.