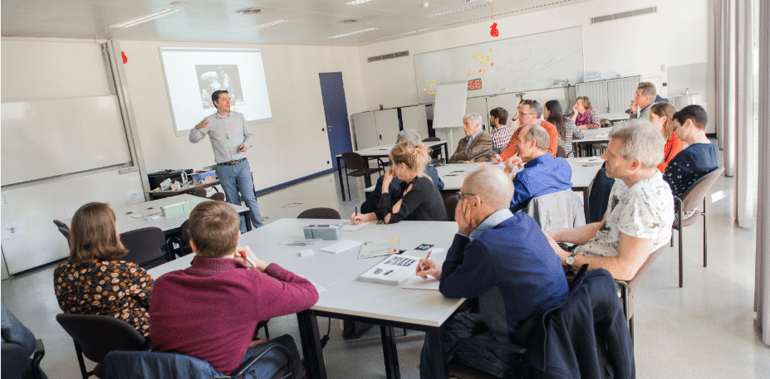 In the many conversations we at the Business Design & Innovation Expertise Center have with people from various companies, we will regularly hear people say something along the lines of: "I know that we have to apply Design Thinking, but it's so hard to get the rest of the organization on board."
It's an issue we struggle with on a daily basis at our expertise center. It's only by disentangling the dynamics that Design Thinking culture stands a chance. This problem is the very reason there is so much demand for company courses and practical training.
There are a whole host of strategies to help you get started. It certainly isn't my ambition to provide you with an airtight framework in just one blog post. Nevertheless, I would like to give you three things to think about which will – hopefully – give you a few "ah-ha!" moments.
1) Failure isn't an option
You are privy to the secrets of Design Thinking and of course you want to put your new knowledge into action right away. A few "wicked problems" are likely to be waiting for you. Consequently, you unleash your new skills on the problem(s) you have been wanting to solve for years, and fail. Be careful: you will be surprised what little credit is left after your first failure.


Have you ever experienced a colleague saying "Right, now back to work." after a failed collaboration? I have, and that is a sign you lost some credibility. This means the next chance you get will require twice the energy.


Although failing in Design Thinking should absolutely be an option, (you've heard the phrase 'fail forward', right?) it's important to ensure you take your first steps within a workable context. You have already been through an entire trajectory and learned to think differently, but in your new multidisciplinary team, every department is still communicating in its old language. Your first steps should therefore be aimed at building (self-)confidence and a common new language and process, rather than trying to change your organization in a week.
2) Innovation has the greatest chance of failing at C-level
In many companies, we see that change to a design-driven organization runs into the most difficulties at C-level. This is relatively ironic, because the demand for new methods is usually instigated by an inspired C-suite member. For colleagues – people who like you whose raison d'être in the organization is to manage their own store, division or department – it can be a challenge to go with the flow of the dynamics of Design Thinking, because it seems to change their job descriptions. These are the people who have a conflict of interest when it comes to vaguely-described ambitions and when multidisciplinary-team projects suddenly start to act upon the mental framework of tough personal and departmental KPIs.
I don't believe people with bad intents really exist in a company. Everybody understands on a rational level that innovation is important. The obstructive people are not usually actively performing an act of sabotage, but rather are passively "not participating". Often, this passive boycott isn't done consciously, but is done because they are unable to identify with the relevance and identity of the new culture and work forms.


Do you recognize yourself in this? There is no shame in that! Just be aware that "learning to think in a new way" takes time and practice. Be realistic: change is a process of awareness which takes time and is likely to cause some discomfort.
3) Your innovation efforts are doomed to fail if there are no resources
We often see that an organization implements the processes too slowly – and not proactively enough – to facilitate a cultural shift. Furthermore, the vacuum and lack of framework which arises is an inhibiting rather than disinhibiting factor. Innovation often happens in addition to 'business as usual'. A tool developed by the Luma Institute, which focuses on "key factors which influence your ability to innovate"[i], identifies four key issues:
1) Ethos
2) Behavior
3) Infrastructure
4) Resources
[i] Reading by Chris Paciona, DMI symposium "Connecting design to strategy", Munchen, 03/2017.
The first two issues, ethos and behavior, are clearly culture-related. They revolve around shared mission, mindset and work methods. Without the oxygen provided by time and space, they are doomed to fail. To have a fertile breeding ground for a Design Thinking culture, you need to also work on approach, surrounding, infrastructure and resources.
Are you "too busy to innovate"? Maybe it's time to "evaluate the key issues blocking your ability to innovate".


In the final sessions of our Master Class Business Design Thinking we will provide you with a few of these frameworks which will help you to put your operational knowledge to use in your organization. We want to make you aware of the importance of the "politics" behind change in your company.