According to industry trends, the pet business will continue to boom. But how important are sustainable business practices in the pet industry? In this blogpost, we will highlight the main insights from our Sustainability Review, executed by the Sustainable Transformation Lab in collaboration with WZF.
As organizer of Interzoo, WZF has launched the Interzoo Sustainability Initiative in 2018. A first step was to gain feedback on the nature and extent of sustainability for the pet supplies industry and to identify best practices and challenges. Therefore, the AMS Sustainable Transformation Lab was commissioned to design, conduct and analyze a survey among 355 Interzoo exhibitors and visitors.
"We observe that exhibitors at Interzoo are talking more about sustainability, and that industry representatives are looking for information," says Dr. Rowena Arzt, Director of Exhibitions at WZF.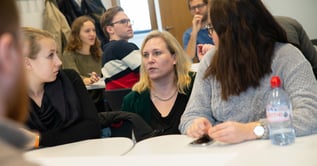 From the survey, we can conclude that there is a definite shift in the global psyche toward sustainable business practices. Most respondents indicate that sustainability issues will become extremely important in the next years both for the pet industry and their organization.
Main insights
Overall, a moderate amount of progress on sustainability is perceived to have taken place in the pet industry in general, as compared with more progress at the level of the surveyed organizations.
80% of the respondents believe that sustainability issues will become very to extremely important in the next 3 years, both for the pet industry and their organization.
Customer demand is seen as the main driver (38%) for sustainable development across all regions. Gaining a competitive advantage is still a weak driver.
The most significant barriers are the costs of implementing sustainability (74%), followed by the lack of government incentives (69%) for sustainability.
Action being taken by organizations range across company strategy, processing, products and communication.
More organizations in the pet industry are implementing sustainability practices in their strategy, products and communication, and they will continue to do so in the future. They agree that shifting toward sustainability can be an investment in a company's future.
Examples of sustainable products that came up in the survey include:
'eco-friendly' shampoo;
cat litter boxes with 'green' technology to reduce bad odor molecules and with a longer life-cycle;
carbon footprint of lamb and rice formula food versus insect protein food calculated using the B Corp rating tool.
Interzoo 2020
Nevertheless, there is still a need to share best practices of how companies in the pet industry can approach the sustainability subject. Therefore, WZF invites visitors to Nuremberg for Interzoo 2020, where they will receive insights and a global market overview of the latest pet food products, grooming aids and accessories for four-legged pets, birds, ornamental fish and terrarium animals.
"It is clear that practical examples of how companies in the pet industry can deal with this subject are too little known and not sufficiently available for many participants in this sector. Until now, no comprehensive overview has been available to show how the pet industry is dealing with this subject," observes Hans-Jochen Büngener, Chairman of the Interzoo Exhibition Committee.
Best practice guide on sustainability
At the same time, AMS and WZF are working on a best practice guide for sustainable development for the pet industry. It will provide answers to questions such as "What opportunities are available for companies in the sector to more actively approach the subject of sustainability?", and "What best practices are already established for the pet industry in terms of sustainability and how can industry players learn from each other?"
With this guide, WZF wants to increase awareness on best practices in the pet industry. The ultimate goal is to tackle challenges on animal welfare, improve partnerships, recognize the importance of tech innovations, and – why not – make the world a better place for people and animals. After all, the world would be a nicer place if everyone had the ability to love as unconditionally as a dog ― M.K. Clinton.