January 6th, the start of the second semester for the AMS full-time master's students. A semester with a lot of highlights to look forward to, especially for us, students in the Master in Innovation and Entrepreneurship (probably one of the coolest programs at AMS… but that's another story). On my agenda for the upcoming semester were three big international trips, including one extracurricular trip. But things turned out differently…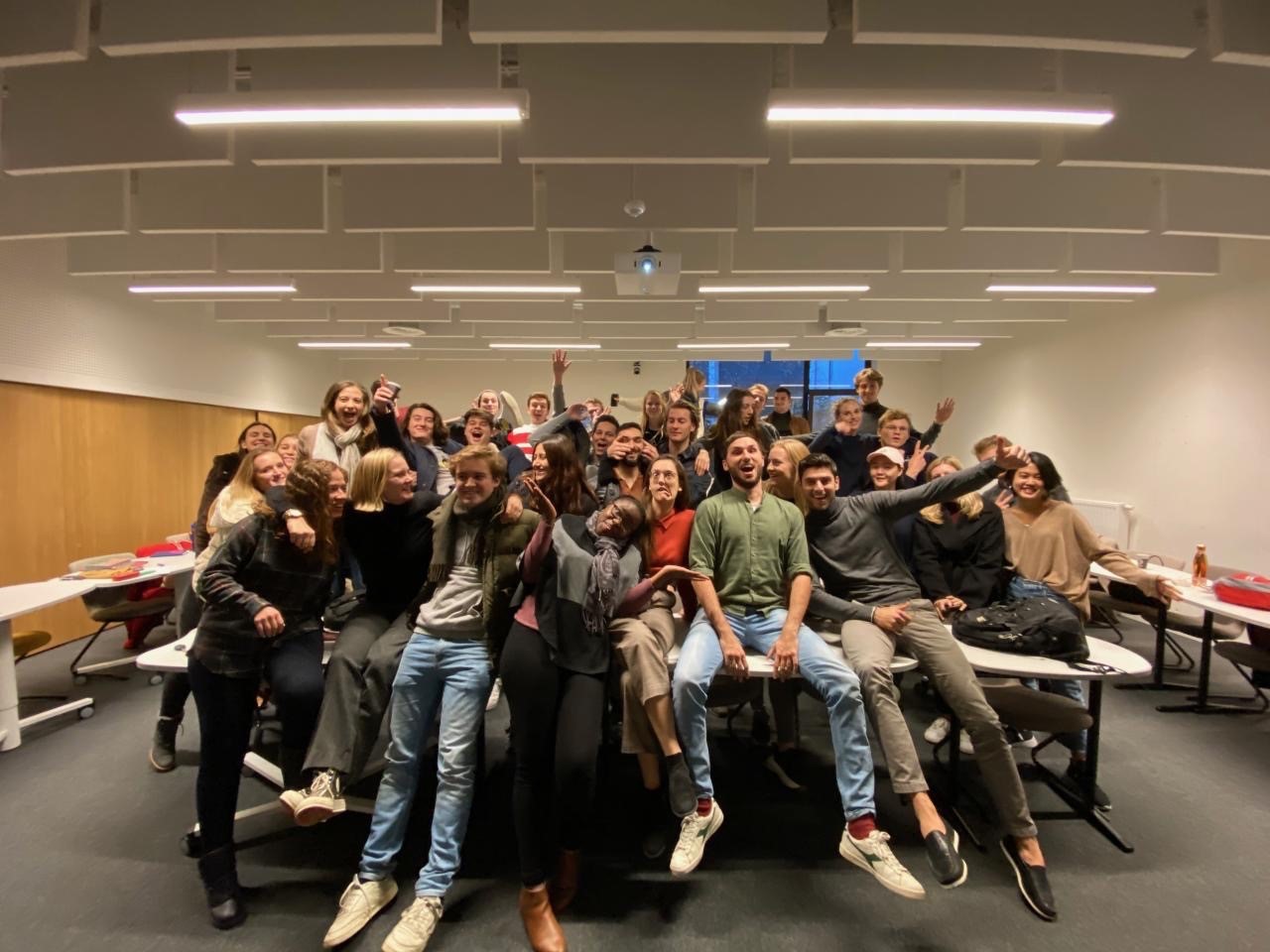 A day in the life of the MIE, in pre-corona times
In November 2019, my friends and I decided to go visit the Chinese AMS family branch in Shanghai (better known as the China Europe Business students) during the Easter break. Next to that, the two highlights of the MIE program were also coming up. First of all, the innovation sprint in Milan together with students from Poli.Design, as part of the Strategic Design Thinking course. And secondly, our growth strategy trip with destinations New York or Tel Aviv, as part of the Growth Strategy course.
Those trips were actually one of the many reasons why I chose to do an extra master's program at Antwerp Management School. Not just because of the fact that we would go on cool trips to nice destinations with the whole class, but more because of the possibility to learn about different ecosystems in the field, and not only through slides in a classroom. In this way we would be truly immersed in the world of entrepreneurship and innovative startups around the globe.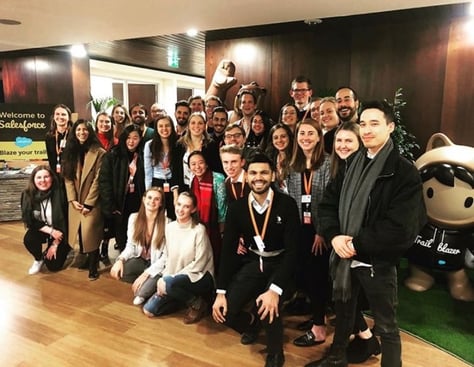 Glad that I still had the opportunity to join the AMS trip to Dublin
However, at the end of January we heard about the spread of COVID-19 in China, with the epicenter being in Wuhan (in Chinese standards not that far from Shanghai). We waited a few weeks to follow up the spread of the virus, but early February we unfortunately had to decide that canceling our trip to Shanghai was probably the right thing to do.
Next on the agenda was our trip to Milan. But just one week before we left, things escalated really quickly. When we heard about the outbreak of the virus in Lombardy, Italy, we quickly realized that our chances of going were decreasing by the day. Finally, four days before we would leave for Milan, our program manager brought us the news that they had to cancel the trip for the AMS students. A week later, the trip for the Italian students to Antwerp was also canceled and the innovation sprint went fully virtual, meaning every meeting with the Italian students and coaches went through videocall. Another week later, the semi-lockdown of Belgium was announced. This AMS campus closed down and the whole project went on in a virtual way, including the final pitches, for all students.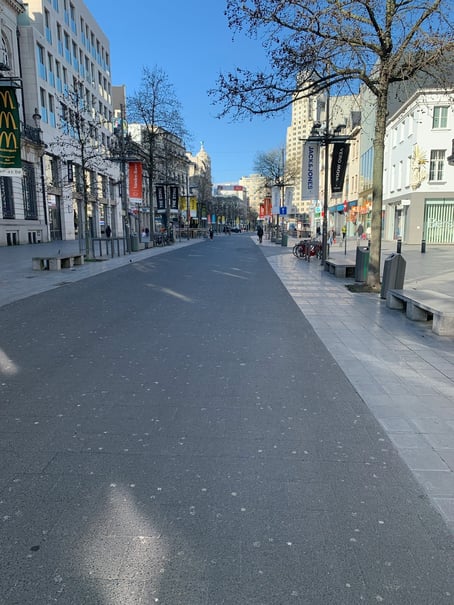 As an Antwerp citizen myself I still don't get used to seeing the streets of Antwerp, this empty,
especially the Meir, and especially with this kind of weather
Some of the MIE students were, understandably, now afraid that we won't be getting the same learning experience as we normally would've had. And of course, to some extent all these measures did have an impact on the project. I'm not going to lie; it wasn't always easy. As unclear the situation was for the program management, the more unclear it was for us. But what we experienced during this three-week-long innovation sprint was to me the true essence of what entrepreneurship is all about. Handling uncertainty, developing resilience and just keep going is what defines the DNA of an entrepreneur. At some points we literally had to improvise, adapt and overcome. It was quite the entrepreneurial rollercoaster. But we always tried to stay positive and tried to create opportunities from all these challenges that faced us.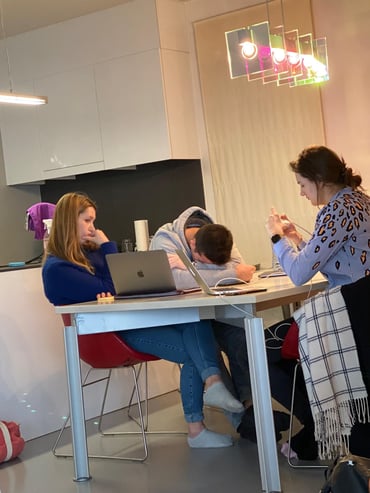 It wasn't always easy
During the developments around all the measures taken to beat the spread of COVID-19 it also became clear how agile and flexible AMS actually is as a business school. In just a few weeks' time the situation went from us still going to Milan as planned, to communicating with the Italian students by videocall, to finally fully going virtual for all of us. This situation was new for everyone, both for students as well as for AMS. So, of course we all had to improvise a bit. But in the end, we all still managed to deliver cool projects and to present our virtual pitches. To be honest, I really can't complain about the way AMS handled the situation, as they did everything they could to still give us the best possible learning experience.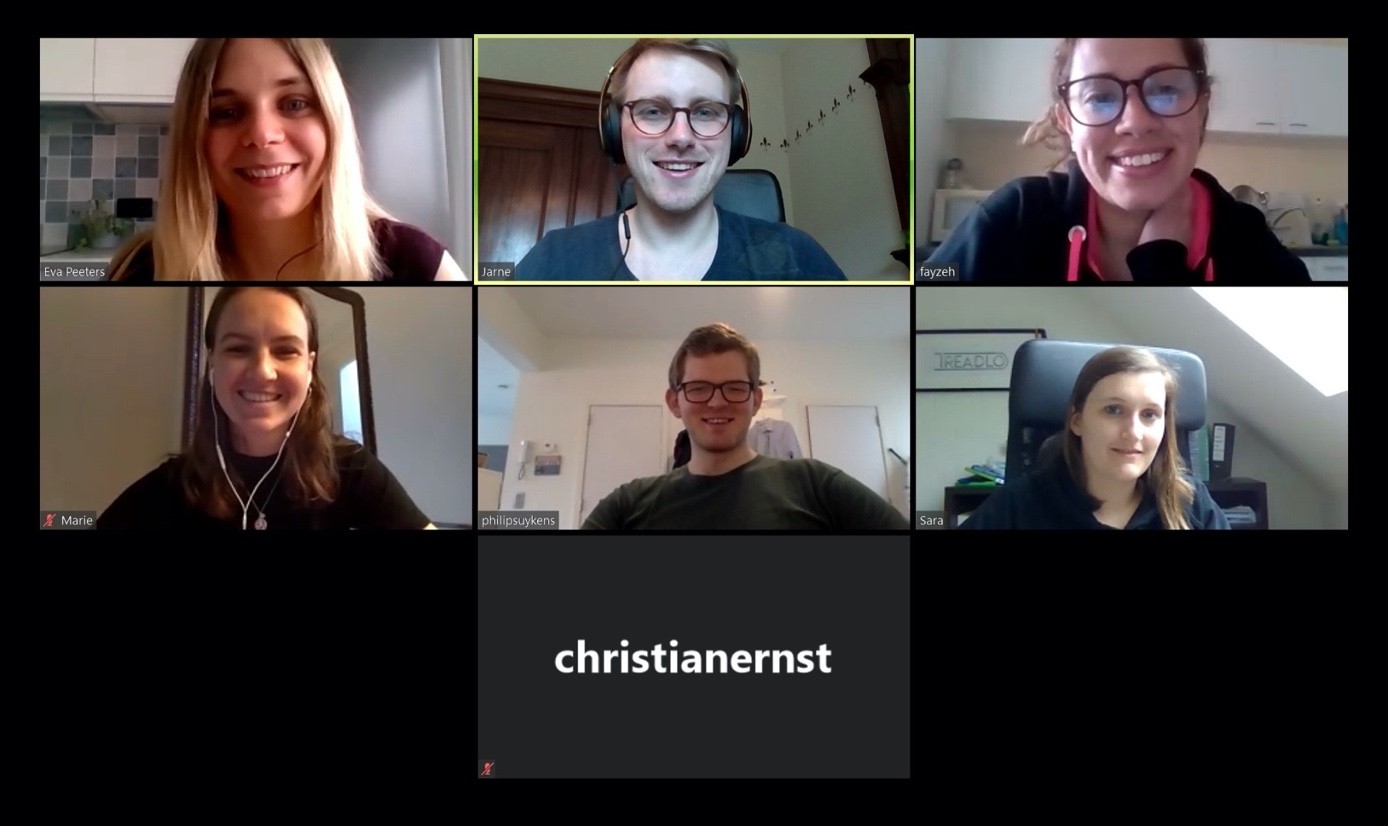 How meetings look these days
Today, as we all already expected, our growth strategy trip to New York and Tel Aviv also got canceled for obvious reasons. Now that the virus has taken over our day to day lives, we're currently all working from home and some international students even went back to their home country. I'm the first to say that health should always be the top priority, but I would lie if I say that it wasn't very unfortunate that we weren't going to Milan and New York/Tel Aviv (and for me personally also Shanghai) with this amazing bunch of people that is called the MIE.
I remember that during the onboarding days in Wemeldinge, in the beginning of October, we had to describe AMS in one sentence. Mine was 'feels like home'. To me personally, AMS did really felt like my second home. It was not uncommon for the MIE to stay on campus from 9am in the morning to 10pm in the evening, as we have a lot of group projects.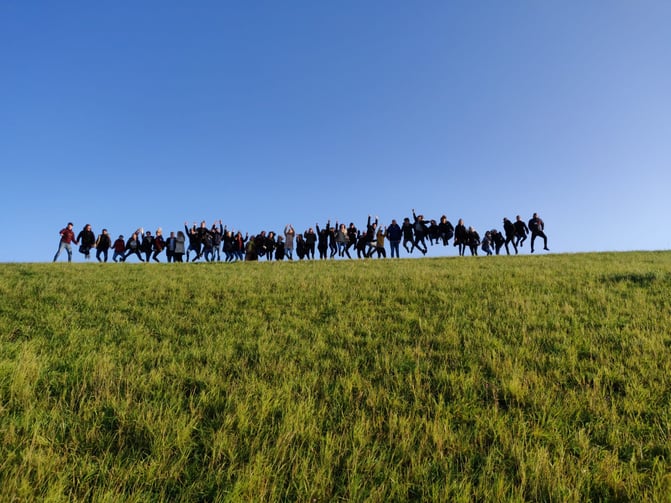 Our MIE family in Wemeldinge
So, to (temporarily) say goodbye to that second home and all the people there wasn't fun. All we can do now is just stay inside to make sure that things go back to 'normal' as soon as possible. Currently, I'm just trying to make the best out of my time here at home. Last weekend for example I participated together with some other students of the MIE in an online hackaton, called Hack The Crisis, where we tried to solve societal problems caused by the spread of COVID-19 with innovation and technology. And next to that I also finally found some time again to go cycling and to pick up my guitar and practice a bit.
So, if you want to learn all about entrepreneurship and creative thinking, if you want to enhance your problem solving skills, check out the coolest program of AMS.