Antwerp Management School (AMS) and the European Petrochemical Association (EPCA) have joined forces to conduct research on the nature and benefits of individual sustainability leadership, drawing on expert opinions, best practices and existing literature. Since 2015, EPCA has been actively engaged in the promotion of Talent Diversity and Inclusion within its sector as a source of competitive advantage and a key enabler of sustainable growth. The goal of this research is to better understand the behaviours and talents which define thought leaders and to gather more evidence on how individual sustainability leadership can help companies to attract and develop today's talents into tomorrow's leaders. This first of two blogs will preview the initial findings, including insights from expert interviews with BASF1, Interface2, Umicore3 and Maersk4.
The Individual Sustainability Leader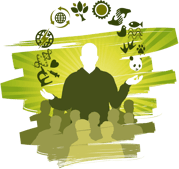 Leadership for sustainability is the ability to influence stakeholders to collaboratively address areas of systemic breakdown in society and turn them into innovative breakthrough solutions. Such leadership can come from those formally charged with responsibility for advancing sustainability, or from individuals that act as sustainability champions, which is consistent with the practice of distributed leadership. Our research reveals a set of key competencies and characteristics of individual sustainability leaders. We highlight six below, cited in the literature and confirmed by our interviews.
1. Intrinsic motivation1,2,5
Leaders for sustainability combine personal motivation and corporate purpose. True sustainability leadership is something that originates from within individuals, it is not something prescribed by a job description. It is a meeting point between personal passion and a company's sustainability mission.
"If you are able to find the bridge where your talents and your own purpose connects with what is needed in this world, that is exactly when you become a sustainability leader.

Geanne van Arkel, Head of Sustainable Development at Interface
2. Moral courage3,6
Leaders for sustainability take a stand on ethical issues. They cannot be shy to take positions on societal issues, within and beyond the company. Sustainability leaders should act like a moral compass and be ready to offer suggestions for responding to ethical dilemmas.
3. Trustworthiness4,7
Leaders for sustainability lead by example and gain trust. They must be known for their honest and moral reasoning and are trusted to do what is ethically right.
"I have a colleague who I think is a true sustainability leader. He is very engaged in doing the right thing, is being responsible in his actions and is accountable for what he does. People trust him, they trust him to say the right thing and they follow him because of it."

Annette Stube, Head of Sustainability at Maersk
4. Clear vision3,8
Leaders for sustainability can clearly articulate a better future. They are constantly engaged in a balancing act between a clear vision for the future, generating enthusiasm about that vision and rallying people around them in order to move towards it.
5. Societal consciousness4,7
Leaders for sustainability are avid followers of scientific, social and market trends. They need to have the facts straight, in order to set change into motion. They have to be sure that what they are doing is justified by evidence, and not only by emotional reactions.
6. Open communication2,9
Leaders for sustainability embrace transparency and encourage dialogue. It is essential for a sustainability leader to be able to communicate ideas a language or style that resonates with others in their organisation.
"I think you need to have an open and positive culture in your company, you have to encourage people and listen to as many opinions as possible. And you should come to an unbiased, or as much as possible unbiased, picture that that gives you the basis for sound decisions."

Christoph Jaekel, Vice President Sustainability Strategy at BASF
Employee Benefits of Sustainability Leadership
When these competencies and characteristics are being consistently applied, sustainability leadership creates numerous organisational benefits, including resilience towards disruptive changes4, proactivity in the face of societal trends1 and resource efficiencies, such as energy and waste reduction10. Importantly, sustainability is not only about environmental issues. It includes employee diversity11, the well-being and happiness of employees and so-called 'work-life balance'10. In particular, our interviews highlighted various employee benefits, including recruitment and retention of talent, workplace engagement and employee motivation and the increase of creativity and innovative thinking.
1. Match between identities to retain and attract talent3
In order to retain and attract talent you need to have a match between the identity of the organisation and the identity of (future) employees. When an organisational focus on sustainability resonates with the employees' own values, it creates a balance; they don't have to have an internal fight between their job and who they are their daily lives.
2. Higher employee motivation and engagement1,2
If a company has a stronger purpose building, every single co-worker will feel that and the level of motivation will increase. Again, when personal passions align with the company's mission, people are more engaged in the workplace.
3. Increase in creativity and innovative thinking2,3
Sustainability challenges are often complex and uncertain, which makes people feel uncomfortable. At the same time, this zone of unease generates and sparks new ideas because people have to be more innovative and creative.
"Sustainability sparks creativity and you need creativity to allow for continuous improvements to happen […] If you look at Jonathan Porritt's definition of sustainability, it is exactly that: continuing into the future"

Guy Ethier, Senior Vice-President Sustainability
at Umicore
Conclusion
It is important to not only look at sustainability from a risk mitigation perspective, but to see it as an opportunity that brings business benefits. By better understanding sustainability leadership, its key competencies and benefits, and grasping how current frontrunners operate, we can better prepare and develop sustainability leaders for the future.
"Sustainability is an opportunity, not only a risk mitigation tool. A sustainability leader needs to point these opportunities out, show the change associated with them and change the perception around them."

Christophe Jaekel, Vice President Sustainability Strategy at BASF
The second blog in this two-part series will discuss the complete research findings on the characteristics, competencies and employee benefits of individual sustainability leaderships. Furthermore it will go into detail about the barriers and enablers of individual sustainability leadership.

Additional reading tip
Tomorrow's Child by Glenn Thomas
References
1 Henzen, R. (2019, July 23). Personal interview with Christophe Jaekel, Vice President Sustainability Strategy at BASF.
2 Henzen, R. (2019, July 23). Personal interview with Geanne van Arkel, Head of Sustainable Development at Interface.
3 Henzen, R. (2019, July 29). Personal interview with Guy Ethier, Senior Vice President-Environment, Health & Safety at Umicore.
4 Henzen, R. (2019, August 7). Personal interview with Annette Stube, Head of Sustainability at Maersk.
5 Metcalf, L., & Benn, S. (2013). Leadership for Sustainability: An Evolution of Leadership Ability. Journal of Business Ethics 112, 369-384, p. 370. DOI: 10.1007/1055101212786
6 Ashridge & EABIS. (2006). Leadership Qualities And Management Compentencies For Corporate Responsibility. Retrieved on June 17, 2019, from https://www.abis-global.org/content/ashridge.pdf
7 Hind, P., Wilson, A., & Lenssen, G. (2009). Developing leaders for sustainable business. Corporate Governance: The International Journal of Business in Society, 9(1), 7-20. DOI: 10.1108/14720700910936029
8 Ferdig, M.A. (2007) Sustainability Leadership: Co-creating a Sustainable Future. Journal of Change Management, 7(1), 25-35. DOI: 10.1080/14697010701233809
9 MacDonald, L., & Shriberg, M. (2016). Sustainability leadership programs in higher education: alumni outcomes and impacts. Journal of Environmental Studies and Sciences, 6, 360-370. DOI: 10.1007/s13412-015-0344-7
10 Antwerp Management School & ING. (2018). Sustainable change. The state and face of sustainable business in Belgium. Retrieved on July 4, 2019, from https://www.antwerpmanagementschool.be/app/uploads/2018/06/AMS_Sustainable-Change-in-Belgium_Report_WEB_DEF.pdf
11 Green 2.0. Beyond Diversity. A Roadmap to Building an Inclusive Organisation. Retrieved on August 12, 2019, from https://www.diversegreen.org/wp-content/uploads/2017/05/BeyondDiversity_Report.05.24.2017.pdf
"I still get goosebumps when I hear this poem. One of the colleagues of Ray Anderson [founder of Interface] wrote it when he heard him speak. It's called 'Tomorrows' Child' and is still so relevant today"

Geanne van Arkel, Head of Sustainable Development at Interface