Information Technology (IT) is becoming prevalent in organizations all over the globe and can no longer be ignored by the board. Therefore it should make clear sense for organizations to be more transparent regarding IT-related matters. Research results indicate that IT governance-related directives should be included in national corporate governance codes. These directives are aimed at guiding organizations in the right direction.


Board Level IT Governance Research Project – Research Briefing 3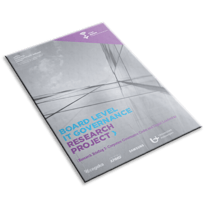 This research paper is the third instalment in a series of research papers which is part of a co-created research project by Antwerp Management School and University of Antwerp together with KPMG Belgium, CEGEKA Belgium and Samsung Belgium. In this paper, researchers Steven De Haes, PhD, Anant Joshi, PhD, Tim Huygh and Salvi Jansen focus on two research objectives: analyzing a selection of national corporate governance codes regarding IT-related content and subsequently how these national corporate governance codes influence IT governance transparency in organizations.
Selection Corporate Governance Codes
Fifteen national corporate governance codes have been analyzed regarding IT-related content to shed light on the first research objective. A first observation showed that all but the South African code (King III) scored very low on IT-related guidelines. This could be explained by the fact that many national corporate governance codes are based on the OECD principles of corporate governance, which provide very few directives regarding IT-governance and disclosure. Most organizations did contain a chapter on 'use of IT regulation and compliance'. The South African corporate governance code, which is a leading example, contains an IT-specific chapter of seven IT governance principles. On top of that it provides additional practices on each principle. Conclusion: corporate governance codes make little reference to IT governance or digital leadership.


Analysis reporting IT governance
For the second research objective several Belgian and South African financial services organizations were analyzed on IT governance disclosure and how it's influenced by corporate governance codes. It appears that the South African companies are more concerned with reporting IT governance than Belgian companies on all disclosure categories of the used IT governance transparency framework. This result was expected given that the South African corporate governance code contains a significant amount of IT-related guidelines. As a conclusion the researchers state that corporate governance codes influence how boards report on their IT governance approach.
The researchers believe that this exploratory research demonstrates that corporate governance codes need IT governance-related directives, given how pervasive IT is becoming in organizations.
Additionally, the research paper reflects on how the COBIT 5 framework addresses board-level IT governance. COBIT 5 is a best-practice model that identifies five governance processes including transparency to the stakeholders regarding IT. The topic of transparency corresponds with the key topic of this research paper.


IT governance at the January 2017 HICSS
At the start of January Prof. Dr. Steven De Haes and Wim van Grembergen were appointed chair in the "IT governance" minitrack at the Hawaii International Conference on System Sciences (HICSS).
This edition considered new and innovative insights into "IT Governance and its mechanisms". This year the role, design and functioning of some organizational IT governance structures were emphasized. The research that they presented is 'Exploring the Influence of Belgian and South-African Corporate Governance Codes on IT Governance Transparency.'
Read their paper as presented at the Hawaii International Conference: 'Exploring the Influence of Belgian and South-African Corporate Governance Codes on IT Governance Transparency.'