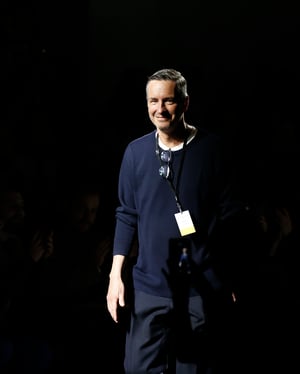 Vans loaded with boxes full of clothes are driving in and out of the former warehouse Godfried at Het Eilandje in Antwerp. Almost twenty years ago, Dries Van Noten had this impressive building renovated, and now it is bursting at the seams. We presented five (apparent) paradoxes to the fashion designer.
Citizen of Antwerp and Global citizen
'Being a citizen of Antwerp, setting up business in Antwerp in the eighties was a logical choice. It all just grew organically. We had no money, I worked as a commercial designer for other companies and I wanted to create my own collection. I may have been dreaming of Paris or London, but that was not an option. As a young designer, you need to turn your limits into advantages, or even better: act as if it is a conscious strategy. By being in Antwerp, we have always been an outsider. From a distance you also have a better overview, and London or Paris are just a few hours away by train. It is luxury as well: twenty years ago, I never would have been able to afford a building in Paris like this one.'
'Another advantage: if I'd be working in Paris, I'd have to shout, in Antwerp whispering is sufficient.'
Creativity and business
'That is not a contradiction: they go hand in hand. We often compare ourselves to a good baker's: if you bake a cake that looks fantastic, but there is nobody to eat it, what is the point? Time and again, we have to find the right balance to surprise people without shocking them. We do so by showing things that do not seem obvious but are still attractive. It actually comes down to making things that people didn't know they wanted. That is our niche. We have to stay clear of clichés, the things that other companies make. Everyone wants short skirts, everyone wants lycra? Then we'll look for a different angle, sometimes with small details, sometimes a bit bolder. But the basis of every collection must be something that appeals to many people and that many people want to wear.'
'Making things that people didn't know they wanted. That is our niche.'
Independence and partnership
'I was the example of the independent designer, which brings many benefits but also lots of disadvantages. For example, if you suddenly feel like making handbags and you are part of a large group such as LVMH, they have everything to make that happen. I felt very strong because I was completely independent and had total freedom. Until I realized that the business had grown to such a scale that freedom became very relative. We have over a hundred people working here, we have offices and stores in London, Tokyo and Paris, we have manufacturers, embroiderers in India, …
If at some point I get fed up and decide to call it a day, that is not feasible and not affordable because so many people have built a life and a career in this company. The only right solution was to find a partner. I did lay down certain conditions for the continuation of the name and the collection: I want to continue working as I am doing now for many years to come. I do not want to radically change everything and move to Paris. I do not want to make other products. We clicked with Puig because they consider their brands as individual entities. It means you miss out on certain typical economies of scale of a big group, but you also avoid the disadvantages, like being forced into a pattern. The great thing about Puig is that they truly appreciate what we have built, and they want to give us possibilities to build a strong structure, which means the house will stand tall, even if one day I want to slow down or stop. Is it quieter now because I no longer carry the responsibility on my own? No, now I am not only accountable to myself, but also to the people at Puig. And my pride ensures that I want to give it my everything. It is an exciting time, but there is a little more pressure. (laughs) These are exciting times, for myself as well as for the entire company.'
'This process has taught me that I am of course very committed to my company, but that the Dries Van Noten collection can also be made by other people. We represent a certain type of wearable clothing in non-neutral prints. But there is no such thing as a typical Dries Van Noten style: we start from scratch every season. Many different points of view are possible, and it does not necessarily have to be me who does this.'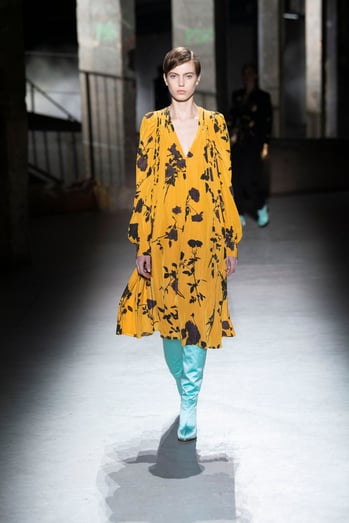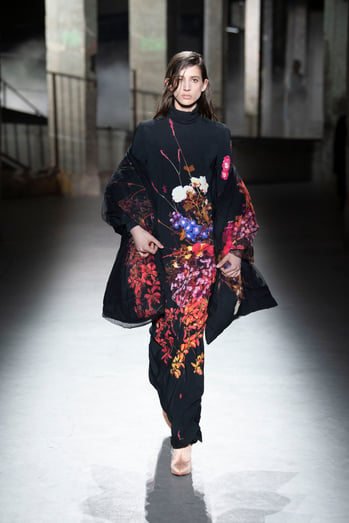 Sustainability and fashion
'I have always considered fashion as being too volatile. This is in, this is out. And out usually means: throw it out. That is a principle I do not like. Most of the clothing I made in the nineties can still be worn today. Our clients are with us on this and see our clothes as letters of an alphabet that they use to express themselves. How sustainable can fashion be? We try our best. We try to be reasonable. But making fashion ecological is a contradiction. Eco-friendly cotton is also shipped by DHL and wrapped in plastic. Not to mention the fashion shows and the models and press flying around the globe. It is still a business and fashion is still a nice type of luxury. It is a matter of finding the right balance. Not a monthly collection, like large chains have, not four like the big fashion brands, but twice a year, like we do. More is too much: it lowers luxury to the level of consumption.'
'Sustainability is also more than just the ecological aspect. It is a bond you build with your suppliers and craftsmen who make the clothes.'
For example, in India we've been working with two workshops in Calcutta. These men (editor's note: embroidery is a man's job) have been working for us for years, so it is important that we have embroidery in every collection.'
Adulation and self-criticism
'I always try to know what people say about my collections. If the criticism is pertinent, I do not have a problem with it. If it is not, it hurts. I believe I am more than critical enough towards myself, and if sometimes I am not, there are plenty of people around me who are open and honest. My partner Patrick is a great sounding board. For twenty years, I've been working with a designer to whom I explain what I am doing every couple of weeks. And then we decide: yes to this, no to that. Because sometimes you will work something to death. On a business level I also have great support.'
'I can easily put adulation into perspective. Of course, it is nice to travel to Berlin and be among movie stars who walk up to me and say: 'You're my favorite designer! I wear only you.' In which case I often find that they just happen to wear something else that day. (laughs) The next day I come home and take the dog for a walk, that is much more important.'
---
Biography
On August 28, fashion designer Dries Van Noten (61) will be awarded the AMS Global Citizen Award. Van Noten is the son of a tailor and one of the 'Antwerp Six'. He built a global fashion label with Antwerp as its center. His creations are sold in 16 own stores across the globe and in hundreds of multi-fashion stores. After years of working independently, last year Van Noten sold the majority of his shares to the Spanish company Puig, renowned for brands such as Nina Ricci, Paco Rabanne and Jean Paul Gaultier.
---
Master in International Fashion Management
If all goes according to plan, Anouk Van Dingenen (23) will graduate from Antwerp Management School as one of the first Masters in International Fashion Management in a few weeks. Van Dingenen, a Master in Communication Sciences (KU Leuven, 2018), decided to focus on the business side of the fashion industry this academic year. 'Compared to university, there is a lot of practice in addition to the theory, with plenty of company and store visits. Our lecturers are very international and firmly grounded in the fashion world', Anouk says. The students also work together with creative people. How does this work? 'Many young fashion businesses only look at the creative side and do not pay enough attention to the business side of things. I thought it would be very interesting to work with a fashion designer. She had quite a bit of experience, but my market analysis showed that her prices were too low and her margins too narrow. She is now planning on adjusting her prices for the next collection. I've also assisted her with a cashflow planning in preparation for a meeting with an investor. It is fun to be able to complement someone this way'.