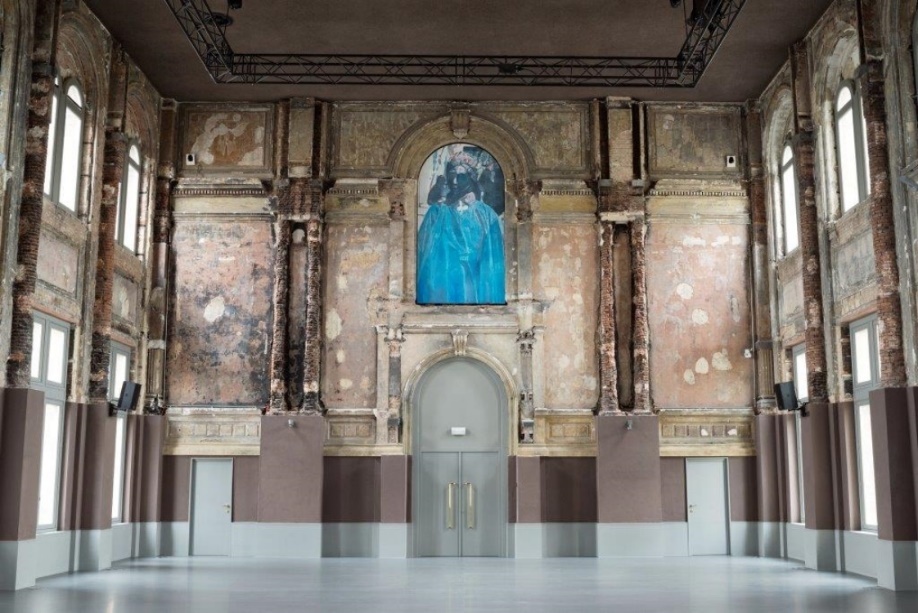 If you take place in front of Luc Tuymans' 'München' painting on identity and self-doubt in the Koninklijk Atheneum Antwerpen for an hour, your vision on leadership will change. This is due to the space, which I have described before. If you are in touch with what goes in society, this painting is clearly spot-on. At no point in history have we built so many walls, because we feel we are losing control"
We have already communicated about several individual sessions and speakers of the Leader Gathering, but what is the ultimate goal of the event? One matter is for certain: Koen Marichal is passionate about the Gathering.


Need for leadership
Lack of confidence is a hot issue in many organizations but also in society at large. Trust is eroding universally. Intercultural studies have shown that people trust each other less after every year that passes. The same is true for the public's trust in institutions. In the US, the percentage of people with a high in the church dwindled from 65% to 41% between 1973 and 2016, trust in the justice system dropped from 45% to 36%, in banks from 60% to 27%, in schools from 58% to 30%, in newspapers from 39% to 20%, in Congress from 42% to 9% and in doctors from 80% to 29%. The only institution to gain trust are the military services: from 58% to 73%. (gallup.com).

"Lack of confidence is a hot issue in many organizations but also in society at large. Trust is eroding universally."

There is unquestionably a big need for leadership but at the same time people have never been as critical towards business leaders and their personal agendas than ever before. Partly, this is due to a commonplace view on leadership: it all has to be hierarchical. We offer a more contemporary, complete view on leadership, which also suits the current network era better: shared leadership. With the Leader Gathering we would like to reopen this debate in the social context.
We want to inspire and connect those leaders who have already undertaken some actions themselves. Our second target group consists of those who started the movement towards a new kind of leadership into motion: consultants, HR managers, and the like. After all, we aim at the organizational leaders who want to shape their personal agenda around leadership. I hope that after the gathering, they will return home with ideas for concrete actions, with new competences, new contacts or a promising concept to develop further.
On the 21st of October there will be a plenary session with two main speakers and there will be two sets of eight dynamic sessions. These sessions will focus on matter like: personal leadership, team leadership and CEO leadership. All sessions are interactive, though in the shape of lectures, labs, presentations or, for instance, team up sessions, which will include assignments and time for reflection. The 'Voice of Leadership' session focuses on how to use your voice as a leader, even quite literally through singing.

To leadership and organization nowadays, Social consciousness is very important. This is also the main thread of all programs the Antwerp Management School offers, as well as the Leadership Gathering's goal. We from Antwerp Management School wish to support the KTA as a leadership case, an organization that lacks the necessary means for leadership. Through the Leader Gathering, we will help co-create their leadership. Today this school, founded by Napoleon, is firmly set in the current urban reality of diversity, polarization, influx of refugees. The co-operation will extend beyond the founding of an inspirational space. We are looking for mutual fertilization, but also for creating confrontation between their environment of for instance a bank, IT-company, hospital or production environment. This is how an ideal place arises to research and develop open and unprejudiced leadership.
The Atheneum team is revamping its leadership model and has abandoned the principle of polarization (e.g. in the headscarf debate). In this sense they fully understand that leadership can only take root within a homogenous group, giving its members greater freedom to take their cue from society. We feel this also goes for the target group of the Leader Gathering. Thanks to the great diversity of speakers and within the Atheneum's student body, the outcome of the event is as relevant as possible for the participants.
Different perspectives
We focus on many different perspectives: the mindset of the new leaders, the art of storytelling and teaming, sustainable entrepreneurship, self organising teams, identity development, deepening dialogue, dealing with diversity, etc. Apart from that, there are also some plenary moments of inspiration.
I am looking forward to hear Adrienne Axler, CEO, who fled from the Czech Republic to Belgium, then ascended the ranks at Sodexo and who is now working in Germany. She has a conscious and highly personal take on Leadership with specific attention for the role of women in leadership. During the gathering she will converse with Karin Heremans of the Atheneum, who, for example, uses art as a tool to bypass polarization.
I am very very happy with Ish Ait Hamou. He impersonates the necessary leadership. He says: 'I'm not a dancer, director, writer or choreographer: I'm a storyteller'. That is an essential message in leadership today: not so much the function or position counts, but the story you tell and how you tell it matters. And then we also have Mario Fleurinck, a true visionair, pure entrepreneur, and Jesse Segers, leadership professor, who will take care of the personal concluding remarks.


"I want to show that we've made progress and that today there is a more complex vision on modern leadership"

It is already five years that we are working as a competence centre. It is te first edition of the gathering since now we have improved enough and gained enough experience to show the alternative in leadership. With this Gathering, we aim to launch a new trend and in that regard I also have an international mission. Fact is that I keep seeing and hearing too many thoughts on leadership that have been around for too many years. I want to show that we've made progress and that there is a more complex concept of modern leadership. I hope the event establishes a wealth of new links: for us as experts, for the Atheneum and for leaders great and small who would otherwise never meet.
Inspired? Read more on Leadership!