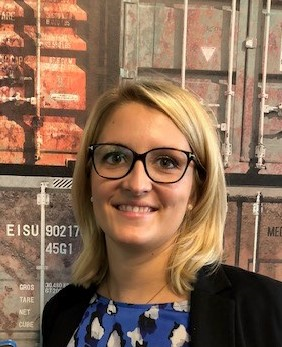 "Spot on", according to Elena Secuianu, 29 and HR Manager at the Mediterranean Shipping Company Belgium. She started working there two years ago and has recently been promoted to team leader. She was on the lookout for a training program to finetune her leadership skills when Antwerp Management School just happened to send her an email with information on the Start to Lead program.
"The focus is on digging deep, to discover your own leadership DNA."
"The mail couldn't have come at a better time. And I was triggered immediately, as Start to Lead definitely stands out from any other leadership training. It is not your average practical program with tips & tricks on e.g. the perfect performance review. The focus is on digging deep, uncovering and discovering your own leadership DNA. I must admit I felt a bit awkward at first. The first session includes an overnight stay and quite literally pulls you out of your work environment and your comfort zone. You need to open up and let yourself be vulnerable. This may sound a bit like spiritual mumbo jumbo, but it's not. With her very professional and respectful approach Karen Wouters of Antwerp Management School put us at ease from the very start."
"It's good to have sparring partners from outside your work environment."
There was trust and respect within the group as well: "You end up in a small group of like-minded people. Everyone has their own story of course, but in the end you all want to learn, both from the teachers and from each other. This peer-to-peer exchange makes the program even stronger. You not only gain theoretical insights, but you also get an assignment at the end of each session. The results are presented in group discussions. You get direct and honest feedback from your peers; you can share experiences and exchange tips & tricks. And although the training program has finished, we still keep in touch. It's good to have sparring partners from outside your work environment."
"If you take time to assess a situation, you react in a completely different way."
Your work environment is crucial though, that is one of the insights Elena gained in Start to Lead: "You learn to become very aware of your work context and how to respond to it. This is a typical pitfall of leadership. You are so caught up in the daily rush at the office that you no longer see what is going on around you. If you take time to assess a situation and to prepare yourself, you will react in a totally different way. It's not that everything works out perfectly well all of a sudden, but you learn to understand your own reactions and the reactions of the people around you."
"I still check my notes and put the techniques into practice."
Although Start to Lead is not a practical training, it does give you tools and techniques that you can use in varying situations. Elena has two favorites: "Perhaps what I liked best were the influence tactics. I still regularly check my notes and put the techniques into practice. This was definitely an eye-opener to me. All of a sudden you realize how you are being manipulated all the time, both intentionally and unintentionally, and how you yourself manipulate your surroundings just as well.
Positive gossip is another method that proved to be very helpful. With positive gossip people don't talk behind your back: you explain a situation or problem to a group of outsiders who then 'gossip' about you and your approach in an open and positive way. It's an excellent way of getting feedback quickly and in a nice way.
"If you're looking for in-depth insights into your leadership DNA, you will learn a lot from this program."
Start to Lead is not exactly an easy training program: "It can get confrontational at times, but in the end, it is very clarifying", Elena adds. "You need to have an open mindset about the concept, though. If you want to return home with a ready-made set of tools to manage a team, you'll probably be disappointed. But if you're looking for in-depth insights into leadership and your own leadership DNA, you will learn a lot from this program. For me, the timing was just right: I was at a turning point in my career. Now that I have my own team and more responsibilities, I fully intend to apply all the insights I gained from Start to Lead. Speaking of, I have planned an HR Vision Day for me and my team next week. We will make time to take a step back, to reflect on what makes a team strong and on the goals that we want to achieve. Taking a time-out, recharging the batteries and then work as a team to achieve our goals, step by step."