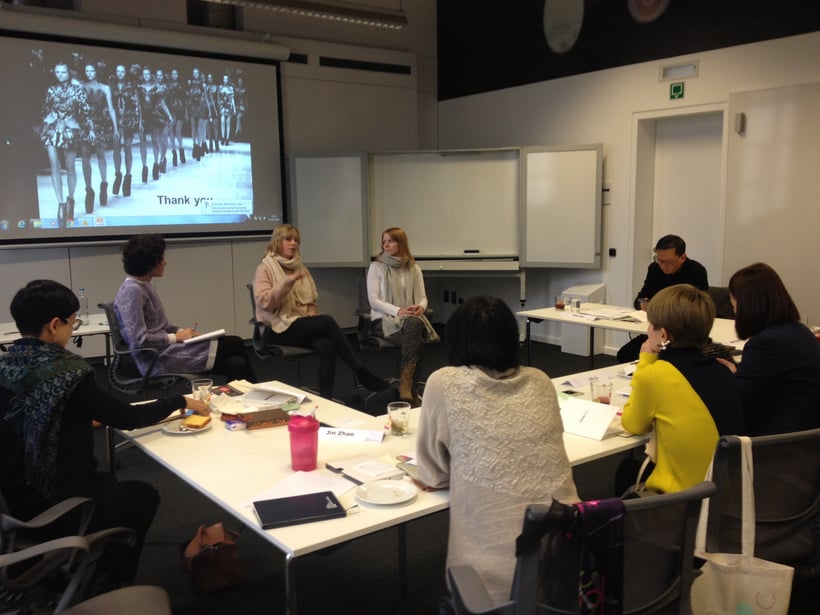 Monday morning, early in Paris – Rue Cambon, boutique hotel Castille, center of the fashion district in Paris: here we end our 'Antwerp-Paris' learning journey for Chinese fashion entrepreneurs with a vivid discussion. Never expected a group of Chinese participants would be so vivid, but let's just face it: everyone learned something new during this journey – participants, organizers, lecturers and industry-peers!
It has been an eye-opening journey: it was not the visit at the big established brands that inspired our participants most, but especially the authentic stories of peers from Antwerp, France and Italy – designers, entrepreneurs, investors who are still building, challenging the borders of creativity, the established values and models, daring and even provoking, envisioning a sustainable future for the fashion industry.


More than just brands
Mr. Feng Gao is a true gentleman with lots of experience in the business of European luxury fashion and brands. He used to distribute these brands in China. He is building his own retail concept now and has established an ecosystem of brands for high-quality children wear: YEEHOO, PEEKABOO, INCO PALLINO, and Silver Cross, Stokke, Bodri, Traumeland, etc. The brands are part a group with a striking name: Little Star (Brand Group). Little Star has established strategic partnerships to cooperate with reputable organizations such as Tsinghua University to create a global collection of products in apparel, accessories and furniture.


No recipe
As an incubator of young brands, Little Star has built a cluster of unique products and services that are seamlessly connected. And in fact Mr. Gao is building more than just fashion brands; together with more than a thousand employees he is shaping a new lifestyle for Chinese children, and dreaming of influencing education actors and the current system of education to become more focused on creativity and the stimulation of personal development. "It's the way of thinking that makes the difference", he says. "As a creative entrepreneur, you need to transform something in the world your customers live in, shape new, better realities. There is in fact, no recipe for creating an innovative brand, no model. You just need to create your own story, start from the roots, from the core competences and your customers, and be open to learning from different industries. There are a lot of possibilities, we just need to allow ourselves to see them, or in the words of Prof. Dr. Gerard Puccio (creative leadership) - find the right balance between knowledge, imagination and evaluation in order to enhance creativity."


Finding a new perspective
Bu Hongxia, founder/designer of Kairu, and currently Creative Director of the two brands within Kairu: AIR U and airu, with collections sold across 100 shops in China, reflects: "I was the first to join this program because I felt I needed a new perspective and fresh insights. Creativity and innovation are key for the fashion business, and I have noticed a kind of fatigue, trying to break the established patterns, the standard models everyone is following in the industry in China. There are a lot of patterns and clichés and in fact you need to follow your idea, even against the commercial logic sometime. However, we all get stuck in our own idea from time to time.


The danger in success
This is one of the most important points I am taking away: even the famous French, Italian designers, established brands are struggling, for the biggest enemy of creativity can be you and the success of your past. Moreover, in the Chinese culture people suppose the leader has the most creative ideas. I realized after taking this program that I might put too much 'pressure' on my team by pushing my own idea. Creativity and innovation are not only personal, they can be a collective effort and perhaps I, as a leader might not be the most creative person in the room.


Frame of reference
During the sessions on creativity and cross-industry innovation I learned how important it is to realize how we filter every new thing we take in, based on our experiences and therefore limit the potential of newness. Antwerp and the 'Antwerp 6', understanding the creative spirit of Antwerp fashion has been my dream since I was a student in China." She pauses for a second and laughs: "And no, I am not really interested in copying any style of business models from Antwerp or European fashion designers. It simply wouldn't work out. I just wanted to find a new perspective or different perspectives to look at fashion and my collections and business model. I need to digest all these impressions and insights from the lectures. And afterwards mold all this into my own distinctive business and collections."


Innovation models
Jin Zhao, founder and general manager of Guangzhou Chenwu Daily-Use Products Co, specialized in lifestyle products – added that what will really stick with her are the 'innovation models', depending on the level of development of your enterprise. And that innovation is about 'breaking-up' your own model in order to re-create it, in a new form.
Antwerp is daring
Li Lili – a young entrepreneur into the tailor-made menswear, works with luxury Italian brands and manages a specific niche of the market in South China: a community of sophisticated consumers counting up to 200. "We nurture and manage these customers for fashion, but go beyond fashion." Thanks to this program and the specific and refined approach AMS has proposed I realized how important 'experience' is in our business as well. We manage to absorb and digest the content of the lectures because of the visits and dialogue with peer designers and entrepreneurs, the exquisite and well-chosen culinary trips and of course the shopping escapades.


Part of the package
"In the same way, we learned that the product in our business and even the brand – is just a part of the package. The magic of the stores, the city, the culture had a transformative power. I learned you need to be open for beauty in order to see it, it's in the details and it is in the imagination. The message in the session on cross-industry innovation was completed by the story of Design Studio Jasnarok. Her story of technology and fashion seems futuristic, but we really see applications of nanotechnology in clothing, with lots of benefits for the user. Jasna has the guts to dream beyond the borders of the fashion industry, and generally we notice that the entrepreneurial and creative vibe in Antwerp and Belgium is quite different from Paris. It's simply more daring."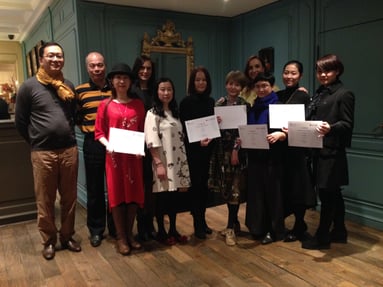 We end with a few key words: craftsmanship, branding building and premium brands, experience, design thinking, openness to change and new idea's …and a lot of hugs… (was that Chinese culture again?) and lots of pictures of course.
Want to learn more about fashion and entrepreneurship in Antwerp?