Product service systems are gaining importance. To keep up with competitors, companies have to offer services next to their products. The way in which these systems are implemented is also of importance. Alongside the usual PSS, companies will go for a Smart PSS more often. Brian Legain looks at the research project "Characteristics of Smart PSSs: Design Considerations for Value Creation" by TU Delft.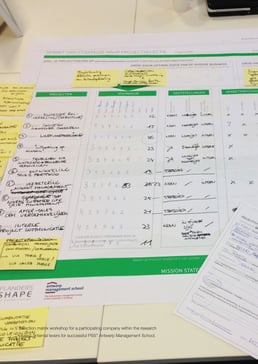 In the "Characteristics of Smart PSSs: Design Considerations for Value Creation" research by the Technical University of Delft, Ana Valencia, Ruth Mugge, Jan P.L. Schoormans and Hendrik N.J. Schifferstein show that thanks to "Smart PSS" or "Smart Product-Service Systems" we can enhance the user's experience drastically.
What is a Smart PSS?
A "Smart PSS" or "Smart Product-Service System" is a new type of product that appears more and more often. It is a combination of a product and one or more e-services, that are offered to the client as a whole. These e-services come into being because the client can transfer data into useful information through sesors, mircochips and software.
Philips' Direct Life, for example, is a Smart PSS that was designed to improve customer's health. Using a sensor, customers can register their movements online. They can track personal progress, share experiences with other customers, contact experts, etc.
How can we improve the customer's experience using a Smart PSS?
TU Delft asked industrial designers to classify 29 Smart PSS's. Based on this information, TU Delft discovered methods to improve customer experience through a Smart Product Service System. Here's a selection of these methods.
• Thanks to Smart PSS's, customers can make decisions and take action where and whenever they want (customer empowerment). The WiFi Body Scale is a Smart PSS that gives feedback about the weight and BMI of the customer. In this way, the customer can track their progress and make decisions and take action based on that. Another example is Laundry View, a Smart PSS that provides feedback on the status (location and availability) of washing machines in a laundromat.
• Thanks to Smart PSS's customers get to live personal experiences (individualization of services). The Philips Lifeline is a Smart PSS that older customers can use when they are in a life threatening situation. One push of the button in their collar puts the customer in contact with a Philips employee, who will inform the emergency services. Another example is Nike+. Using Nike+, the customer can track personal progress (burned calories, walked distance, etc.) If the customer runs 10 kilometers, for example, they receive a pre-recorded message from a famous athlete.
• Thanks to Smart PSS's, customers can communicate with other customers (community feeling). The Smart PSS Wattcher was developed to make customers more aware of their energy use. A sensor measures and shows the used energy. On an online forum, customers can compare data and share tips and tricks.
• Thanks to Smart PSS's, the supplier can suggest solutions that will connect to the client's needs better (service involvement). Amazon's Kindle is a Smart PSS, where the client can buy, save and read more than a million books on an e-reader. Every time the customer does something, the supplier learns about the customer's specific preferences and can offer them the right solution.

Golden goose or cat in the bag?
Are Smart Product-Service Systems the product type of the future? Should all Flemish companies look into offering their customers a solution that integrates their existing product into an e-service?
The TU Delft researchers showed that Smart PSS's can optimalize the user's experience on several different levels. They admit that further research is needed to get a better insight into the effective impact of Smart PSS's and the way in which PSS's can be designed to increase the added value of the product from the perspective of the client.
It is worth the trouble of following the evolutions closely, because Smart PSS's combine technological evolutions (sensors, microchips, webdesign) in the field of customer expectations, like a need for personalized experience, control, ownership, community feeling, etc. And we know from experience, that such a climate can generate very strong products.