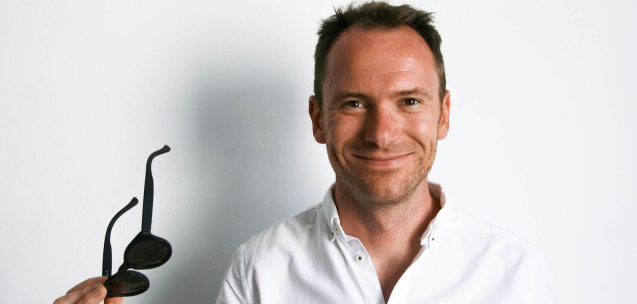 w.r.yuma is the first company in the world to use recycled plastics to 3-D print eyewear. The sunglasses are made from locally recycled car dashboards, PET bottles and fridges. The sunglasses are designed, 3-D printed and assembled by hand in Antwerp. Sebastiaan de Neubourg is 33, engineer and founder of the company.
Before starting up w.r.yuma, I worked as a circular economy consultant for SMEs and startups, helping them to build zero waste business models. I had the opportunity to work with many entrepreneurs who were experimenting with radically new ways of doing business. I understood that these pioneers were actually shaping the future with their new ideas.


Kick-starting the circular economy

3-D printing opens the door towards a circular economy. It's a very efficient process that allows us to make limited editions of personalized eyewear frames that can easily be recycled after use.
Having worked with various "impact startups", I understood that a product needs to have additional advantages for the customer besides being 'just' more sustainable. 3-D printing allows us to make custom eyewear that is uniquely fitted to the shape and style of any individual. It also allows us to make products that can be easily taken apart for recycling (no glues or toxic dyes) so we can offer customers the option to swap their sunglasses for the latest model at a discount while we recycle the old frames.
I believe that the economy of the future will without a doubt be a circular economy where all materials are recycled indefinitely in a closed loop. We see it as our mission to make the circular economy the new cool, and sunglasses are a very good way to do this. Our sunglasses are designed to start conversations and inspire people to rethink waste.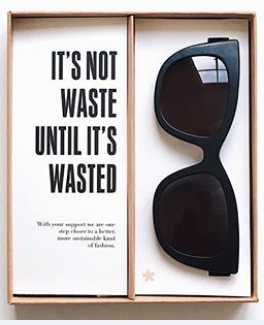 w.r.yuma is named after the sunniest place on earth (Yuma, Arizona, US). w.r.yuma stands for We Are Yuma; our customers are not 'end-consumers' but partners in a closed loop system where the materials eventually are returned to us for recycling.
Yuma was the original name of the startup until some grumpy lawyers from Puma (the German sportswear manufacturer) blocked the registration of the name because they figured it resembled Puma too much. I think w.r.yuma explains the philosophy behind the project even better than the original name.


Ready for disruption
The sunglasses industry is currently dominated by a few large players who behave like near monopolies. The large majority of the well-known brands (from Ray-Ban to Oakley, Persol to Chanel) are owned by a few large multinationals and are often produced in the same factories. This means that these players can steadily keep on raising their prices. But this also exposes this established industry to disruption by small players like us.
We found that it has been more difficult to 3-D print sunglasses than we initially thought it would be. The technology is still young, and we faced a lot of technical challenges before we found the right recipe for the production process. Working with recycled materials is also a challenge because each new batch of recycled plastic is slightly different than the last; so we have to continually adjust our 3-D printers to handle the material.
Now that we have the technology working well and are ready to scale, we look forward to experiment with 'new economy' concepts such as open source design and decentralized, customized manufacturing. Rather than becoming a sunglasses brand we want to create other beautiful products that inspire new ways of thinking about the future of waste. We hope you will join our journey of innovation and change.


w.r.yuma is an inspiring example of sustainable entrepreneurship. The AMS Sustainable Transformation Expertise Center wants to help businesses realize their own sustainable transformation.