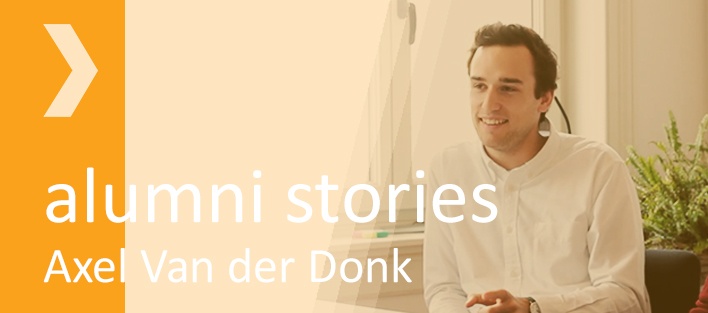 I graduated from the Master Innovation Entrepreneurship (MIE) program in 2015. My business partner, another MIE grad, and I are one year into the financially disadvantaged life of an entrepreneur, and we wouldn't have it any other way. We are currently reaching the end of a phase that can only be described as the calm before the storm. This left me with enough time to work part-time at Antwerp Management School to gain some experience while we were nurturing our project into a business.
How a Master in Innovation and Entrepreneurship can help you
During my time working at AMS I got the opportunity to create a video marketing campaign for the very program I had graduated from only a couple of months prior. The planning phase for this campaign had me think of the various strengths the MIE program has to offer. The list included the international teaching staff, the social project students get to take part in, the "design thinking" study trip to Milan, the school's beautiful location in the city center of Antwerp, … But the biggest strength of any program are its alumni, and, being an alumnus myself, this felt like the natural topic to go to.
Being involved in the startup scene has you reading up on the failures and successes of the Zuckerbergs and the Musks of the world, but this can often make you overlook the startups that are active in your direct environment. This video campaign could be a great opportunity for me to look up and interview entrepreneurs that started their journey in the MIE program at Antwerp Management School. Antwerp Management School's MIE program has been churning out entrepreneurs since 2006. This leaves us with plenty of alumni to interview.
So I set out into the city of Antwerp alongside Peter van Keer, a talented marketer and filmmaker who has just recently put his first steps in the startup scene in Antwerp. Our goal? To meet MIE alumni and find out what businesses they have started, what made their MIE experience so great, and how studying at Antwerp Management School shaped them as entrepreneurs.
The Alumni Stories series was born. In the following weeks we will release seven videos, each accompanied by a blogpost. Below you can see the first video: an interview with Philippe de Ridder, co-founder of Board of Innovation, an Antwerp based innovation consultancy.
Enjoy, be inspired, and spread the word!