In our new blog series #AMSneighborhood, we'll guide you through the streets around our school and introduce you to the hot spots of Antwerp. Did you know that our Mechelseplein is one of the most popular spots for food trucks to stop by? That means that there are plenty of tasty lunch options to choose from throughout the week. Find out which ones in this blog. 🚚
1. Omeletshop: Red Sonja at your service 🍳
Everyone living, studying or working in Antwerp knows Red Sonja. And rightly so, her omelets are among the best in Antwerp. At Sonja's food truck, you can enjoy omelets, pancakes and appetizers. Alternatively, you can create your own omelet entirely to your liking. You can also opt for a classic if you're unsure about which ingredients go well together.
Omeletshop: every Friday at Mechelseplein.

2. La Caretta Chilena: tasty food from the other side of the world 🍔🥟
Jorge Yañez, the chef on duty, brings his Chilean 'farm cart', La Caretta Chilena, to Mechelseplein every Thursday. He'll provide you with delicious gourmet snacks from his homeland Chile. Everything he prepares is authentic and only fresh ingredients are used.
Are you craving empanadas or steak-burgers? If so, Jorge is the man for you. ¡A COMER! (Come eat!)
La Caretta Chilena: every Thursday from 12 pm till 5 pm at Mechelseplein.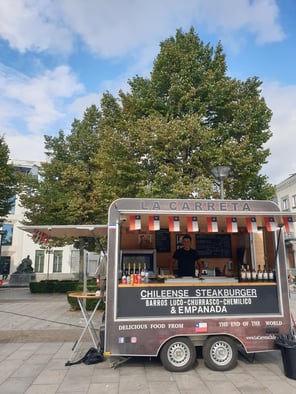 3. Lizzy's: typical Belgian food must-have🍟
Enjoy the real crispy, golden 'Belgian' fries at Lizzy's. You can choose from a variety of snacks that go so well with fries. Or add beef stew sauce to your fries to make them even more memorable.
Lizzy's: every Wednesday from 11.30 am till 7 pm at Mechelseplein.