In our new blog series #AMSneighborhood, we'll guide you through the streets around our school and introduce you to the hot spots of Antwerp. Our Mechelseplein hosts plenty of nice bars, so it's the place to be for after-work (or after-school) drinks. Discover them in this blog. 🍻
1. Kapitein Zeppos: our local favorite ⚓
When you think of Zeppos, you think of the red tables and red chairs filling up half of Mechelseplein. Next to their big outdoor seating area, they also have a cozy place inside. Are you getting a bit hungry? Zeppos serves lunch as well as dinner, with some nice Belgian classics on the menu.
Kapitein Zeppos: Vleminckveld 78, 2000 Antwerpen

Our colleagues enjoying some after-work quality time.
2. Korsakov: feels like 1950s Berlin 🎨
Are you craving a more artsy spot for your after-lunch coffee or after-work drinks? Then Korsakov is your go-to spot. This café has two floors and a smoking room, with an interior full of second-hand materials and original pieces. When sitting outside, make sure that you don't get taken away by the metro that passes by right next to their terrace!
Korsakov: Sint-Jorispoort 1, 2000 Antwerpen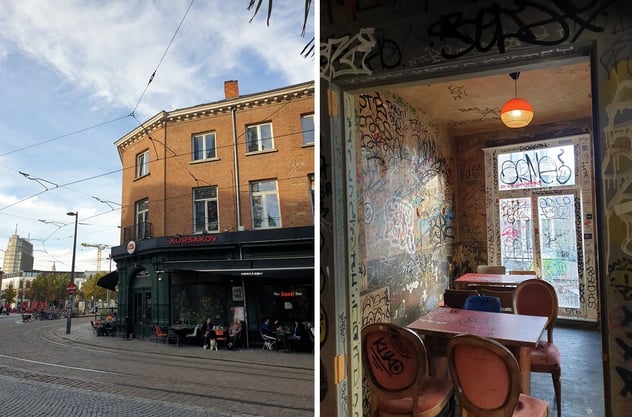 3. In Den Boer van Tienen: a century-old pub 👨‍🌾
In Den Boer van Tienen is a classic brown, Belgian bar. You can enjoy the sunshine on their terrace or hide inside from the rain and cold. They serve your favorite beers, with small bites and snacks on the side. Pro tip: order the 'portie gemend' (you won't regret it).
Did you know? The interior is protected by the city so the owner cannot change a thing. Talking about real authenticity!
In Den Boer van Tienen: Mechelseplein 6, 2000 Antwerpen