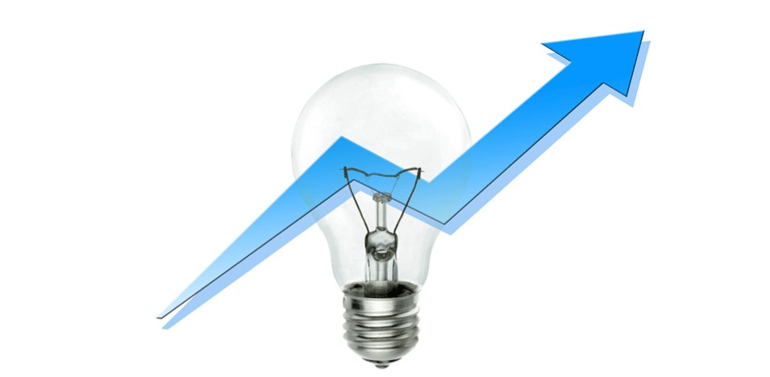 Omar Mohout is a technological entrepreneur and author who is fascinated by entrepreneurship, technology, innovation and research. With the vast knowledge he built over the years on (developing) startups, he provides them as well as big corporations with advice on their growth potential. He is currently involved in our research on Corporate Venturing as an external innovation driver for family businesses and is cofounder of our new Growth management for SMEs with ambition program. Time to catch up on growth opportunities for Flemish companies.
Five years ago, Omar began the creation of a database to map out all Belgian startups. Omar: "I wanted to gain insight into what happens in Belgium, but I needed data for that." So he started collecting and the database grew steadily. In 2014 it contained data of around 1,000 companies. "That was a nice population to draw conclusions from, but I also wanted to be able to compare the data to other countries." That is why in 2016 he mapped out all of Europe, Turkey and Israel.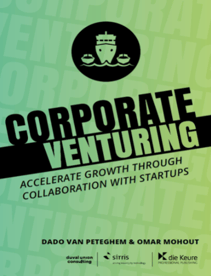 With 'Corporate Venturing, accelerate growth through collaboration', coming out in April, is aimed at both startups and big corporations. "It's a hands-on book, with practical insights for both players. What are the dangers? How can big companies find startups? How should you approach the legal aspects? Etcetera." Omar knows what he's talking about and can pinpoint new business activities per sector, which offers interesting information for existing big companies: which opportunities are out there, and which ones did they not see?
Innovation vs. growth
"Thanks to new technologies, anyone can start a company nowadays, which resulted in the entire ecosystem of startups evolving into a new layer of R&D," according to Omar. The different innovation drivers are the explanation for this trend. Today, technology and business model innovation are the two most important drivers of innovation. "New technologies, such as drones and 3-D printing, are emerging. Simultaneously, new business models are created, as we can see with AirBNB, Uber and Booking.com."


"The entire ecosystem of startups is actually evolving into a new layer of R&D."


The success of well-known startups such as AirBNB, Booking.com and Uber can be explained by their specific advantages. "From day one, they have been using a global business model. On top of that, most of them benefit from the multi-network effect, where the first player takes the entire market and gets even more suppliers and clients," Omar explains. These players are hard to compete with. Corporate companies looking to innovate therefore must choose different technologies and business models. Omar: "By collaborating with startups, aka Corporate Venturing, a company can make use of talents and opportunities outside its own four walls."


"By collaborating with startups, aka Corporate Venturing, a company can make use of talents and opportunities outside its own four walls."


By choosing only partial investment in a startup, corporate companies maintain the (financial) freedom to spread their risks and also invest in other startups. On the other hand, it safeguards the freedom of startups to continue using their own (flexible) methods. "A startup has the ambition to become a big company. Big companies have a larger scale, but lack innovation power." Put those two together. The one on growth management, the other on innovation. That results in a match made in heaven."


Conditions for success
An example of a success story in Corporate Venturing is that of parcel delivery company Parcify. Their application supports the delivery of parcels at your current location rather than your home address. "They had an innovative idea, so BPost got in touch with them. Another nice example is Zappos, a company similar to Zalando, in the United States. Zappos was an online shoe sales company that grew very big. Amazon wasn't active in the fashion industry, but buying that company allowed them to become a big player in the industry."


"Put big companies on growth management and startups on innovation. That results in a match made in heaven."


These are nice examples, but the successful use of Corporate Venturing is subject to several conditions. "First of all, there's the commitment to work together, at high level. The Parcify and BPost CEOs have met each other, while BPost is obviously much bigger, so there was a serious commitment." There also has to be an added value. "There must be more things besides investing money. Is access to infrastructure, expertise or a distribution network available?" A third condition is not too many restrictions. "For example, sometimes a startup isn't allowed to work with the corporate partner's competitors."
Startups should pay close attention to preserving enough freedom and the ability to make demands. "Contrary to a venture capitalist, a big company can also offer other things, such as expertise, infrastructure, credibility and a distribution network. A company that not only provides money, but also other things, can be a better partner."


In Belgium
One in five investments in Europe happens through Corporate Venturing: companies investing in scale-ups. It is similar in Belgium. A clear trend in the past two years were the investments in fintech. "Fintech investments are in some ways "overhyped", because existing apps are excellent. The bigger the hype, the more careful you should be with investments."


"Family businesses and SMEs also have opportunities to innovate through startups, they must grab them."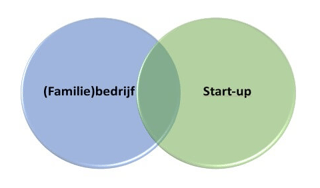 For the future, Omar sees a growth in corporate venturing. "The innovation speed is accelerating, which makes it increasingly harder for big companies to keep up, as they are slower. They will therefore expand their activities towards startups." Despite of this fact, there's little research available on this topic.
That is why AMS is starting an empirical research project in which the different phases of this type of collaboration are being researched in order to provide academic support. In this way we hope to gain insights into how Corporate Venturing can be used as an external innovation driver for family businesses.
"Family businesses and SMEs in general are the backbone of the Belgian economy. Those companies have been around for three or four generations, but also need innovation." Omar believes it is important for them to innovate to stay competitive. "Family businesses also have opportunities to innovate through startups, they must grab them."


Interested in participating in this research project as a (family) business?