Last week, many world leaders traveled to New York City for the 74th United Nations General Assembly. The week started with a lot of attention for the 16-year-old climate activist Greta Thunberg and Donald Trump as they briefly crossed paths. Unfortunately, the real outcomes of the events in New York received less media attention. For example, the Climate Action Summit delivered new pathways and practical actions to shift global response into higher gear as well as a step up in national ambition and private sector action on pathway to key 2020 climate deadlines. Further, the SDG Summit resulted in the adoption of the Political Declaration.
SDG Summit Declaration "Gearing up for a decade of action and delivery for sustainable development".
More than 100 SDG acceleration actions have been announced, voluntarily undertaken by countries and other stakeholders to contribute to a speeded up implementation of the 2030 Agenda. In the rose garden of the UN Headquarters, the SDG Action Zone geared up to ensure the innovative and diverse work on the SDGs is heard from individuals and organizations around the world. There were varied events and exhibits, focused on the five themes of the UN General Assembly: Sustainable Development Goals, climate action, universal health coverage, development financing, and small island states.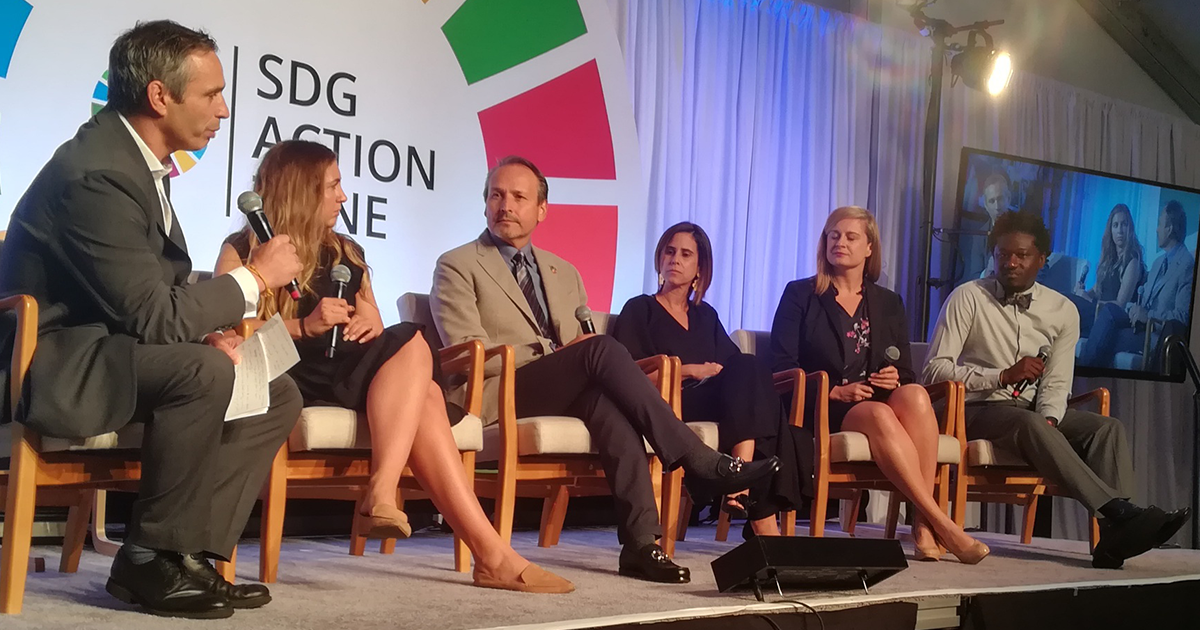 Also in New York, The International Conference on Sustainable Development (ICSD) provided a forum to come together to share practical solutions to achieve the SDGs. At the Columbia University, many professionals from the private sector, academia, UN, government, and civil society came together to present solutions to the complex challenges of sustainable development. In the category 'Pedagogy & Delivery Methods for Sustainability Education, Training, and Outreach' and 'Transforming the Higher Education System to Accelerate SDG Implementation', Antwerp Management School had the chance to present some work developed by the Sustainable Transformation Chair, with the support of BASF Antwerp, Port of Antwerp and Randstad Belgium. All oral presentations are listed in the Abstract Book.
'By creating sustainable mindsets, we try to develop new leaders who think in an integrated way about sustainable transformation'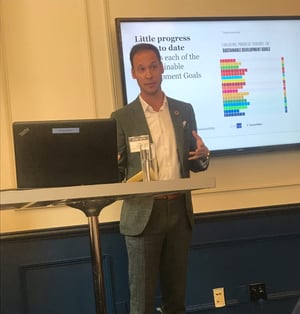 With the paper and program 'Creating Sustainable Mindsets', we've presented ourGlobal Leadership Skills program and SDG Student Ambassadorship that was developed and implemented for Master students at AMS. Another paper 'Buying Into Sustainability' described a group assignment for management students based on an experiential learning design. The assignment challenges students to buy a product of their choice at a local store, analyze its sustainability claims, dispose of the product, and prepare a presentation to share the results and their experiences.
What does it take to go big?
With over 150 events in one week, it was not always easy to choose which one to attend. One worth mentioning is the BCtA Annual Forum Inclusive Business: Emerging Models, collaboration and Innovation, which explored how inclusive business (IB), a business model which includes people living at the base of the economic pyramid, is enabling the private sector to play a crucial role in achieving the SDGs by tackling climate change, reducing poverty, improving gender equality and creating fair work conditions for low income earners. New insights from Essilor, Mastercard and Big Chefs were just three of the 27 companies who convened at the Forum to share their experiences on how collaboration, innovation and emerging models are helping them to align business profit with purpose. A new report ' What does it take to go big' launched a the event fills the information gap for companies who are looking to engage in an IB activity, or scale an existing IB.
The week ended with the 'Marketplace of the Future', organized by the Climate Group. This event was an experiential immersion into what life will be like when all organizations are working for the betterment of people and planet, an expo showcasing many start-ups that operate with sustainable supply chains, give-back models, and social benefit at their core. After all the key-notes and panels, the organizers of this event proved 'sustainability' can be hip and trendy, while including live music, live art, zero-waste catering, immersive VR/AR storytelling, and of course, climate change camaraderie.
The Marketplace of the Future is a new take on the 1939 World's Fair
Upon entering, you were "transported" into a sustainable future, surrounded by maps and data visualizations showing that the world is "now powered by 100% renewable energy". I realized futuristic ideas are present. Now it's time we embrace these new business models and technologies in order to scale-up the sustainable transformation.
Breaking news: for adults who hate the media attention about Thunberg or are angry with her, they can always reach out to The Greta Thunberg Helpline.