On beer, friends and the value of good theory…
Every so often we meet up with a few old friends to have a drink. A couple of weeks ago, we gathered in the beautiful oak guesthouse of one of them, hidden in the seclusion of her impeccable garden. After enjoying a few of the best beers Belgium has to offer, we came to the topic of how our respective businesses were doing. We discussed how restaurants, even those that have long been a part of our city's gastronomic heritage, were having a really hard time keeping their heads above water. We talked about the drivers of success of a renowned global FMCG company. And we discussed the apparent differences in the way mid-size law firms were able to grow or seemed to struggle.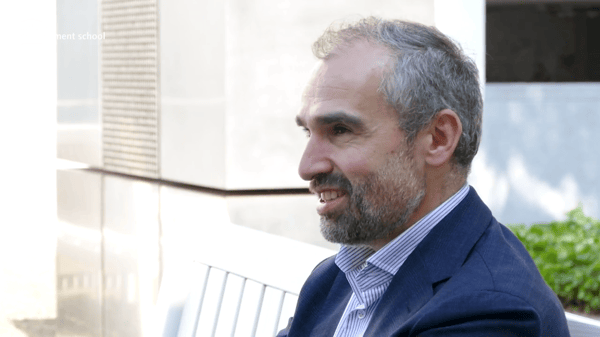 While none of our friends used the term 'digital transformation', our discussion hovered over the exact definition of this construct as we use it in our research at Antwerp Management School: Digital transformation enables organizations to unlock new sources of value and therefore boost organizational performance in terms of better offerings, lower cost, faster time-to-market, greater impact on customer experience through the combination of digital and non-digital resources, providing a DNA of agility and enabling a drive to create meaningful value for both stakeholders and society at large.
The challenge of digital transformation for established companies
In such a friendly, informal setting, we didn't have to give the right answers or come to a decision. Just spending time together, building upon each other's ideas, and now and then having a good laugh was the essence of our discussion. But sitting in the taxi on the way home, I concluded that each of my friends had the same reflection: we are living in interesting times and we need to change to survive. For a few, the danger was imminent and they were clearly struggling. In academia our role is to study these challenges, and at the School we consider it our mission to provide organizations and public authorities with effective guidance based on 'state-of-the-art' management knowledge anchored in a business and organizational context. So the question becomes: what does 'state-of-the-art' mean for today's established companies?
Exploit the potential of your established market position while scanning the environment for disruption
A good theory should be very practical, and therefore the first advice we offer is that incumbents must not underestimate the power of incremental improvement and the potency of their established position while keeping a very close eye on disruption. With hindsight, one could say that Uber 'suddenly' disrupted the taxi industry. And yet, while Uber undeniably reshaped the personal transport business with lower fares, an easy to use mobile app, a smart rating system and the convenience of electronic payment, it also suffered from the hurdles imposed by jurisdiction and regulation that were not ready for the use of regular cars without special licensing to provide taxi services. It also had difficulties in attracting, training and retaining the right drivers.
Hence, we see vast opportunities for established companies to spend effort on adapting to changes in their industry, better address shifting customer expectations and embrace the dynamics of their chosen markets.
Sadly, we often see they are forced to completely abolish their existing business because of their ignorance of the complete turnaround of the industry they are active in. By using their advantageous position with regard to efficiency and effectiveness, incumbents, as recognized players in their markets, can remain competitive and withstand the pressure of disruption. Therefore, my friend Bart shouldn't give up his dream of remaining the undisputed leader in Antwerp's restaurant industry, but surely his business model will have to change. Luckily, he is in the good hands of Clayton Christensen (2006).
Devise strategy based on finding a continual process and fostering cultural change
The concept of change brings us to the second piece of advice, which is probably the most difficult one to adopt and institutionalize. Research shows that established organizations should remain relevant through continuous reshaping of their strategy and culture. For them to remain organizationally viable in a changing business environment, it is essential to continuously adapt their strategy and culture to meet the fluctuating needs this environment demands.
In today's market, strategy and culture are the two most important factors for devising an organization's performance system.
To purposefully steer organizational performance, strategy offers a logical framework for deploying corporate mission & vision into strategic themes (bundles of critical success factors), strategic action programs and key performance indicators. Culture expresses strategic direction through values and common beliefs and guides people's efforts through shared assumptions and group norms. Culture authentically adds aspiration to the strategic choices that motivate people to spend effort in line with an organization's mission and vision.
My friend Jessica knows that the imperative of continuous change in strategy and culture is the key message she will have to bring to her partners in her law firm. She's fully aware that this will be a hard nut to crack, since most of her colleagues have long been using their own tried and tested recipes of running their business, but as she is used to fighting for her clients, she's determined to come up with a strong case to introduce at the international partner meeting next month. I modestly try to support her by sending her the implications of the seminal research by Brown & Eisenhardt (1997).
Exploit traditional business and explore new ventures simultaneously
This brings us to a third forethought, which is to start doing things fast and doing them simultaneously. The theory of ambidexterity urges companies to exploit traditional businesses and explore new ventures simultaneously. This paradigm enables established companies to be successful in changing industries by operating a 'dual operating system', i.e. building a new venture, value stream or operating model while at the same time prolonging the effectiveness of traditional business. Hence the term ambidextrous organizations.
Such companies do not make a trade-off between operational excellence and innovation (as some strategists suggest doing), but they succeed in building dynamic capabilities. This helps facilitate combinations of, on the one hand, the organizational competencies that established companies have gradually built up and institutionalized in their performance system with, on the other, new business models ('new' configurations of customer value propositions, revenue & cost models, etc.) and/or collaborations with network partners.
The end result offers a host of solid, sustainable competitive advantages.
For such organizations, digital transformation is not an end stage, but rather a state of being. Transformation becomes a repeatable process and can even establish a set of routines to continuously learn and adapt. These forward-thinking companies have built the capability to sense their environment, seize opportunities as markets and technologies evolve and then reconfigure their performance system accordingly.
My friend Frank knows that he should continue to support the idea of having a CEO in his company who focuses on the needs of both today and tomorrow, while at the same time allowing the owner and inventor of some of the world's most renowned confectionery products to explore the radical innovation and fundamental ways of doing business the future will surely bring. In doing so, his company is fully supported by Tushman and O'Reilly (1996).
Your strategy is what you do!
In these turbulent times, the present-day proven and sound strategy frameworks still hold true, but the lens of digital transformation and the virtually unlimited technological opportunities allow us to put a turbo on your vision. Let's rock 'n' roll.
Are you interested in learning how to drive organizational performance by reinventing strategy and reshaping culture in line with changing market dynamics?