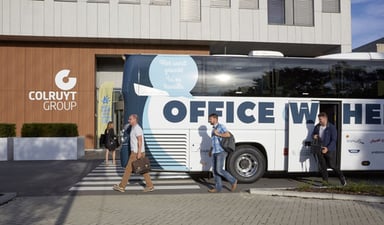 What if you could turn your travel time into work time? Well, that is exactly what the Office Bus does: it is a service that transports office workers from home to work in a bus which doubles as an office. The Office on Wheels (an initiative of BAAV and the Smart Mobility Expertise Center) has investigated the concept, road tested it and finally translated it into a feasible business model. Since then, this new service has been rolled out and two companies are already using the Office Bus service.
The Office Bus is a bus which provides individual work spaces for up to 30 office workers, equipped with secure, high-speed internet, USB connections and power sockets. All the mod cons required for comfortable and efficient work and travel are provided, such as air conditioning, a coffee machine, a toilet and an ergonomically designed environment. A reservation system is available for commuters to book their own workspace in advance. The bus follows routes to and from the company, with no more than one stop. The commuter pick-up site has parking spaces and is located near an easily accessible highway.


Win-win-win
The Office Bus commuters' working day begins as soon as they log in to the server. Because they can do this en route to the office, they get to finish earlier in the evening. Office workers can also choose to continue working on their way home as well. However, if they choose not to, they simply do not log in to the server.
The Office Bus helps office workers to enjoy a better work/life balance and improve their job satisfaction, which is a great benefit for employers to be able to offer in the battle to find and retain the right people. Other employer benefits include fuel savings and car parking space reduction along with the overall need to supply and manage parking facilities.
In addition to the employees and employers, there is a third beneficiary in this story, namely the bus transport sector. With Office on Wheels, an initiative of the Flemish bus and coach federation (BAAV) and Smart Mobility Expertise Center, they have succeeded in opening up a new market. Within the scope of this initiative, examiners have investigated which conditions need to be fulfilled by this service for end users, and the framework conditions for a feasible business case for bus operators wishing to offer this service to companies. Moreover, they have also considered a further use for these buses outside of peak commuting times, when they can serve as a mobile classroom or conference room.


Pilot phase with prototype
The project founders selected the Colruyt Group as the ideal partner to help test this "working commute" concept on the Gentbrugge–Halle route over an initial six-month period. To evaluate its secondary application as a mobile classroom or conference facility, the Office Bus was lent once or twice a week to PraktijkCoach, a medical sector training company. The pilot phase confirmed the use and feasibility of the bus and the service for the primary objective.


More time for the employee, more ROI for the employer
Office Bus commuters on the pilot route gained two hours of 'useful time' per day – freeing up time which can now instead be spent on family, friends, hobbies, sports, et cetera. Opinion polls show that Office Bus commuters reported improved job satisfaction: no fewer than 70% confirmed that being able to combine travel and work time is an incentive to continue working for the same employer. This certainly makes it a useful recruiting tool for employers. Not only is it hard for some companies to fill certain jobs, but the cost of high staff turnover and recruiting and training a new work force can amount to as much as 15,000 euros.


A profitable business model
After a positive pilot phase of the Gentbrugge-Halle commuter route, BAAV and Smart Mobility investigated the feasibility of the concept for other Flemish and Brussels premises which suffer poor accessibility due to traffic jams and inadequate public transport links. This sub-study used a calculation tool which easily calculates the suitability of certain routes. Based on positive research and test results, Office on Wheels plans to roll out the service elsewhere. There are currently two office buses on the road. The Colruyt Group has extended its use of the service for a minimum of two more years. EY also uses the service between Leuven and Luik.


Top-down versus bottom-up
The present business model works on a top-down basis, whereby a customized service is organized for hard-to-access businesses. This means that the bus route is designed to a set, limited timetable. The results of the investigation indicate the ideal feasibility of this model. The bottom-up formula has also been considered: offering a service that runs all day gives commuters greater flexibility. With the latter, ultimately more end users will end up using the office bus. However, this demands more complex organization, a lot more resources and represents a greater risk for the business. The scale needs to be sufficient to launch a profitable service geared towards its users. The current formula makes it possible to scale up towards that and will help provide the opportunity to gather further insights on the way as well.


The office bus and the overall transport policy
Office on Wheels has also been well received by policymakers. The government can expand the service through fiscal incentive schemes and by including it in the transport budget. In anticipation of concrete measures and adapted legislation, the Office Bus already offers a great transport solution for hard-to-access businesses, and one which benefits both employees and the bus transport sector.