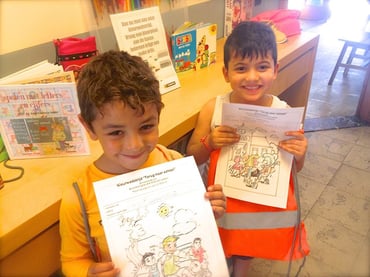 On 15 December Antwerp Management School is organizing the second edition of Education for Life. Education for Life is a special Christmas market with exclusive speakers. For this year's edition you can look forward to contributions by Prof. Dr. Ans de Vos, Wiet Van de Velde, Dalilla Hermans, Philippe Ombregt and Fréderic Meurisse. Your 'entrance ticket' is a shoebox filled with brand-new educational materials. The maiden edition was extremely successful so we are aiming for a full house on 15 December.
A look back
So what made our first edition such a hit? This is the perfect opportunity to look back on last year's result. What did Education for Life bring in in terms of educational materials? How many children did we get to surprise? Which children and families were eligible? We talked to Binnenste Buiten (Public Center for Social Welfare) Coordinator Marijke Cassiers. "Last year's edition was a very positive experience. Overall the participants were very generous. More than half the boxes contained educational materials of excellent quality and we were able to hand out the rest with several other actions."
Distribution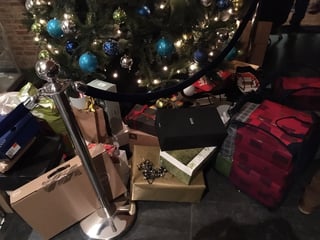 "The action mainly focused on the collection of educational materials to distribute to underprivileged children at the start of the school year. It was a huge success. The rest of the materials were handed out on the occasion of holidays or when pupils return to their desks after the Christmas break. Last year's harvest included a host of wonderful books, atlases and encyclopedia that were used to replenish the bookshelves in our store on many occasions. These books were very popular. One of the actions we set up involved coloring pictures: children who handed in their coloring picture received a parcel geared to their age group."
1300 children
"More and more families are living below the poverty line. Fortunately they know where to find us: last year we were able to present more than 1300 children with a gift. One way of doing this is by mounting a cool campaign. We also get lots of refugees who come here with literally nothing. We discuss their situation with them so we can determine exactly what they need. Education for Life is a wonderful project. By making a small gesture as an individual you are keeping a great many children from being excluded through poverty. You are really making a difference in the lives of those children."
So what kind of school supplies come in handy for underprivileged children (6-18 y.o.)?
books

school supplies such as notebooks, ring binders, binders & folders, felt-tip pens, pencils, compasses, set squares, calculators

satchels, rucksacks

educational toys such as puzzles and board games
Little time? No inspiration? Not to worry! We also have ready-made parcels you can buy and donate on-site.