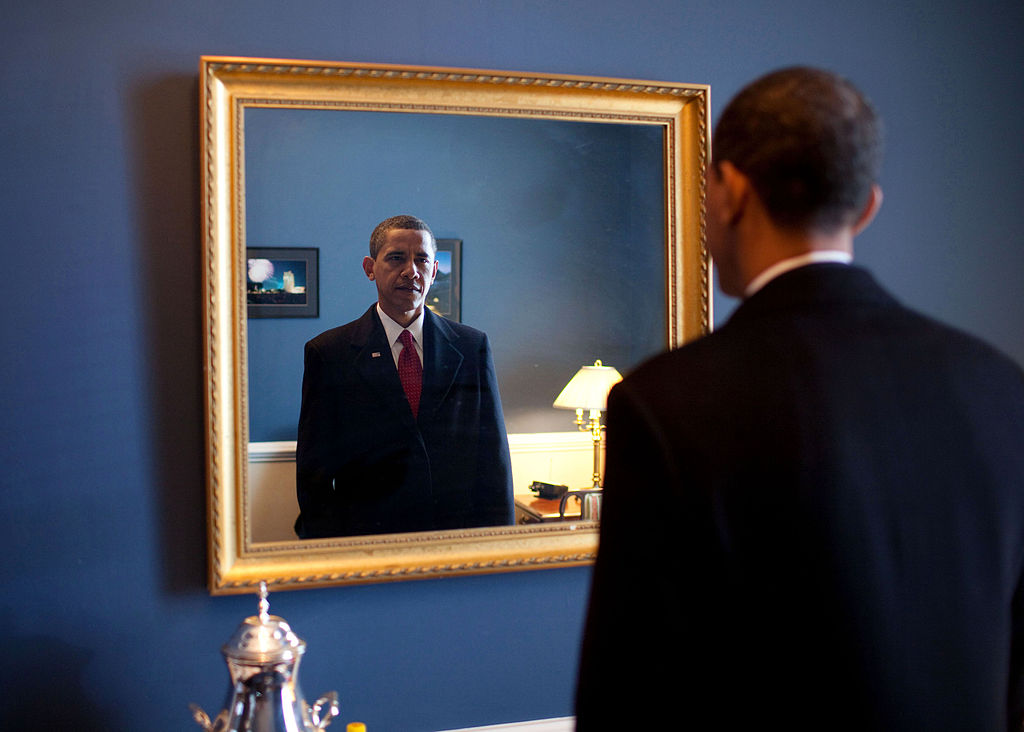 "Yes we can". These words sound familiar to every human being currently living on this planet and belong to the 44th president of the United States of America. Obama was born in 1961 in Hawaii and moved to America to attend law school. He was elected president on 4 November 2008 and inaugurated on 20 January 2009. In 2012 he won re-election. After eight years in power, the relevant question is now "could we?". In his final speech, Obama emphasized his accomplishments and concluded with the words "yes we did". On 20 January, Donald Trump was inaugurated as the 45th president of the United States.
Leader in the mirror
In his farewell speech Obama talked about many of the changes that took place under his tenure. In the following quote, he sums up several of his administration's most important achievements.
"If I had told you eight years ago that America would reverse a great recession, reboot our auto industry, and unleash the longest stretch of job creation in our history — if I had told you that we would open up a new chapter with the Cuban people, shut down Iran's nuclear weapons program without firing a shot, take out the mastermind of 9-11 — if I had told you that we would win marriage equality and secure the right to health insurance for another 20 million of our fellow citizens — if I had told you all that, you might have said our sights were set a little too high." (Obama, 2017)

"But that's what we did. That's what you did. You were the change. The answer to people's hopes and, because of you, by almost every measure, America is a better, stronger place than it was when we started." (Obama, 2017)
Furthermore, he acknowledges the power of the people, praising ordinary Americans as contributors and ingredients in making this nation and his presidency a success.


Economy
Among other things, Obama was able to revitalize the economy. "Wages, incomes, home values and retirement accounts are all rising again. Poverty is falling again." Also, "The wealthy are paying a fair share of taxes even as the stock market shatters records. The unemployment rate is near a 10-year low. The uninsured rate has never, ever been lower." Moreover, "healthcare costs are rising at the slowest rate in 50 years".
Even though Obama points to the improved state of the economy, he also acknowledges there are still those that are left behind, making us realize there is much work left to done.
Climate
With regard to global warming, he stated the following:
"In just eight years we've halved our dependence on foreign oil, we've doubled our renewable energy, we've led the world to an agreement that (at) the promise to save this planet. […] But without bolder action, our children won't have time to debate the existence of climate change. They'll be busy dealing with its effects" (Obama, 2017).
Foreign Affairs
On the very topical subject of terrorism he said that "[...] no foreign terrorist organization has successfully planned and executed an attack on our homeland these past eight years." Still, even with respect to terrorism he insists on respecting basic human values at all times,
"And that's why for the past eight years I've worked to put the fight against terrorism on a firmer legal footing. That's why we've ended torture, worked to close Gitmo, reformed our laws governing surveillance to protect privacy and civil liberties."
Leadership
Obama displayed a successful leadership style during his presidency, setting an example for leaders throughout the world. These are some of the trademarks of this leadership style:
He took personal risks. He showed that he could be himself in public, speaking at all sorts of events, not just as a president, but as an American citizen. This showed that he genuinely cared about his message.
Obama's language was characteristic with the words 'us' and 'we' being some of the most-used words of his presidency. This way, you are invited to identify with him, to share a social identity with him.
He came across as believable, which is another key word of his presidency. When he took a stand on a topic, he believed in that which he was saying, in what he wanted to change politically or socially.
He was a master of communication during his legislature. His policies were online and he was present on several social media channels. Obama demonstrated that knowing your audience's communication style is beneficial to your cause.
Obama never rested on his laurels but always kept working, kept on advancing to make America keep advancing. He used circumstances to set up phases of his agenda. He thought in the long term, not in the short term.
In retrospect
"After a century of trying, we declared that healthcare in America is not a privilege for a few, it is a right for everybody. After decades of talk, we finally began to wean ourselves off foreign oil. We doubled our production of clean energy. We brought more of our troops home to their families, and we delivered justice to Osama bin Laden."
All of this was made possible due to Obama's strong leadership during the past eight years. Though he wishes he could have done more, the changes he brought about, such as the introduction of healthcare for everyone, will have an influence in the long term, which is the goal of good leadership. Finally, below are two striking quotes that illustrate Obama's leadership style:
"The ability to speak in a way that creates an emotional bridge is one of the most admired qualities of leadership. Three enduring leadership qualities came through in Obama's speeches: authenticity, humility and optimism."
(Bruna Martinuzzi)
"The three Obamas: the inspiring leader, the Obama who sought consensus and the bold and confident Obama, all represent one of six styles of leadership that get the best results, whether in business or politics. President Obama's performance offers crucial lessons to anyone who holds a leadership position." (Daniel Goleman)
Start to Lead
All right, this might all be very inspiring, but how do you start taking responsibility and become a leader? To
help get you on the right track, we have established the new Start to Lead program. This two-part program is based around the principles of the latest thinking on leadership, i.e. rather than leading from a formal position, leadership today is all about having the right mind-set and taking up a leadership role. Start to Lead is therefore the ideal foundation for young professionals, empowering them to develop their own leadership skills and enhance team performance. Click and start to lead!