Don't want your employees to come to work sick? Then check your organization's absenteeism culture: what (implicit) message are you giving your employees about being sick and working?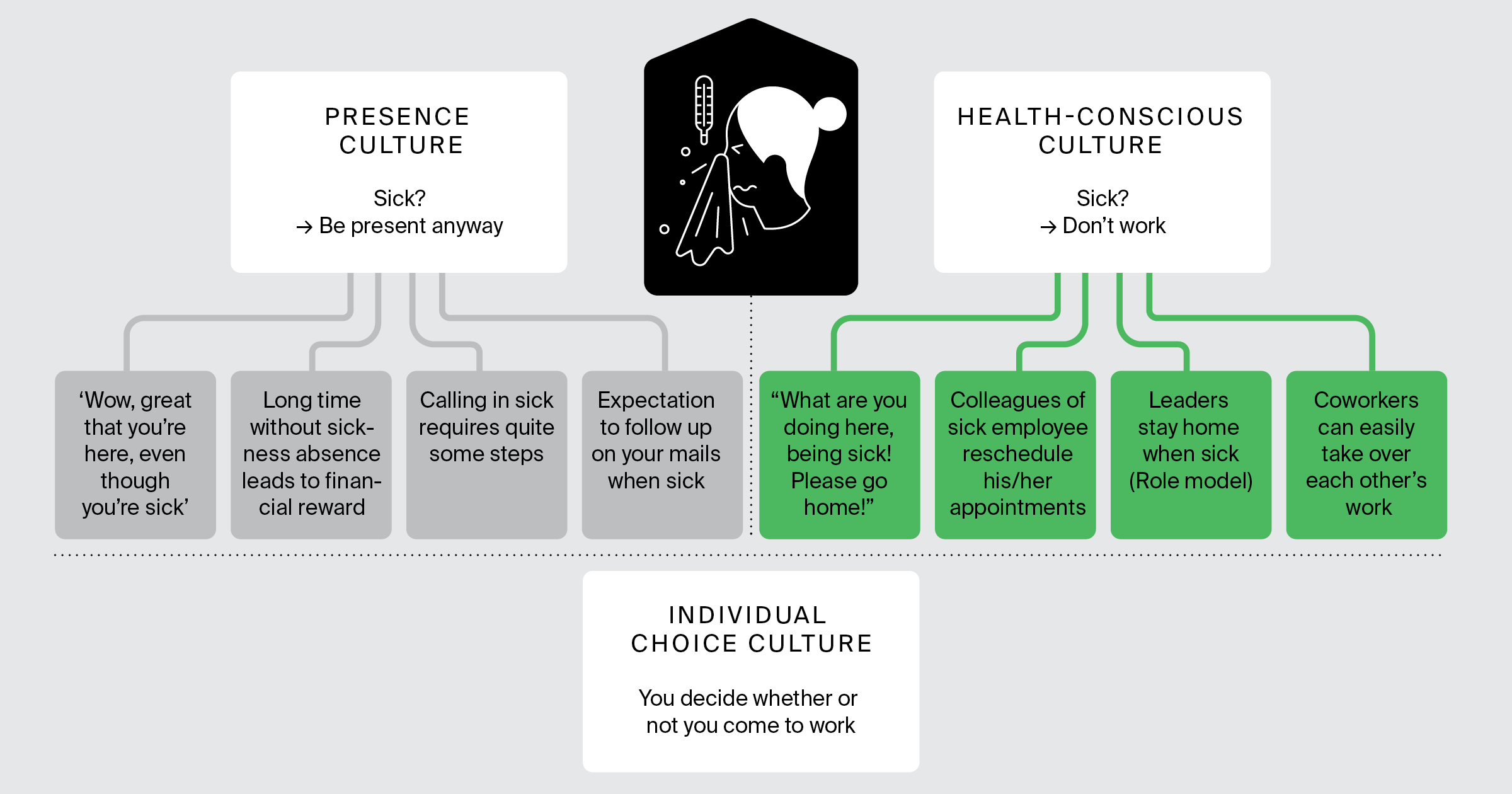 Do you have a health-conscious culture ?
In a health-focused culture, sick employees don't come to work. How can you convey that message to your employees as an employer?
Sending home people who come to work when clearly they are sick
Rescheduling appointments of sick employees
Staying home yourself when sick (role model)
Making sure coworkers can easily take over each other's work
Showing statistics that demonstrate the negative effects of coming to work sick
Do you have a presence culture?
In a present-culture, employees still come to work when they are sick. The following are some ways to signal a present-culture:
Rewarding employees for not taking sick leave
Expecting people to follow up on their mails when they are sick
Making it really hard to call in sick (e.g., by having to notify 4 departments, or by having to cancel all your appointments yourself)
Complimenting an employee who is sick or not yet cured and shows up at work anyway ("Wow, great that you're here, even though you're still sick")
Complimenting employees who are rarely sick on their resilience/strong constitution ("Covid or no covid, nothing can harm you!")
Making negative comments on someone who is sick ("Is he sick yet again?")
Do you have an individual choice culture?
In an individual choice culture, you choose whether or not to come to work when you are sick. But how do you signal this?
The absence of the signals mentioned above
Reinforcing each individual decision: "It's up to you to decide."


Want to learn more about absenteeism and your culture of absenteeism? Then be sure to sign up for the free webinar (it's in Dutch).

Antwerp Management School, Bpost, Mensura en B-Tonic (a subsidiary of Baloise) joined forces to develop solutions for successful reintegration and prevention. By putting theory into practice and measuring the impact, we are building an arsenal of interventions that actually work. For everyone.