Though many may still think of the maritime sector as an oil tanker rather than a speedboat, in reality the industry's transformation is running at top speed, making full use of innovative digital technologies. And though many may still think of the maritime sector as a man's world, in reality, well, they have a point … Women in the maritime sector are still highly underrepresented, especially at management level. But not for long, if you ask Céline Mortier and Prof. Christa Sys, two leading ladies of the maritime industry in Belgium.
UN Women has chosen 'DigitALL' as the central thread of this year's International Women's Day. Through innovation, technological change and education in the digital age, this global champion for gender equality wants to empower all women and girls around the world. Though overall we may be doing okay in Belgium when it comes to gender equality, there is still a lot of work to be done. Especially in industries such as the global maritime sector, where women represent maximum 2% of the workforce (www.ilo.org). It even gets worse when we zoom in on management level: female leadership is very rare in the maritime industry (Nduna & Sys, 2022).
The maritime industry can only speed toward the future if men and women join forces.
But things are definitely about to change for the better, according to Céline Mortier and Prof. Christa Sys. One is firmly rooted in the industry, the other has an extensive academic track record. Both share a true passion for the maritime sector. And both are convinced that their favorite sector will only realize its full potential through men and women joining forces; hence ALL. That is why, each in their own way, they are investing boundless energy in empowering women in the maritime sector.
Céline Mortier was trained in interior design but ended up working in the maritime industry, a not so unexpected twist, given the fact that she is a captain's daughter. Today, she is CEO of Bogerd Martin, an international company that has been supplying charts and nautical publications to the marine industry for over 100 years. Digital technology has opened up endless opportunities in terms of navigation and safety, but also in terms of, e.g., fleet performance. Céline makes sure Bogerd Martin is at the forefront of digital innovation, providing the industry with sustainable solutions. She also makes sure she is at the forefront of gender equality:

"Though I have never felt unwelcomed, I often find myself the only woman in panel discussions, speaker line-ups, et cetera, and that can be quite overwhelming. Even though there are plenty of talented women in the nautical world, it's still a typically male-dominated industry. Which is too bad, really, because I firmly believe that the industry can only speed toward the future if men and women join forces. That's why I'm so committed to WISTA. The Women's International Shipping & Trading Association (WISTA International) is a global organization connecting female executives and decision-makers around the world. WISTA Belgium, of which I am currently president, is strongly committed to minimizing the existing gender leadership gap."
"We do so by empowering women. We organize workshops to sharpen soft skills, we set up a program to train female leaders to mentor high-potentials, we support international initiatives such as the recently launched Maritime Speakers Bureau platform that intends to end the tradition of all-male speaking panels, et cetera. And of course, we provide a high-end national and international network of female executives and thought leaders in the maritime industry. The energy you feel at one of our brainstorming sessions, e.g., is simply mind-blowing. That's the kind of energy we want to generate throughout the entire sector."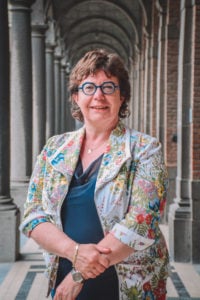 Christa Sys is driven by that same kind of energy. Apart from being a WISTA Belgium member, she is holder of the BNP Paribas Fortis Chair on Transport, Logistics and Ports, promotor of the Chair Dennie Lockefeer at the University of Antwerp and course coordinator of Maritime Economics and Businesses and Maritime Supply Chains at the Centre for Maritime and Air Transport (C-MAT), a joint initiative of the University of Antwerp and Antwerp Management School (AMS). If you ask her, both research and education are key in bridging the gender gap: "If you want to gain a clear insight into the gender gap and how to bridge it, you need accurate data. That is why I have been doing research on, e.g., employment at the port of Antwerp-Bruges, platform Antwerp. Analysis showed that the share of women has more or less remained the same in the past 15 years, i.e. 17%, an alarmingly low percentage in itself. In addition, there is a clear pay gap between men and women in top level positions. (Esser, et al., 2020)"
Thanks to education, our future leaders will be very much aware of the need for gender equality and collaborative innovation to make the maritime industry future-proof
Collecting and interpreting the data is one thing, using them to create awareness and a call to action, is something else. That is where education comes in: "I have been teaching the maritime management track within the C-MAT program for quite a few years now. And though it's still very hard to find female guest lecturers, I'm happy to say that the number of female students has been growing slowly but steadily. In this year's Master Class, e.g., there are 8 female and 11 male participants. That means 19 future leaders who will be very much aware of the need for gender equality and collaborative innovation to make the maritime industry future-proof."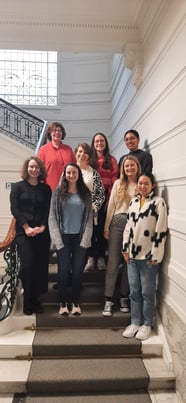 With a gender equality champion such as professor Sys, the female students are definitely well-prepared and excited to enter the maritime job market.
Catherine Ballesteros: "I wasn't really familiar with the maritime industry, but thanks to this Master Class I've met a lot of interesting people and I've discovered that the sector has plenty of opportunities to offer to women."
For Anna Chernysheva, it was love at first sight: "I've always been fascinated by the maritime world and this Master Class has further boosted my passion. Still, I look forward to meeting up with more female leaders in the industry, as I'm still a bit nervous about finding my spot in this male-dominated world."
Stefanie Nys, on the other hand, is less shy and has even been criticized for her strong, independent attitude: "I take that as a compliment, though. At maritime job career days et cetera, you meet very few women in leading positions, apart from HR. That's why it was so nice to finally have a female professor at our Master Class. It's time to break the status quo."
With inspiring role models such as Céline Mortier and Prof. Christa Sys, no doubt it won't be long before a new generation of female leaders are tackling global challenges together with their male colleagues. Excellent news for the industry, and excellent news for whoever will be hosting a maritime event in the near future: there will definitely be no more problem finding talented women for your speaker line-up or panel discussion …
References
Esser, A., Sys, C., Vanelslander, T., & Verhetsel, A. (2020). The labour market for the port of the future. A case study for the port of Antwerp. Case Studies on Transport Policy, 8(2), 349-360.
Nduna, S., & Sys, C. (2022). Tracking Gender Equality in Ports. In Women, Work and Transport (Vol. 16, pp. 279-302). Emerald Publishing Limited.