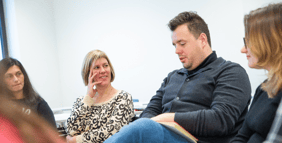 Wannes Dierckx is a project manager at the software company JD-Consult. JD Consult is a relatively young company that has grown rapidly in a short period of time. Wannes had quite some know-how and got promoted to a leadership role. Being an expert and being a leader, however, requires a different set of skills. Along with a colleague, he screened suitable training programs and ended up at Start to Lead. Wannes sums it up nicely: "Reassuring, surprising, both conceptual and very individual. Most definitely an enriching experience."
"I don't believe in a universal leadership manual."
It was no coincidence that Wannes ended up at Start to Lead. He conducted quite some market research: "I don't believe there is some sort of universal leadership manual. In my opinion, leadership is very individual. So, I wasn't looking for a very practical training course that tells you exactly what to do in this or that situation. Start to Lead stood out from the other programs because it was anything but practical. The program is more of a journey, starting from your own, individual story. Step by step you learn how to get your message across to other people in a way that is very much in tune with your personality. It was very enriching for me to see how you can uncover your true leadership."
"You learn to feel confident about your own type of leadership."
"The program expects you to dig deep. This doesn't mean that you suddenly discover unexpected things about yourself. After all, you know yourself by now and you know what you're all about. Still, it is surprising to see how some personality traits have a major impact on your work and your type of leadership as well. That's the most important thing I've learned: you need to be aware of yourself. You shouldn't try and change yourself into a certain type of leader. You just need to become the type of leader that is already in you. People around you may manage things differently, and that's okay, but your own type of leadership works just as well. Throughout the program I started to feel more and more confident about my own leadership."
"It's reassuring to meet people with similar experiences."
"There was also a lot of trust within the group. There were ten to twelve participants from varying backgrounds and industries. Some people worked at large corporates, but most people, like me, worked at young, innovative tech companies that had grown in a short period of time and therefore needed to build more structure within their organization. We were facing the same challenges: you are sort of pushed into a leading role while you're not fully prepared for it. It is fun and reassuring to get to know people with similar experiences."
"You need to develop a kind of reflex."
Wannes completed the program a while ago, but even now that it's back to business as usual, the program continues to have an impact: "Leadership is not something that comes natural once you have finished the program. That's not how it works. During the program, you are fully committed, and you work hard on your leadership issues, but you need to keep doing that even after the program has finished. That's not a drawback, on the contrary. I try to make a conscious effort in my job, and it pays off. You need to develop a kind of reflex: to step back, become aware of yourself, and take the time to find the right perspective and the right answers."
When asked whether he would recommend the training, his answer is a wholehearted "yes". "I wouldn't recommend it to just anyone, though. You need to be open to the very personal approach of the program; you need to feel confident about yourself. It's not that the program is really hard or confrontational, but you have to dig deep at times. But if you do that, it is very enriching to see how you can uncover your true leadership and watch other leaders, knowing that your own type of leadership works just as well."