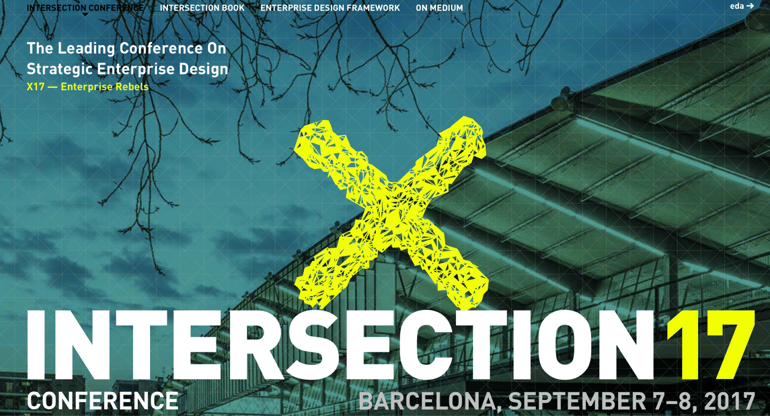 On Sept. 7 and 8, the Intersection conference took place in Barcelona, with a theme of "enterprise design." The focus of this fourth edition was "Enterprise rebels, or the effect of the rebelling individual," as it related to innovation within organizations. Remco Lenstra, Academic Director of our Business Design & Innovation expertise center, gave a keynote speech on co-creation. He summarizes the event in the following recap.
Enterprise design … It sounded familiar up to a point, but the concept wasn't completely transparent. At least, not for me. Thankfully, we have a lot of knowledge in the expertise center on enterprise design, business process management and IT alignment. (Thanks for the reading matter, colleagues!) After some more thought and googling, I decided that, given our expertise in Business Design & Innovation, we had to do more than simply attend the conference. I really wanted to take an active part in the conversation.


Keynote
And so I submitted an abstract, and was subsequently invited to give a keynote speech on co-creation. I would share with the audience best practices and tools established through 10 years of research. There was a lot of reading and talking to do, but enterprise design … I was still not entirely clear. The event's organizer, Milan Guenther, had united a motley crew of individuals from across Europe (i.e. young 30-somethings, smart and ambitious people from a variety of backgrounds, enterprise rebels) in a company called EDA (Enterprise Design Associates) and he had written a book. So, I bought the book and read it (well, half of it; that's how it goes with management literature).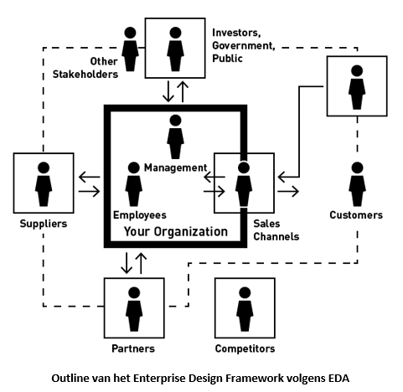 The book was an attempt to summarize the "entire ecosystem of an enterprise" within a manageable framework for innovation. This framework had to pave the way for the development of a vocabulary, so it would be possible to talk about the concept in more complex, multidisciplinary stakeholder environments. The framework integrates domains such as enterprise design, business architecture, IT and business process management, including disciplines such as business strategy, service design and design thinking.
That is a pretty broad scope, requiring both hemispheres of the brain. The book was certainly a creditable attempt, but many questions remained unanswered. Anyway, as I was writing my keynote speech, and then once more, and then again but slightly different ... I was still not entirely sure. I knew about the material I had to discuss, but I wasn't sure whether it would resonate with the audience. Because I could barely overlook the limits of the scope, I had no idea who would be in the auditorium.


Participants
It was better than I had expected: The room was filled with people who were grabbed by the theme, just as I was, and who were searching for a way to integrate all this knowledge – from operations to innovation – just like me; being able to integrate in a (for them) comprehensible model of how an organization should work to be aligned, internally as well as externally, and to remain relevant in an ever-changing world. Those attending were mainly representatives of big enterprises such as SAP, Statoil and Deutsche Telekom, innovation consultants such as CLARO Partners, plus IT consultants, service designers, enterprise architects, etc.
Even though this was the conference's fourth outing, and the participants can be regarded as intelligent, they did not seem to have succeeded in integrating their knowledge. Their desire to develop a comprehensible model for themselves therefore makes sense. However, I did not find an unambiguous and overall answer at the conference. That was apparently not what was intended – and I had a lengthy conversation with the organizers on the subject.


No gurus, but division of knowledge
Intersection is not the type of conference that claims to deliver gospels – there are already (too) many of those, anyway. It is not something you attend in order to be handed down solutions from the pulpit, which you can simply plug and play in your daily work. That is just so 21st century. Not a guru in sight.
It was not a big conference, but that was kind of nice. With about 150 participants in total, you had the feeling that you had met everyone after two days of coffee breaks and already knew them a little bit. Intersection is more like a platform where people gather in search of possible answers to the increasing complexity within enterprises and society. They share their knowledge and experience in the hope that they can make progress together and grow individually.
Participants are not just a bunch of misfits who turn their intellectual navel-gazing on a specific theme for two days, but a managed network; an organized form of collective intelligence that tries to tackle big challenges together. They do this by mirroring and integrating their broad multidisciplinary knowledge and making a synthesis of it, which they can share with the group the following year, once it has sufficiently matured.


Learnings
I have learned a lot. Concrete things, such as a strategic game that shows existing relationships between enterprises (alliances, competitions) in an ecosystem as a living and therefore changing and influenceable symbiosis between organisms. I also learned more about specific cases. For example how fintech companies have to transform to remain relevant, or how to facilitate co-creation in big enterprises by handling internal social media channels and big data intelligently.
More importantly, for myself – and I assume I am not alone – I am now able to look for new ways to translate all this new knowledge and new experience and integrate them in my own field. I am convinced that the first results of this debate – the wheels are turning already – will be found in a future Business Design Thinking course. Do you have to attend Intersection 2018? No, please stay away … I might bring the next conference to Antwerp!