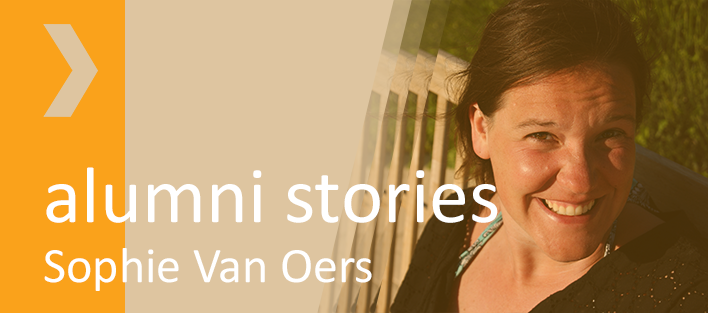 Financial operations in the business world may be a bit of a challenge, especially for people who are not familiar with finances. That is why Antwerp Management School has developed the BENE program: Business Economy for Non-Economics. This nine-day program introduces you to the financial and economic aspects of management. We met up with alumna Sophie Van Oers, who followed the BENE program and now feels much more confident at her job.
As the name suggests, the program is a perfect introduction to business economics for people who have little or no knowledge of the financial world. Sophie Van Oers: "I have a history degree and no financial background whatsoever. Still, I have been working at a financial institution for almost 8 years now, and I would like to keep working on personal growth. Hopefully, in future, this will improve my chances and broaden my horizon."
"I have no financial background. Still, I've been working at a financial institution for 8 years now and I hope to improve my chances with this program."
The participants of the BENE program have various backgrounds. This in itself already helps to broaden your horizon. "People have very different profiles and work in different sectors. I really liked our group and it was nice to see how everyone shared work experiences. It's good to get familiar with other profiles and sectors, it opens your mind again and gives you a fresh perspective on professional opportunities."
A practical approach
Though BENE is an academic program, it takes on a practical approach: theoretical elements are illustrated by and translated into everyday practice. "Classes combine theory with a lot of interaction", Sophie explains. "The program is really well-structured. It addresses a lot of topics and you get to practice hands-on, which is definitely an added value."
"BENE is a perfect match for people who want to get to know a large number of financial-economic concepts in a short period of time."
Sophie illustrates this with an example from the macroeconomics class. "One thing that really stuck with me from our macroeconomics class, is that the economic context is changing rapidly, and that Belgians are rather conservative and hesitant about changing along with the market. I work in the banking sector myself, a sector that is under a great deal of pressure. So, I'm very much aware of the uncertain future of the sector I work in. Hopefully by following this program I can create more professional opportunities."
Enriching insights
Sophie highly recommends the program to anyone who wants to gain insight into the interaction of business processes and the economic context in which companies operate: "This program is a perfect match for people who want an introduction to economics, who are willing to explore a large number of concepts in a short period of time and who want to be immersed in the analysis of financial statements. It certainly broadened my knowledge and introduced me to new concepts. I'm definitely glad I followed this training course", Sophie concludes.
Want to know more about thé management essential?
Get more out of your business, just like Sophie