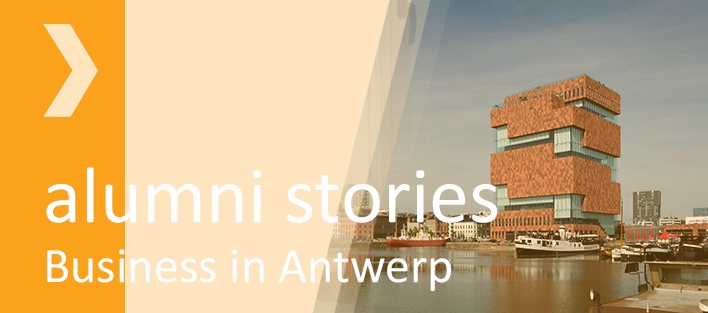 So you've decided to study business abroad, but you don't really know if Antwerp is the city for you? Let's give you a better view on the many reasons why the city on the Schelde is a great place to live and to study business.

The Port of Antwerp
The Port of Antwerp is the second busiest port in all of Europe, second only to the Port of Rotterdam. This means that there is a thriving job market related to the port activities, as well as many opportunities to make international contacts and get involved in international trade and business. The Port of Antwerp is modern, productive, sustainable, and—most importantly— a thriving ground for new businesses and business opportunities.
Entrepreneurship
Speaking of business opportunities, Belgium is a country teeming with startups, and out of all cities, Antwerp's startup scene is considered the most creative. Only recently the city hosted Belgium's first Startup Fair, which provided opportunities for startups to meet potential buyers, coworkers, and clients. The city also provides several spaces for new entrepreneurs to house their undertakings.

Fashion
The city of Antwerp is known across the globe for its rebellious fashion. With a fashion museum, the MoMu, and an influential fashion department at the Royal academy of Fine Arts, the ModeNatie building is the beating heart of Antwerp's fashion scene. Located in the center of the Fashion District, it is also the seat of the Flanders Fashion Institute. In the early 1980s the Academy sent the Antwerp Six into the world, six designers who would change the world of fashion with their avant-garde views on what fashion could and should be. The fashion industry is also one of the biggest employers in the city of Antwerp. (read more about the impact and added value of fashion on Antwerp)
Picture: SHOW2016 – La Cambre, Credits image: Photography Pierre Debusschere – Art Director Pierre Darras – Model Débora Fernandes Teixeira – Make-up Florence Samain – Graphic design Steve Jakobs – Retouching Ismaël Moumin for 254Forest – Font & Layout Steve Jakobs
Diamonds
Another big employer in Antwerp is the diamond industry. Located in the Diamond Quarter right by the Central Station, Antwerp's diamond district is the largest in the world. Roughly 84% of the world's rough diamonds have passed through Antwerp at one point. The diamond trade is one of the many reasons why Antwerp is such a multicultural and internationally connected place to do business.
City of students
Housing a university, three colleges, and several other institutes of higher learning, Antwerp is a city geared towards students: most museums and movie theatres have student discounts, as do a lot of restaurants and bars. When it comes to cultural events, students often get discounts too. There are 70 active student associations in Antwerp, as well as a plethora of sports clubs, organizing many activities pretty much throughout the year.
Picture: Sports @ Harmonie Park, Credits image: Photography Noortje Palmers

Culture and tourism
Antwerp is the cultural capital and the biggest city of Flanders, the Dutch-speaking part of Belgium. It has been a thriving center of business and trade since the seventeenth century. This wealth and growth can be seen throughout the city in its both modern and historic architecture, the art, and museums. Antwerp is home to the oldest zoo in Belgium, an opera house and many theatres. The Central Station has recently been named number one most beautiful station in the world, and City Hall has an entire floor, het Schoon Verdiep, that has been kept in the sixteenth century style in which it was built.
Nightlife
If museums and theatre aren't really your cup of tea, do not fret! Antwerp has a vibrant nightlife as well. The fact that so many students live in Antwerp pretty much guarantees that, on any given night, there will be a party somewhere. A good place to see what parties and festivals are going on at any given time is to check thisisantwerp.be. This is a website that collects events and recommendations from locals, so you can be sure that the parties and festivals you go to are local-approved.
All of these reasons together make it clear that there is just no better city to study business in than Antwerp: you get great business opportunities in a young, dynamic city with a long, interesting history and a thriving cultural scene. What more do you need?
Every year young creatives join our Master in Innovation & Entrepreneurship program at Antwerp Management School. Antwerp is the perfect setting for young entrepreneurs to develop themselves and their business. Moos Tits, alumnus of the program and co-founder of Flavr - an online platform for selling home cooked meals -, tells his story in the video below: