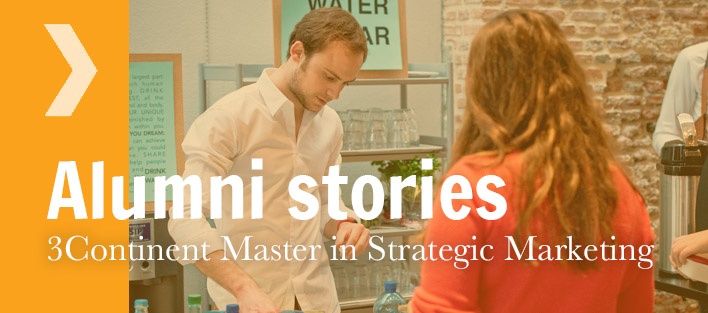 DrugLijn and Stichting tegen Kanker are collaborating in 'Tournée Minérale' and are calling on everyone to join. Our alumnus and certified water sommelier Nils Segers is living proof that drinking water does not necessarily have to be boring. Therefore it is only natural that he should be our partner of choice this month in showing us the many advantages of water.
Sleep better
Be more energetic
Let your skin glow
Lose weight
Save money
No hangover, more time
Support cancer research!
Are you an AMS student or alumnus? Join our team and support cancer research!
Personal development
Between 2013 and 2014, Nils was enrolled in our 3Continent Master in Strategic Marketing. "I have always been interested in expanding my view on the world and as such found studying abroad incredibly rewarding." When asked about what he learned from that global perspective, he replied: "Antwerp Management School encourages you to adopt a conscious approach to your own development through the Leadership & Career Development Track. At one point, I was asked what I would do if I ever were to win the lottery. I would still be doing the exact same thing. You do not have to wait until your ship comes in to lead the life you want to lead. I started working very hard and as I started to grow I discovered what it was I really wanted to do." Nils wanted to do something that would help people both personally and professionally. "Happiness is only happiness when it's shared."
The people aroung Nils told him to put his passion for water to good use. "When the first international program to become a water sommelier in English was established in Germany, I decided to enroll. It was purely out of interest, really. Back home I started sharing the things I learned with my environment, and all of a sudden I noticed that many people had very concrete questions. After all, water is such a natural thing to most people. At birth, your body already consists of 80% water."
Sustainable value creation

For someone who claimed he would never wait for money to realize his dreams, he took a surprising next step. "I was already self-employed with a steady income but I bought a EuroMillions ticket twice. I really wanted to do something with water but I was not sure what. Then I remembered my own statement and decided to stop waiting." Still, he did not put all of his eggs in one basket and kept working part-time instead. "You're still getting paid every month. You don't have to go to insane lengths to start your own business. Profit should not be your main goal either way, it should be creating value for people. If you are able to build a sustainable relationship with people you won't reach your target every time but it is wise to have a safety net. Entrepreneurship is not about haphazardly taking risks."
In the short term, things seem to be shaping up nicely. In the long term, Nils is allowing himself some breathing room. "Of course I have an idea of where I want to go, but that is not something I want to be tied to. I want to stay flexible. Partnerships, for example, have both advantages and disadvantages, but cooperating makes things more interesting so I would love to try doing this with more people. I would also like to work with schools to share my knowledge of water but right now I have to make choices because I cannot be everywhere at once."


The next big thing
Turning such a personal mission into a prolific business is no small feat. "I listen and talk to people a lot. I want them to tell me what's important to them. That's how I feel out the market without taking too many risks. Right now, I do not want anyone I meet to walk away from the conversation still thinking that 'water is just water'. These past few years, water has been up-and-coming. The I-generation is very much into it. I am part of the FOMO generation, but they are part of the JOMO generation: Joy of Missing Out." It is also the generation that is most prone to binge drinking but Nils puts this image into perspective: "Most young people live very conscious lives. They even teach their parents. That movement creates tangible momentum for water. The disadvantages of alcohol and soft drinks are becoming increasingly well-known. However, it is not my objective to fight against those two, I just endorse water."
I think the popularity of mineral water is going to increase exponentially. I hope I can make a difference. I want to contribute to positivism, so people are there for each other when it really matters. I want to do this by using every available media channel and events to make people aware of the benefits of drinking water. I hope that by the end of 2017, I can devote myself to this cause full-time. Water is going to be incredibly fashionable, just like coffee had its revival a few years ago. Water is the next big thing."


Curious to see what else Nils has to say about water? Read it here!