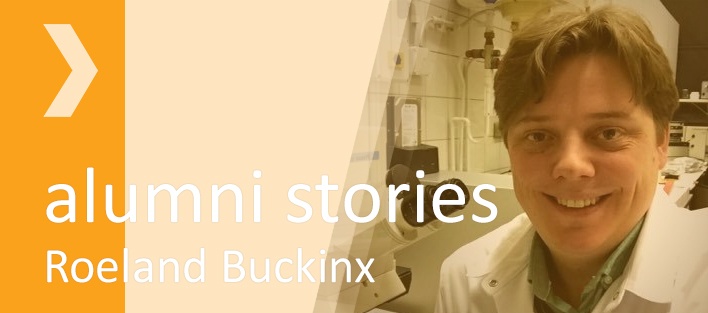 If you know that some 80% of projects have a different outcome than planned, it's easy to see the importance of solid and effective project management. After all, organisations have to be more flexible than ever and they are asked to adapt to an increasingly complex world. As a result, there is a compelling need for knowledge on how to bring projects to a successful conclusion.
Roeland Buckinx is a professor of Biomedical Sciences at the University of Antwerp. As a postdoctoral researcher, he supervises several doctoral students in their research projects on a daily basis and he is co-responsible for submitting project applications with several research funds: "Although I come into contact with aspects of project management every day, my basic training doesn't focus on management, it is primarily biomedically oriented. So you can imagine I jumped at the opportunity the university gave me to enrol in a 'Project Management' course at Antwerp Management School as part of a pilot project involving broadening courses for postdoctoral researchers."
The laboratory as an SME
"In our role as postdoctoral researchers, we actually engage in project management on an everyday basis. We follow up on research projects and in addition we 'manage' doctoral students and technical staff in the practical execution of those research projects. We act as middle management, as it were, and in this context the laboratory can be seen as an SME headed by a professor. In the lab world little is said about 'management', even though the practice itself is common enough.
Personally convinced that scientists can learn from the principles used in project management, Buckinx was very much interested in our training programmes. "I wanted to see how the business world tackles projects, which techniques were available and to what extent they can be applied to scientific research projects. Furthermore, I wanted to broaden my knowledge of how to manage staff during these projects, the so-called 'soft skills'. Moreover, this type of broadening training is very useful to avoid the tunnel vision that highly specialised scientists sometimes develop, and it is an interesting asset for those who wish to pursue a career outside the academic world."


First impressions
"The excellent reputation of the Antwerp Management School is immediately obvious just by telling people you're about to take a course there. I had nothing but positive reactions. Of course, it's a wonderful location, but more importantly, the atmosphere is convivial yet professional. The training coordinator was very accessible, despite the fact that it was an evening course. The teachers are enthusiastic and they go out of their way to show you they are there to help you and share their experience."
Buckinx explains how the course is organised: "The training course starts with an overview of the aspects of project management that will be explored in the following sessions. It is immediately obvious that the various backgrounds and experiences of the participants are highly enriching. Before long we realised that all of us are facing the same problems and although the specifics may vary, the solutions in the world of project management are universal."
Across all sectors
"The crucial importance of a detailed planning quickly becomes apparent and the participants learned that the elements that feature in e.g. a project application by the National Fund for Scientific Research strongly resembles more general project planning. This pattern of general tools that also apply to specific sectors often returned throughout the sessions. For instance, the 'risk management' lessons taught us that the uncertain outcome of some experiments and the resulting consequences can be handled by analogy with the variables in construction projects. The inevitable links between time, means, scope and quality always apply. Of course, there are variations depending on the speciality but we soon realised that the basic rules apply to the specialist fields of the individual participants.
As for the 'hard skills', one of the most important lessons to learn is that the saying 'a good start is half the job' definitely applies. Without a proper planning your project is far behind schedule from the start, while the risks increase and the chances of success diminish. Time spent planning is time gained, not wasted. This sounds logical and we know this to be true on a cognitive level but in reality, too little attention is paid to this phase. It goes beyond a rough timeline for experiments. A 'work breakdown structure' has a direct impact on budget follow-up and project evaluation. One of the biggest project management questions I had at the outset was how to deal with uncertainty. I thought that 'uncertainty' was a bigger 'burden' on scientific research than on other project types. After all, an inherent factor of scientific research is not knowing the answers to some of the questions, which may affect, amongst others, the project's continuity requirements. However, I've learned that although the academic uncertainties may take different forms than in other sectors, uncertainty is inherent to project management and this means we must also focus on risk identification."
Tips
Apart from different tools and deeper insights, Roeland was also handed a number of practical tips with reference to soft skills: "The course teaches a method for the structural approach to problems that supersede the interpersonal level and on several occasions it has proven valuable on the shop floor. Naturally, the coaching aspect is extremely important, certainly in view of my role as a doctoral student supervisor. Our objective is to coach doctoral students to the level of an independent researcher so the tips on how to take more of a coaching instead of a directive approach have certainly proven useful."
"In short, I would recommend AMS' Project Management training to anyone who manages or oversees projects, regardless of their level of education. That is the advantage of a universal approach to project management," Roeland Buckinx concludes.