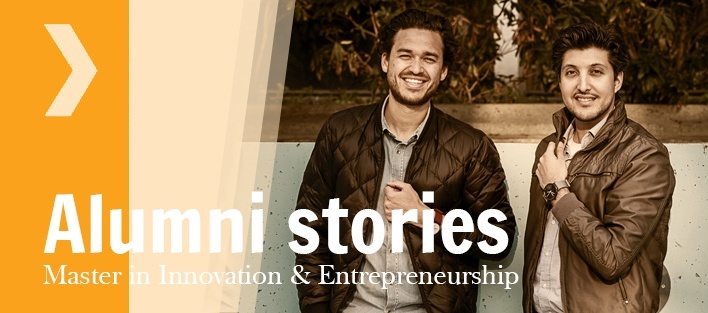 Selling selfie sticks alongside your day job? It's a lot more exciting than it sounds. Miguel Michiels and Ifran Qureshi (both aged 29) followed the Master in Innovation & Entrepreneurship program in 2009-2010 and now both work at LeasePlan. On top of their jobs, they started MMIQ together, in which they are always a step ahead of every trend.
Back in 2010 when they were looking for a master's program, there weren't many that focused specifically on entrepreneurship and innovation. When Miguel and Ifran heard about Antwerp Management School's program, they were sold. "After four years of applied economics, which is quite theoretical, this was the perfect preparation to make the step into the business world," Miguel says. The program fueled their interest in entrepreneurship further and a few years later they took the leap together and started their own business.
"this was the perfect preparation to make
the step into the business world"
Conversation starters
"About three years ago, we became entrepreneurs through an opportunity to sell selfie sticks. We managed to get them onto the market before the hype started and since then we have had a distribution company that sells 'conversation pieces,' or nice gadgets." By keeping an eye on foreign markets, they know what the next big trend is going to be and can promote the right products at the right time.
From PopSockets to CITYHEELS, through their company, MMIQ, they sell something new all the time. Because they have different interests – Miguel is a sports fan and Irfan a gadget freak – they know exactly what's going on. Their company is constantly innovating. And they do it because they enjoy it, but even more because it brings them a step closer to their dream. "We were looking for fun projects to do alongside our full-time jobs for quite some time. We both dream of running our own company full-time someday, because in the end that's our passion."
From city to product
They chose AMS not just for the unique program but also because of its international character. In addition, they both enjoy love cities and recently translated their urban lifestyle into a watch brand, GMTRY Watches. "We wanted to make hip and affordable watches that had a link to geometrical figures and city-like architecture."
What they learned at AMS above all is to be hands-on. And you can tell. Because in addition to their day jobs, their company and their watch brand, they say they're working on a new project. With a Master in Innovation & Entrepreneurship, innovation really is in your DNA!