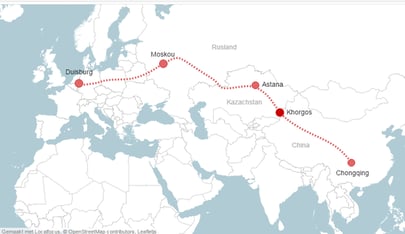 In China, they have been planning for several years to develop a New Silk Road to Europe. Such trade route could mean that there will be a more intensive contact between Europe and China, which creates more space for investments. The future, however, remains unclear: Will this new plan work? We will elaborate on the risks these investments could be faced with.
Antwerp Management School has been called in by the Harbor of Antwerp to investigate the impact this route could have on the harbor and how they can position themselves within that impact. We are therefore well informed and can keep you updated on the relations and trade developments in the European-Chinese field.


What is this New Silk Road?
To ship products from China to Europe, companies should reserve almost a month. President Xi Jinping understood that nowadays speed is crucial. Or as the infamous phrase tells us: 'time is money'. A few years ago, he presented an ambitious trade plan: a railway from Chongqing to Duisburg: the Chongqing-Xinjang-Europa Railway, or YuXinOu for short. Via this trail, it would only take 17 days to get a product to Germany, which is approximately twice as fast as via ship. With this plan, he wants to revive the infamous silk routes. Formerly with camels, now with their metal brother: the train.
The New Silk Road plans are not only ambitious, but also very costly. Chinese government is prepared to pay a large sum, but expects countries through which the railway passes to invest as well. The problem with this plan is that many of these countries are underdeveloped and above that have little to no experience with international trade. Other countries, in the Middle East, are politically unstable. Besides, there are several Asian countries which do not want to collaborate with China as they had previous bad experiences.
How will this affect Europe?
The Chinese government emphasizes that they do not aim for regional dominance with this project. On the contrary, they want to allow different regions to bloom. On the National People's Congress earlier this year, the Chinese minister of Foreign Affairs, Wang Yi, said: "All countries through which the road travels, will benefit from the improved connections."[1] Nevertheless, this does not mean that there is no well-thought economical and geopolitical vision behind the plan. China will benefit the most from the New Silk Road. Astrid Pepermans, researcher at VUB, argues as follows: "There is a risk that the interdependence and connectivity, which is disguised as an intense form of mutual collaboration, turn out asymmetric. Economic advantages will undoubtedly be there, but China will draw them to itself."[2]
It is important that European investors take initiative and have an open mind, but at the same time are very alert. Therefore, there is a need for a profound investigation towards the New Silk Road: What are the plans of the Chinese government? Which risks are related to investments in this project? How can Belgian and Dutch companies benefit from a connection with China? In response to the New Silk Road's development, the EU and China have founded a Connectivity Platform in June 2015 which should facilitate the collaboration.[3]
As for individual projects, it is important that European companies pay attention to working as equivalent partners. The Chinese government states that the plans for the New Silk Road are socially responsible, but it is unsure whether that ideal is shared by the local governments. Ingrid d'Hooghe, Senior Research Associate at Clingendael, states: "It is in this area that there is room for European participants and the AIIB [Asian Infrastructure Investment Bank]. With their knowledge and experience, they can contribute to a durable and socially responsible Silk Road Project."[4] As a European investor, it is important to keep an eye on international standards and laws. The transfer of knowledge about Socially Responsible Undertaking and local laws should be central, because that subject is not always self-evident for Chinese partners.
Despite the importance of the trade with America, it is obvious that the trade with Asia becomes more prominent. With such trade, insight in intercultural communication and Chinese viewpoints is valuable. Antwerp Management School offers a solution with the Master in China-Europe Business.
Interested? Click here!