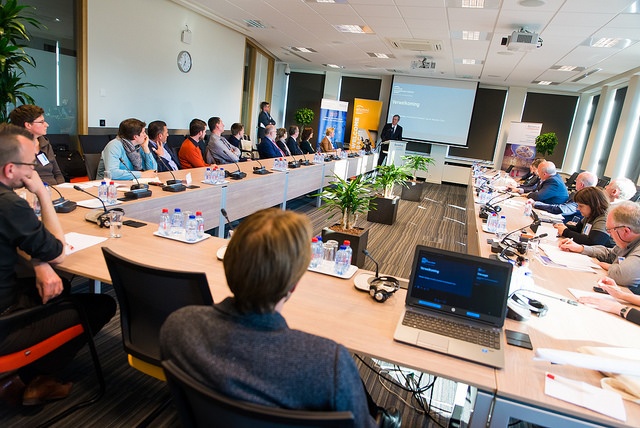 The PuMa-debate 'Get more out of Europe' held on April 20th was expertly led by Peter Bursens, who welcomed us with the thought that Europe has a strong future and remains a vital part of the present, despite ominous rumblings throughout Europe.


Thomas Antoine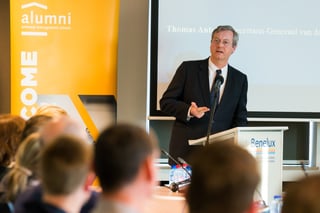 The event's host, Thomas Antoine, the first and current Belgian General Secretary of Benelux, was the first speaker. Discussing survival in times of European crisis, he provided us with a number of the keys for success when working together, from the collaborators par excellence, Benelux. He advocates starting from grass roots, with people's needs, acknowledging our common ground and celebrating our differences, taking pride in our cultural heritage without becoming chauvinistic, seeing collaboration as an anthropological exercise rather than a purely financial matter, and seeing problems as an opportunity rather than vice versa.
Jan Buysse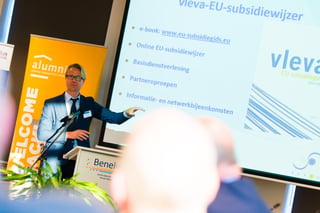 Inspired, we listened to the key note speech by Jan Buysse, Director of the Flemish-European Association Agency NPO. He made clear that these day Europe is no longer "abroad". He clarifies why this is the case and outlines what information and support Vleva can offer. He then went on to define the vision of the Flemish Government on Europe. Thanks to Jan Buysse's contribution, attendees now know where to find information on European benefits.
The debate that followed was attended by Jan Buysse and two panelists who have extensive experience in Europe. They also showed some healthy "patriotism" when talking about the Province of Antwerp and the City of Ghent and their experiences with Europe.
Pieter Soeteweij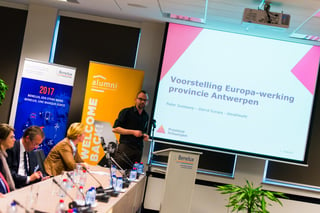 Pieter Soeteweij explains how his employer, the Province of Antwerp, is bringing Europe closer to the people. With the information bureau Europe Direct, they provide primary information, work in education, and have a public operation. They organize local campaigns and do educational work with school groups. The Province is also a useful partner for finding European benefits and project partners. They provide support and guidance for small municipalities and organizations.
Karl Filip Coenegrachts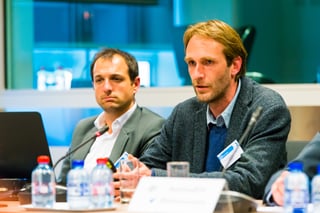 The next speaker was Karl Filip Coenegrachts. He made clear how his city, Ghent, went from 2 to 55 European projects in the space of a few years. He claims it is best to take your multi-annual plan content objectives as a guideline, instead of desperately looking for money. They let the core staff do their jobs while administrative expenses were centralized in a separate service. It is important to make clear choices for the networks involved and be careful with external consultants: they sometimes have hidden agendas, often influenced by other assignments. Matching your strategic goals with the goals of European programs is the first step in a successful trajectory. European benefits provide you with the opportunity to broaden your goals.
After a short summary by the moderator, Peter Bursens, we had plenty to talk about during the splendidly-catered reception. We discussed our own plans and projects for Europe and networked with old and new faces. Inspired by the speakers' enthusiasm for Europe and the useful tips, as alumni of the Master in Public Management we will definitely get more out of Europe!
Discover the pictures of this event here.