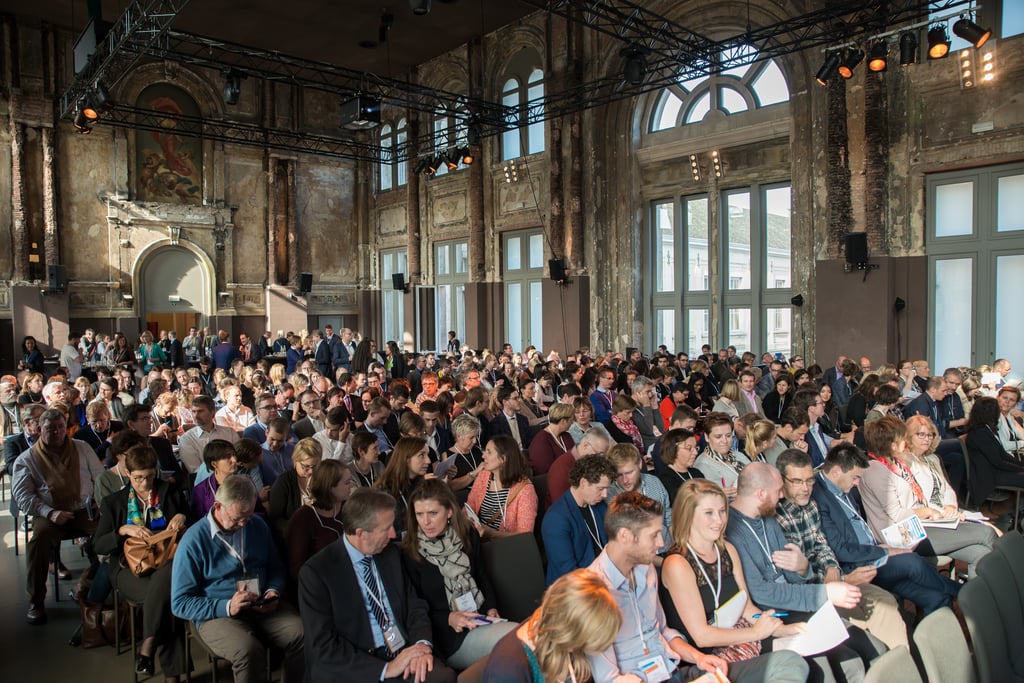 On 21 October almost 300 executives assembled for the Leader Gathering at the Koninklijk Atheneum Antwerpen. The gathering included various sessions and workshops that broadened the horizons of the participants, CEOs, young entrepreneurs and ambitious students. Ish Ait Hamou, Gianpiero Petriglieri, Hans Donckers and Jesse Segers were just a few of the household names to put in an appearance. All participants attended the opening and closing plenary meetings but in between they were free to attend any of the targeted sessions in small groups. Here's an impression of what you missed!


INTRODUCTION
In a personal way, organiser Koen Marichal (TFLI) introduced the very diverse speakers and created an open, warm unity in all its diversity. Karin Heremans of the Atheneum was the hostess. She referred to the Atheneum's history as a place of liberal thinking and to the importance of art to bridge differences. Then the enthusiastic poet Peter Holvoet-Hanssen took the floor to set the tone of the Gathering and after that, a plenitude of different contributions and work sessions followed. We will highlight a few of them.


Gianpiero Petriglieri: Leading in turbulent times
In his session, Petriglieri highlighted the fact that the personal information you share when meeting someone for the first time is always related to your position. He claimed that the make-up of our identity is influenced by our place in the world. Identity is therefore an essential part of leadership development: creating a work environment that feels like home so you can be yourself. Petriglieri emphasizes that leaders find themselves in a difficult position; on the one hand, they are vulnerable because they must be willing to speak to anyone but on the other hand their leading role means they cannot express their feelings freely. The session was a hands-on demonstration of theories concerning identity and leadership which Petriglieri developed during his career, with a strong emphasis on creating an efficient shared leadership construction where everyone feels involved and no one is isolated.


Ish Ait Hamou: In differences, we grow
Hamou believes in the power of stories. In his session, he used his own life experience to illustrate that people can influence your life but you can also influence theirs. He said: "I really do feel like the sum of the people I have met." Every good story has the power to change the world. He stated that a leader is someone who invests in those dreams and stories. Leaders should devote time to stories: a leader is not someone who shepherds people somewhere but someone who points them in the right direction.


WORKSHOPS
Erik van Vooren & Katelijne van Overwalle
The power of vulnerability in management
Erik van Vooren has written a book about the effect cancer has on certain managers. He collected a number of stories but instead of simply recording them he deduced a model from the managers' experiences. In his session, van Vooren, assisted by Katelijne van Overwalle, explained the impact of cancer. He focused on the idea of the challenge (finding a balance between fate and vulnerability), insights (deepen and broaden your scope), and a series of domains (quality, core value, firm choices, clear communication and relations). Interested? Then check our interview with him.


Anne Lemaire: Giving voice to leadership
Soft light that entered the room through large windows created an oasis of tranquility for the fifteen participants that were trying to find their voice. Lemaire started her session by highlighting the importance of a good breathing technique and posture. Thereafter, the participants had to recite a poem in an animated manner. Lemaire emphasized the theatrical nature of leadership and the importance of leaders being inspiring speakers. As a leader, if you do not fully embody the message you want to convey, you will never convince your audience. Take a deep breath, set your intentions and… inspire.


Jan Bal & Ive Vanderauweraert: Teaming on the fly… A playful way of learning
In this workshop, Jan Bal and Ive Vanderauweraert transformed the room into an airplane factory. In a playful way, they taught the participants that teams can form quickly. Teams are the cornerstone of any organization but they derail easily and change continually. The participants were asked to form groups of six within two minutes. It was important they consider the diversity within the group. Subsequently, they were given eight minutes to effectively start up a paper airplane factory. In order to bring the assignment to a successful conclusion they had to divide the tasks at hand while keeping an eye on the clock.


Karen Wouters: Start to lead, the new way of leading
A new model of shared leadership is emerging. But what does it mean and how do you implement it? In the past, a leader was a person in authority, someone who was much higher up on the social ladder than his or her employees, causing the latter to feel repressed. The most effective management style is shared leadership, in which shared responsibility is the central concept. This evolution from leading towards leadership makes it important to think about leadership development. It becomes a story of identity development instead of the acquisition of people skills. Leaders must learn to lead in a new way: it does not matter who the boss is anymore, it's all about who has an impact on the employees. The question you should ask yourself as a manager is: what is my story and how can I inspire people?


Hans Donckers: Good leaders are good storytellers
The world revolves around facts and figures, not nourishment or emotions. This certainly applies to big decisions but what happens when making decisions is not enough? In this case it takes more than simply telling people what to do: you must speak to people's hearts to get them to act. In other words, it's story time. When listening to a story, the brain is closed off to outside influences, causing it to be absorbed by the speaker. Knowing how to inspire your employees through stories is an asset for a manager.


Sofie Blockx: Managers spill the beans: how to boost leadership through peer feedback
As a manager, how can you motivate your employees in such a way as to benefit both their individual and collective development? That was the main question Sofie Blockx's session on feedback was looking to answer. According to Blockx, effective feedback is characterized by honesty, integrity, and respect. However, feedback is often not properly interpreted, a fact clearly illustrated by the session: when the participants were asked to give feedback, 50 percent of the remarks were misinterpreted. Communication remains a stumbling block. This session concentrated on acquiring goal-oriented communication skills that would help managers in their daily relationships.


Karin Heremans, Adrienne Axler and Katrien Nuyts
Katrien Nuyts led a dialogue between two strong, female leaders: Karin Heremans and Adrienne Axler of Sodexo Germany. The theme was the polarization model of Bart Brandsma. He claims that in polarization, people can play 5 roles: bridge-builder, pusher, follower, silent middle and scapegoat. Pushers contribute to polarization and force followers and often also undecided people to be loyal. Bridge-builders even risk preserving the "Us vs Them" mentality. They are, together with the people in the middle, vulnerable to becoming scapegoats when tensions rise. The main challenge of leadership is keeping the middle intact to scale down the "Us vs Them" mentality.
Check the slides - Check the photos



CONCLUSION
Peter Holvoet-Hanssen: Before the evening falls. The voice of the poet.
Giving the imaginative power of words free rein, Holvoet-Hanssen spoke about the importance of poetry and metaphorical language. Poetry should awaken people and let them contemplate life. "Every person is a coral in the reef." 'Astounding' and 'connecting' were the key words of his session.


Mario Fleurinck: Conclusion of an entrepreneur
Fleurinck highlighted the importance of debating. He emphasized that while a debate is meant to bring forward all kinds of opinions, it should in no way lead to polarization. The second theme he focused on was love. He argued that love is the source of passion. Without love you cannot handle business.


Jesse Segers: How is the leader in the mirror?
At the end of the first Leader Gathering it was time for Jesse Segers to draw the necessary conclusions. His talk emphasized the necessity of shared leadership in our network economy. In our current economy, our limited opinions are echoed over and over again. As a result, our leaders risk becoming a parody of themselves as their opinions are always parroted and never questioned. Segers advocates an evolution towards dialogue instead of debate. He concluded by saying that every human is in need of someone else."
The sessions zeroed in on various subjects but they had a common goal: providing the managers with information that would enable them to become better leaders. It was impossible for the participants to be part of every session. Every participant could attend a maximum of two workshops but not to worry: the lively conversations at the closing reception filled in most of the gaps. Leading is not just about possessing information, but also about sharing it with others. Inspiring others.


Want to be up to date and inspired? Register for our Leadership newsletter!