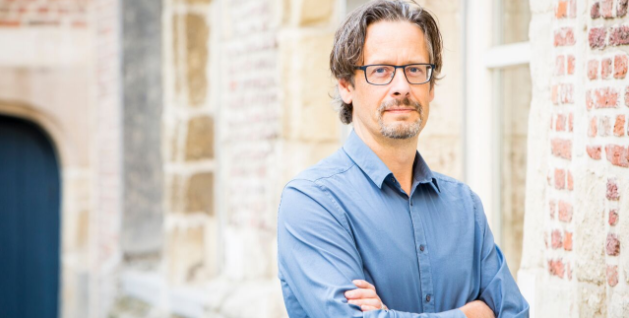 A few weeks ago, Koen Marichal was invited to the Education Commission of the Flemish Parliament to give advice on two resolutions to strengthen the leadership of primary school directors and their teachers. The purpose of the invitation was to discuss the two resolutions prepared by political party SP.A. To gather his thoughts, he shares his insights here with us and calls on you to give your opinion.
I didn't hesitate long to accept the invitation. My commitment to leadership in education and the sense of recognition quickly overturned my uncertainty about my added value in such a setting. After all, I'm not a specialist in education or education innovation, so everything I add to the discussion in that respect could easily be discredited. That's precisely why I decided to approach it informally. I went without a PowerPoint presentation and limited myself to a few key concepts, similar to the ones I bring at Antwerp Management School. Leadership insight 14: "Stories go straight to the heart and the heart remembers."


My conclusions
First of all, I want to state that I think leadership in education needs an upgrade. Leadership of social dynamics and changes instead of leadership of the status quo. This leadership will not suddenly pop up but needs an investment strategy.
Secondly, I see that in many organizations horizontal (or shared) leadership is high on the agenda. In terms of education, this means that co-teaching, co-principals, teams, networks, and school communities are gaining ground. It's about leadership as a multitude of roles and tasks that can be picked up by a multitude of leaders – formal and informal – temporarily or permanently.
Thirdly, I think that school groups should have 'empowerment' as a key value. This means they limit themselves to centralizing tough administrative tasks, organizing a shared vision, and encouraging autonomy.
Fourthly, I want to raise the fact that the current image of the school principal is conservative, stand-alone and heroic. Therefore, a modern career policy with appropriate selection, development and mobility is needed. As a former HR manager, I can imagine how big that task is.
Lastly, principals are educated in various networks, but those programs are no levers for innovation within the education system. They are educated in transactional and pedagogic leadership, not as catalyzers of change and social dynamics.
The committee meeting
At the start, Prof. dr. Marc Van den Brande exposed the vision of the four education providers. As chairman of the Primary Education Council (Raad Basisonderwijs) he delivered a crystal clear and balanced plea, not in the least by also emphasizing the positive aspect of the existing policy. The shared approach of the four pillars was in itself evidence of a 'shared leadership'. Afterwards, committee members could ask questions. The fractions politely took turns in delivering questions, sometimes interspersed with pleas for their own program. They came across well prepared. Some questions were concrete, like whether or not to maintain the idea of '1 teacher for 1 class' or "If you must choose where to invest the few resources, which area would you choose?" Other questions were more like torpedoes aimed at the existing power balances and interests, like the usefulness of pillars in the education of school leaders.
The educators first answered through Van den Brande and then separately. Not every question was answered, while conversely, their own vision was emphasized once again. At this point, half the time had gone by. Then the four union organizations were given a chance to speak. They brought a shared presentation with four speakers. Their pleas were more emotional. "It's time for action. Poverty can't be redistributed."
After this, there was a question round. The questions had more of a political charge and the openness to learn from each other had vanished. When you sow emotions, you reap emotions. By then, time had completely run out, so Lieven Verkest and myself were asked if we were willing to come back for a second meeting. Verkest was also an outsider. He has testified in the press about being a director of a primary school and was asked as a witness. "Well, it's not pleasant, but my interest remains, so yes," I answered, as did Verkest.


Leadership is everywhere
The whole session was broadcast live. This heightened the war of position. The viewpoints, questions and answers were not only meant for the ears of a gathered group, but also for the public. There was little sincere openness in the debate and for many speakers it seemed a mandatory act or a necessary evil. Being absent wasn't an option as that would give the public a reason to revolt. Being present also does not help, because the polyphony is not directed towards a concrete outcome. An organized deaf man's conversation makes nobody happy.
On the other hand, leadership is everywhere. The problem is incredibly complex and resources are very limited. Gradually, there will be unanimity from the Tower of Babel and there will be a pact that is carried by all bodies involved. Schools now conduct countless experiments and offer creative solutions, as I discovered. After all, in leadership "Look what snowflakes can do when they unite," also counts. When the pact comes, the people at the base will think "too little, too late!" But this is how social renewal is created, on different levels and never in sync.


Input wanted
Now I have time until February 22 to rethink my input. I'm inclined to give a presentation at the next meeting and use the opportunity to give the committee the ABC of leadership and management. I want to use the committee sessions as a case to discuss leadership as we develop it. Or maybe I choose the modest, informal approach to disrupt the war of position. I'll see.
This time I do want to mobilize my followers. I am stronger when I speak in the name of… So hereby, anyone with concrete, substantiated ideas about leadership in education: let me know. I'll gather the ideas and create an inspiring story about leadership in education. To be continued.