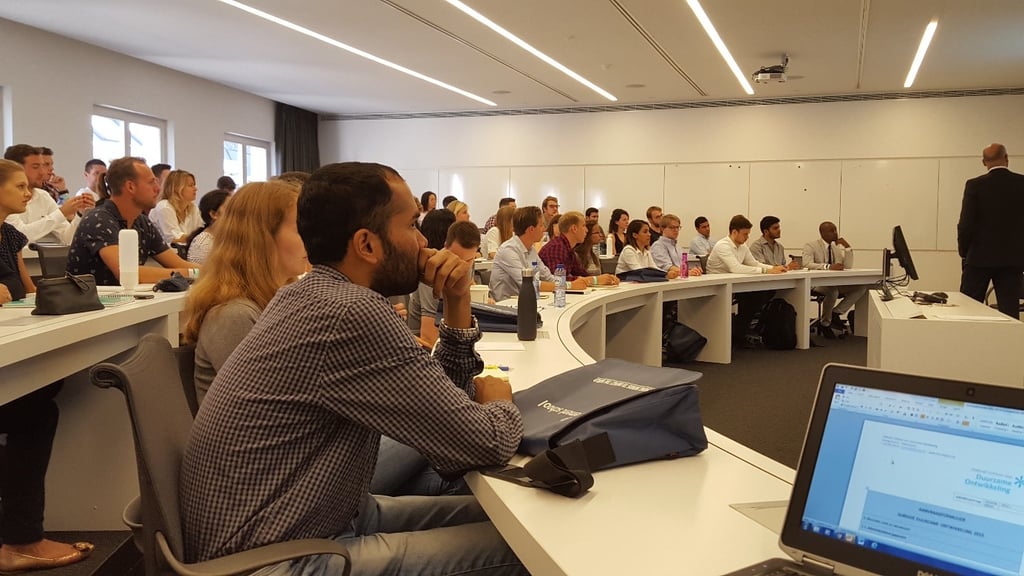 At Antwerp Management School it is our mission to help our customers in creating sustainable value by cultivating talent to become global citizens, mastering the art of decision-making and managing people. AMS organises Responsible Management Education through our student ambassadors.


Student Empowerment Approach
Our aim is to introduce students to the third pillar of the Antwerp Management School mission house, namely that of social consciousness and sustainability. With so many challenges facing the world and hence business today, management education takes centre stage in our vision. At AMS, we aim to empower students through the necessary knowledge, skills and reflection on social challenges that will not only help them develop their own perspective on corporate responsibilities, but also turn them into future business opportunities.
We encourage them to use this knowledge throughout the teaching programme. We also expect students to challenge fellow students and teachers on sustainability issues. Empowering them through the understanding of sustainability issues teaches them to reflect critically on their programme, to query their professors on sustainability topics and how to integrate them further into the teaching materials.
The programme consists of lectures, exercises, Knowledge Bites offerings, an on-boarding day and a reflection paper. This year a new and exciting element was added: the SDG Student Ambassador Campaign.


Onboarding into sustainability
We welcomed 240 students for further introduction into the third pillar of the Antwerp Management School. The students participated in a one-day programme consisting of an introduction to sustainability in the morning and an interactive and fun experiment in the afternoon. The morning lectures were on 'Sustainable business = business', followed by two interactive sessions on 'Cultures of sustainability' and 'The evolutionary basis of sustainable behaviour'. The afternoon session was an experiment designed to let students experience (un)sustainability in an interactive, integral and original way.


SDG Student Ambassador Campaign
The SDG Student Ambassador Campaign was launched at the occasion of the onboarding day. As the Sustainable Development Goals (SDG) are gaining prominence in the world of business and society at large, we felt it was time to promote the Goals within our student community. This is in line with our commitment to the principles of responsible management education.


"The original idea was to create 16 SDG Student Ambassadors. To our delight the interest was that great that we ended up with 54 SDG Student Ambassadors."


UN Secretary-General Ban Ki-Moon launched the SDG Ambassador campaign in January 2016 (http://www.un.org/sustainabledevelopment/sdgadvocates/).
We view the creation of SDG Student Ambassadors not only as a means of promoting the Goals within our own schools, both with fellow students and teaching staff, but also as a means of further empowering our students to critically assess the role of the Goals in management education. The original idea was to create 16 SDG Student Ambassadors that would facilitate a workshop with companies committed to the SDGs for their fellow students. To our delight the interest was that great that we ended up with 54 SDG Student Ambassadors.
We adapted our approach by suggesting several additional projects and leaving room for student initiative. In addition to the workshop with companies we now have a project where students will conduct a workshop on the SDGs in local schools; a project that will look at the student community's own footprint, a project that will draw attention to the goals in a creative guerrilla style, a project that will include the organisation of a debate night on the SDGs, a project that will identify documentaries on the different goals and organise a movie night complete with teaching questions so that it can be used in the classroom as well, and a project that is linked to PRME by signing up to Aim2Flourish where students will learn the method of appreciative inquiry and use this to interview business leaders who founded their company with the aim of doing good (http://www.aim2flourish.com/).
During the academic year, this group of SDG Student Ambassadors will be provided with additional information and have the opportunity to participate in conferences and events organised on the different sustainability issues. There is an award for the best project and we will put them in the picture during the academic year.
Our approach to responsible management education is supported by the BASF Deloitte Elia Chair on Sustainability – a joint academic partnership between Antwerp Management School and the faculty of Applied Economic Science of the University of Antwerp.