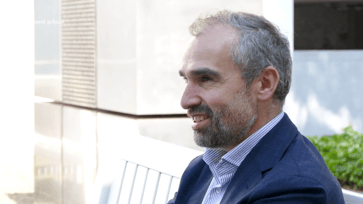 It's a privilege to teach. I love being in front of a classroom filled with executives that lend me their ears and brains and sometimes even their hearts for a few hours. In my classes, I continuously look for the sweet spot where theory and practice combine. The often intense classroom discussions are a perfect source for calibrating the effectiveness and relevance of the constructs and theories we study.
I love these conversations. They are always instructive, though now and then they lead to real 'aha Erlebnisse' for my students and sobering insights for myself. These are often counterbalanced with humorous experiences and witty perspectives on the field of strategy management. For example, a few days ago I received the following mail from one of my students:
Dear Professor, dear Geert,

Last week I attended your first lecture on 'strategy management' of the Business Economics program. During the course you discussed various aspects. This reminded me of a recent article on strategy I thought you might find interesting. In an interview in De Volkskrant with Jeroen van de Veer, former CEO of Shell, I became intrigued by the following statement: "Our strategy consisted of sixteen one-liners at the beginning - I could never remember them. I have replaced them all with four words: More upstream, profitable downstream. So in my speeches I explained to our employees: our mission is more upstream, profitable downstream. Then I was asked what our goals are. More upstream, profitable downstream, I answered. Then they asked what our tactic was. I said: more upstream and profitable downstream. In the end, there was always a smart man who raised his finger and asked: Are you saying that vision, mission, objectives, tactics and strategy are the same? I said: for our company, how you do it: more upstream and profitable downstream. If you want to know the differences between mission, vision and the rest of the rest, then you should start your PhD at Harvard. Well, everybody laughed and then the nagging was over."

Mr. van de Veer mixes four separate concepts. Personally, I like to keep the employees of an organization in mind. After all, they are the ones to be led to the next checkpoint. Is this offered in the next session? What is your opinion on this, and how do you see this being implemented?

Sincerely,

x
Let me share with you my written answer to the entire group:
Dear x,
Thank you for sharing. If possible, I would appreciate a copy of the original article.

I'd say Jeroen's stance is quite provocative, and quite naughty for the CEO of a multi-billion dollar company 😉. You cannot and undoubtedly should not ridicule strategy in this way. Undeniably, Shell does have a clear mission and a set of focused objectives, and thus also has a significant number of critical success factors that serve as a guide for management to allow the organization to create and capture value in a sustainable manner. Jeroen's job is to manage that complex and dynamic system of variables.

Recent empirical research clearly demonstrates the value of using a strategy map and a balanced scorecard to achieve this. I will explain both concepts in detail during our next class. In addition, it is essential to mobilize people to begin the strategy effectively. For this, employees must of course understand and internalize this strategy. Most companies really struggle with the initial point of making strategy everybody's job, and from there we can begin to tackle the actual theme that Jeroen addresses.

Strategy is often conveyed in a very difficult way, using many expensive (and at times hollow) words. Should this be the case, the message behind the communication tends to go over people's heads. We always assert that a strategy must be 'clear and inspiring'. Without a doubt, Jeroen is a very clever CEO and has condensed the complexity of his strategy into 'More upstream, profitable downstream' so that it is easy for all to remember (sometimes we also call this a strategic theme). The trouble is that a strategic theme is often too broad and offers too little guidance to really allow management to make strategic decisions. However, this kind of statement makes for a good sound bite and is easy and effective to howl with the wolves when nagging about strategy 😉. I look forward to helping you overcome this reflex and provide you with a very effective set of tools and frameworks to create a strategy-focused organization.

Kind regards,

Geert
Interested in learning how to drive organizational performance by reinventing strategy and reshaping culture in line with changing market dynamics?